Notice: This is a story about a car accident that happened to me along EDSA. It might be a boring post for you so feel free to browse on my other posts 😀
I've been driving since I was 18 years old or for 8 years. My driving skills are pretty much okay, although there are moments when the stereotype about female drivers applies to me. But overall, I can say that I am experienced in the road.
But if given a choice, I would rather be a passenger than the driver. When I was still working, my dad picks me up from work when I'm too lazy to bring a car. When I went to law school, my then-boyfriend (now husband) also picks me up whenever he can. So yeah, I'm a princess in my own way. Just kidding!
Though there are still moments where I need to drive for myself because (a) I don't have a choice, and (b) I really need to do some things and I can't wait for my husband to drive for me. In this scenario, I really need to fix some important things in Ortigas and my husband can't come with me.
So yes, everything was okay and I arrived in Ortigas in complete package. After some errands, I decided to go home because I realized I didn't have enough cash with me. On to my usual route in EDSA, everything was still okay and I'm pretty careful because of the buses that suddenly stops on the middle of the road (yes, that's how it is in the Philippines – no respect for bus stops).
Along Cubao, I was staying on the second lane from left and I noticed that around 100m from my car, there was a bus on the right side waiting for passengers. I saw the other cars from the third lane transferring to the second lane (where I was) because of this undisciplined bus driver. So I slowed down to avoid any collision. A Mercedes Benz car from the third lane even wanted to change lanes so I let it pass.
Until there's this delivery truck from LIBERTY FOODS with plate number PDO 283 who was driving so fast and wanting to avoid the bus on the right side. Then the bus started to move and instead of hitting the brakes, this delivery truck speed up and hit my car. Good thing I was still moving slowly and decided to go on a full stop because this truck was driving recklessly. And worse, the truck DIDN'T EVEN BOTHER TO STOP AND CHECK IF THERE ARE ANY DAMAGES.
So I sped up until I was able to stay beside the truck and got the driver's attention in the GMA flyover. I told him that his truck hit me and the driver was like "tinamaan ko ba?" Playing dumb and innocent, of course! I was cursing him (not the usual me) because I was so pissed, he didn't even bother to stop when his truck hit my car. I was hoping to see a MMDA officer in the MRT-Kamuning station but to no avail. I didn't even see one because unfortunately, that happened around 12:30 in the afternoon – lunch time.
So instead of stopping, I just left because there are three men in the truck and I'm alone and scared that they might do something to me.
That pretty much sums up what happened. I stopped in SM North EDSA and saw this.
Apart from the car, no damage has been done. And thankfully, my kids are not with me and I am not harmed so at least, that is something to be thankful for. I am planning to contact the owner of the truck and have his driver reprimanded for his reckless driving. I have yet to file a police report and ask for LTO's help because tomorrow is Saturday. But I am definitely seeking for reimbursement here. I know the damage is not too much but what if this reckless driver did this to another car, and the results are worse?
Which made me think. I am not a superstitious type but there's one thing I really believe – you can't be too happy or too lucky all the time. One way or another, the world has its way of hitting you back. Everything was going well lately – business, online job, etc – that I start to wonder if what will go wrong. Well, here it is. Maybe it's really meant to happen or this is my punishment for being too happy (Ha! As if someone should be punished for being happy) but whatever it is, I'm just glad I'm safe.
Lesson learned: I will just ask my husband to drive for me. Haha! And watch out for delivery trucks with reckless drivers. And if you happen to see this delivery truck with plate no. PDO 283, please flat out the tires for me 😀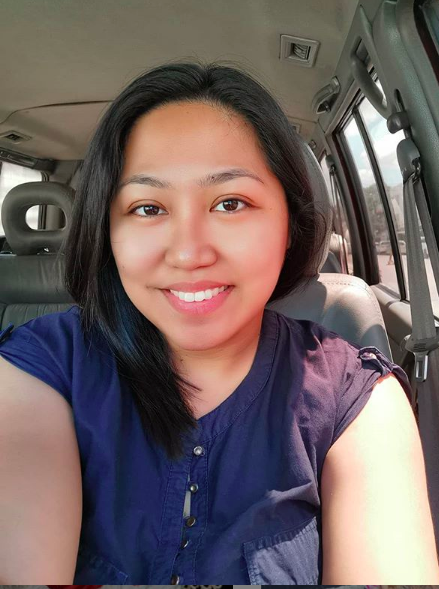 Ayi is a stay-at-home mom of two. When her kids are in their best state, she keeps up with chores, work, and ensuring that her sanity is intact. Join her as she navigates through this rollercoaster ride called motherhood.