Note: Some links contain affiliate links. By clicking on the links, signing up and making a purchase, I get a reasonable compensation for it. So thank you in advance.
If there's something I should be thankful about the World Wide Web, aside from giving me a steady income, it's the ability to shop with just a few clicks. Frankly, I'm not really a fan of online shopping especially during my single days since for me, going to the actual store and fitting the item and see how it looks on me are really important. Plus, there are a lot of bogus sellers and there's no way I can go after them.
But when I became a mom, I just realized how hassle it is to bring my two kids in the mall and buy them whatever they need. Thankfully, online shops were born and yes, I am an avid online shopper. Of course, things are different when it comes to my kids and I want to make sure that they get only the best quality. So I compiled my favorite online stores and venues where I do my online shopping.
Where to shop? 
1) Lazada Philippines – From kitchenware to women's clothing to furniture – Lazada has it all. It is, if not the biggest online shopping mall in the Philippines that can cater to your mom needs, including clothes and toys for your little one. Just click on the Toys, Kids & Babies tab located on the left side panel to view their offerings. And yes, they give P200 discount when you sign up and conducts sales. Who knows, you just might find something for your tots at a cheaper price.
2) Zulily – If you're planning to do your online shopping in an international online store, then visit Zulily. Just like Lazada, they have everything you need – from baby clothes and accessories to nursery decorations to strollers and nursery furnishings and even maternity wear. To check out what Zulily has in store for you, then check out their website.
3) Facebook – Mark Zuckerberg is truly a genius. Aside from being a social media site, Facebook has evolved into a platform where online sellers can sell their products and reach out to a bigger demographic. Plus, a lot of baby companies have pages you can connect to so you'll have an idea of their latest offerings or sales. When it comes to Facebook, my favorite shops are Bop Baby Bop for headbands, Baby Chic Boutique for cloth diapers and branded clothes, Baby Wizard and Two Tots Home Accessories among many others.
4) Instagram – This is another venue for online shopping. What I love about Instagram is that it's simple platform of selling pictures can already help a lot of online sellers, thanks to the #hashtag, of course. I also met a lot of stay-at-home mommies who sell the cutest clothes and shoes on Instagram. Aside from what I shared weeks ago, check out Sicily and Gambino, Cirela Shoes, Bento Mommas, and Laila and Lyra among others. And know the right hashtags like #toddlershoes, #educationaltoys, #moccasins, etc for easier browsing.
… or if your favorite brand has its own shopping cart system, you can buy from them directly too. Try Cloth Bottom Baby for cloth diapers or Pure and Simple Baby for non-toxic and eco-friendly baby products or Agnitus for educational games.
Tips in online shopping
I'm sure you excited to make a purchase online. Don't worry, my heart skips every time I see shoes or a cute skirt which I feel will look good on my kids so I know how you feel. Just calm down, take a deep breath and remember these tips before you make a purchase.
Only go for trusted online shops. Again, there are tons of bogus sellers out there in the Internet world. Be careful. Ask recommendations from friends if you're looking for something. There are also Facebook pages and Instagram accounts that are dedicated to bogus sellers so be sure to check on those first.
Read the shop's policies. All online sellers have policies about payment methods, how to order, return policies and the like. Take time to read about it. If you want to know if they give discounts or freebies such as free shipping, you'll find out in their policies page too.
Make sure to measure. Every store has a different sizing chart, especially when you buy from an international shop. Therefore, it is a MUST to measure and know your kids' sizes, especially in shoes. You'll realize how valuable a tape measure is when you do your online shopping for kids.
Give allowance. Kids grow up exponentially fast. So before you buy anything, make sure to allot an allowance so your child can use the items longer.
Look for security tokens. If you shop in flash sale sites such as Lazada or Zulily or The Mini Social, you'll find that closed-lock symbol or 'Approved by Visa' sign. That means you are shopping on a reliable and trusted online site so you're in good hands.
Don't hesitate to ask. That's why online shops have a contact number so you can reach out to them easily. If you're not sure about the sizing or shipping rates, just ask. But please, don't ask the obvious or something that's already posted. I'm also an online seller and I make sure that all the information needed are posted (especially the price) but there are some (or many) who keeps on asking how much when the price is clearly written on the description.
Be polite. Online sellers are humans too – with feelings. Be polite and don't assume that the customer is always right. Talk to them nicely especially when you're asking questions. Most online sellers have to deal with tons of inquiries too and trust me on this – they're trying to be as polite as possible as well.
What about you mommies? Any tips when shopping online for your kids?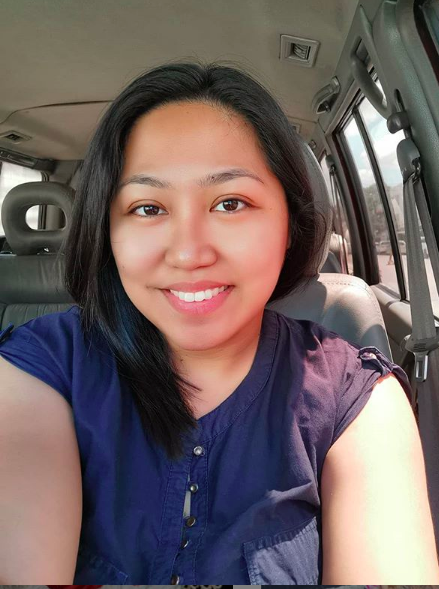 Ayi is a stay-at-home mom of two. When her kids are in their best state, she keeps up with chores, work, and ensuring that her sanity is intact. Join her as she navigates through this rollercoaster ride called motherhood.