One of the things I am proudest of is being able to inculcate the love for reading on my kids, especially my eldest daughter. Apparently, they prefer English books over Filipino-written stories, so I decided to add some in their shelf.
We started with the free books that comes with BuriBox. My kids were 3 and 4 at that time, so the Alpabetong Pilipino was appropriate. As they get older, I started looking for age-appropriate books published by Adarna House. I like it because some books have English translation; hence making it easier for my kids to understand.
Then, I saw Ang Mga Kwento Ni Lola Basyang, which reminded me so much of childhood. Yes, I bought the collection, too. Some have English translation while others don't.
Anyway and since it is Buwan ng Wika, I'll share our favorite Filipino books, written and illustrated by Filipino authors and artists, too:
Ang Mabait Na Kalabaw ni Virgilio S. Amarilio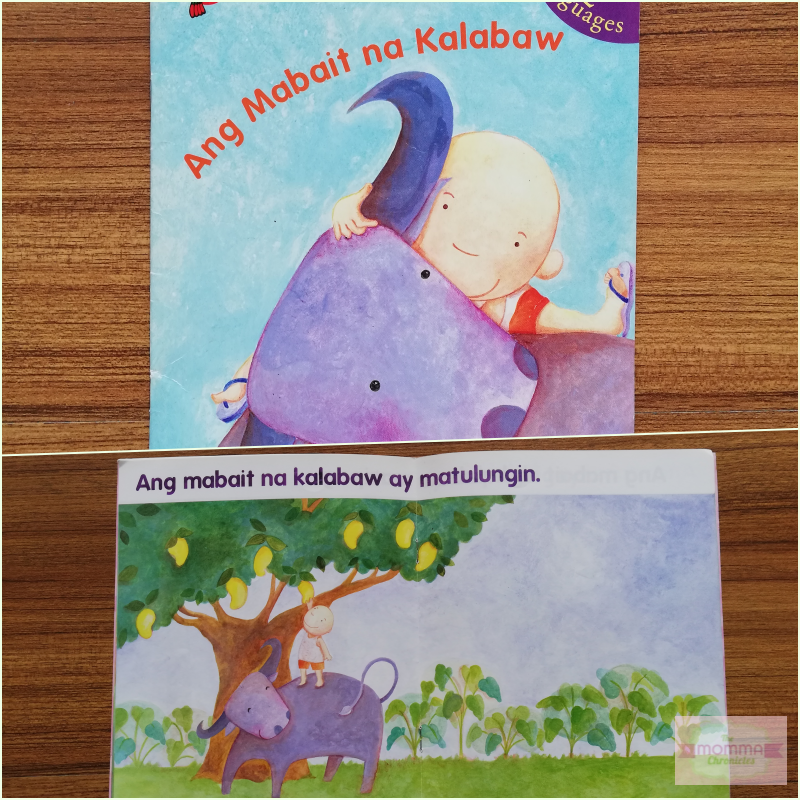 We're still in the process of learning Filipino and this book helped me a lot with my kids. The texts are simple and easy to read, which is perfect for early readers. There's more illustration than texts as well, which explains why it became an easy favorite.
It is a simple story is about a very good carabao who is described with good values like being helpful, clean, and a good friend to everybody.
Recommended for 3-5 years old
Putot ni Mike Bigornia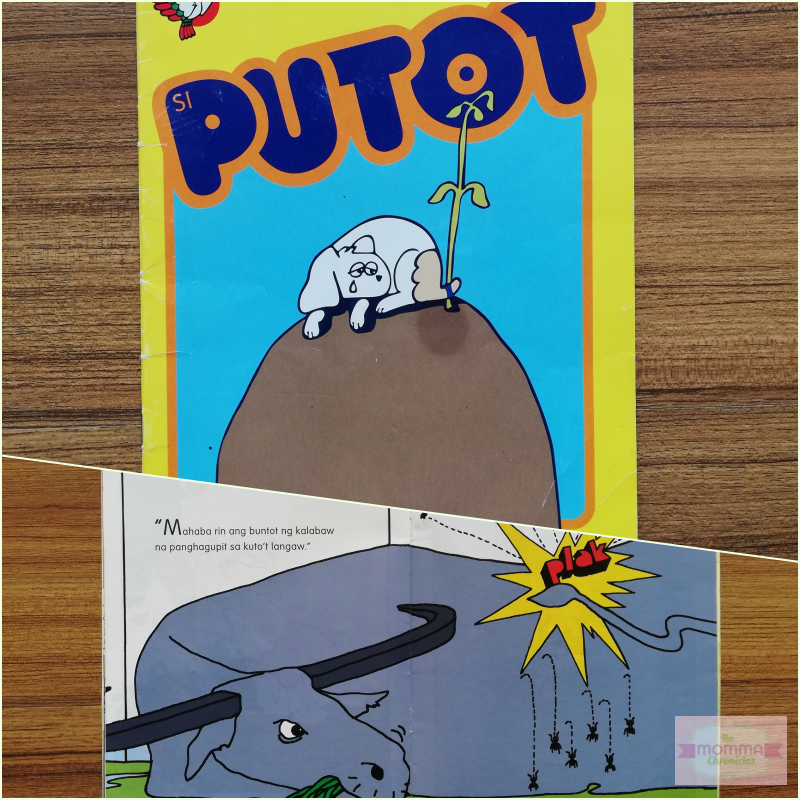 This story is about a dog named Putot with short tail and wished that he had a longer, stronger one. One day, he met a worm and told how lucky it is to have a long tail. This offended the worm because unlike Putot, it doesn't have ears, nose, and feet. This made Putot realized that he should be proud and accept himself regardless of flaws.
We love this story because aside from the moral lesson, it is easy to read. There is also no English translation, so my kids have no choice but to do their best to understand the story based on the colorful pictures.
Recommended for 5-7 years old
Si Ching Na Takot Sa Dilim ni Aleli Dew Batnag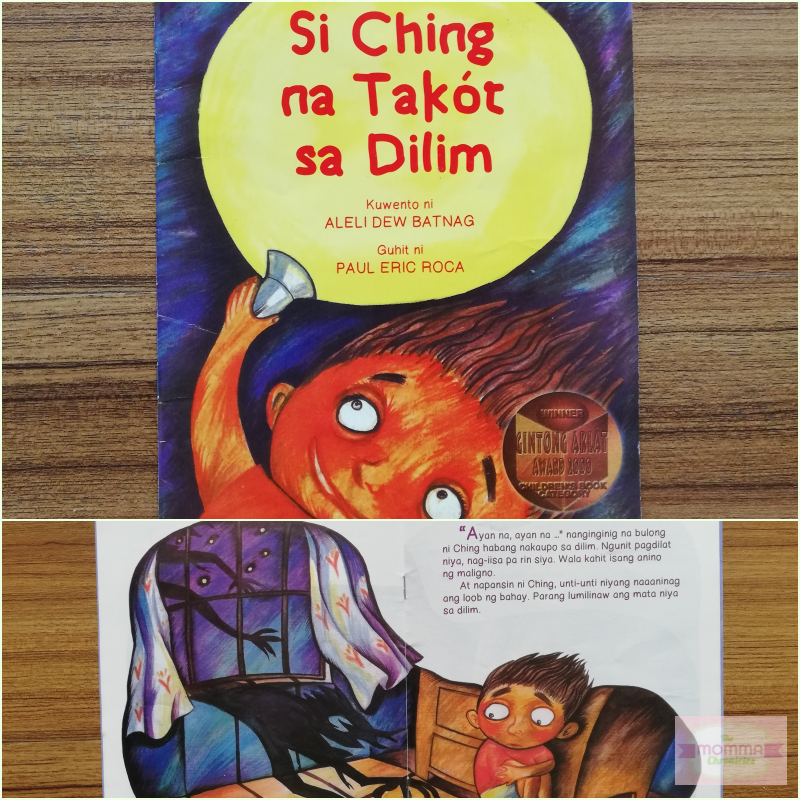 I don't understand why my eldest loves this book since it has pictures of multo and other scary elements, well sort of.
Nonetheless, it's about a boy named Ching who is scared of the dark. On his birthday, he received a flashlight from his uncle, which helped him overcome his fear of darkness.
One day, Ching was left alone in the house when suddenly, there was a brownout. It made him scared thinking that scary elements will come and haunt him. As he opened his eyes, he suddenly realized and appreciated the beauty that comes with darkness.
My kids are scared of the dark (and I don't know where that "fear" came from), so I always remind them of Ching who overcame his fear.
Recommended for 7-10 years old
Mga Kwento Ni Lola Basyang ni Severino Reyes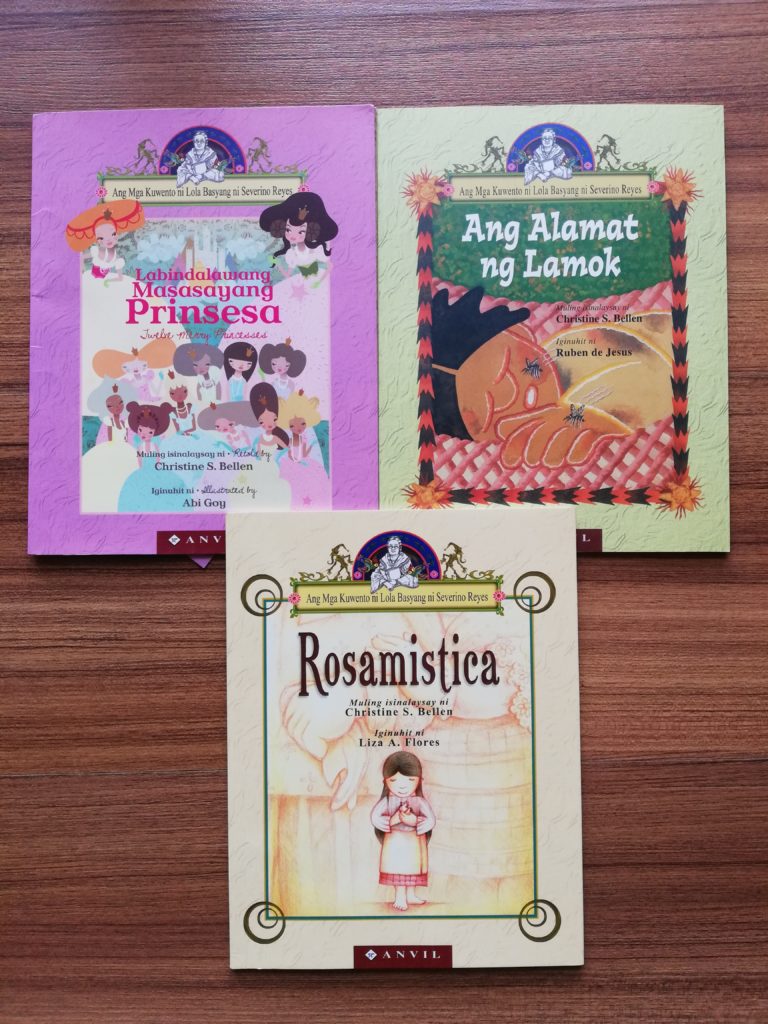 Admit it. You also grew up reading stories of Lola Basyang. I remember watching a show on TV where they feature stories from everyone's favorite lola storyteller.
When I saw this bundle of Lola Basyang stories, I decided to get it. My kids personal faves:
Labindalawang Masasayang Prinsesa because they love anything princess.
Rosamistica, which teaches us about sharing our blessings to others.
Ang Alamat Ng Lamok, which tells how mosquitoes started.
From Manila With Love ni Amy Luna Capelle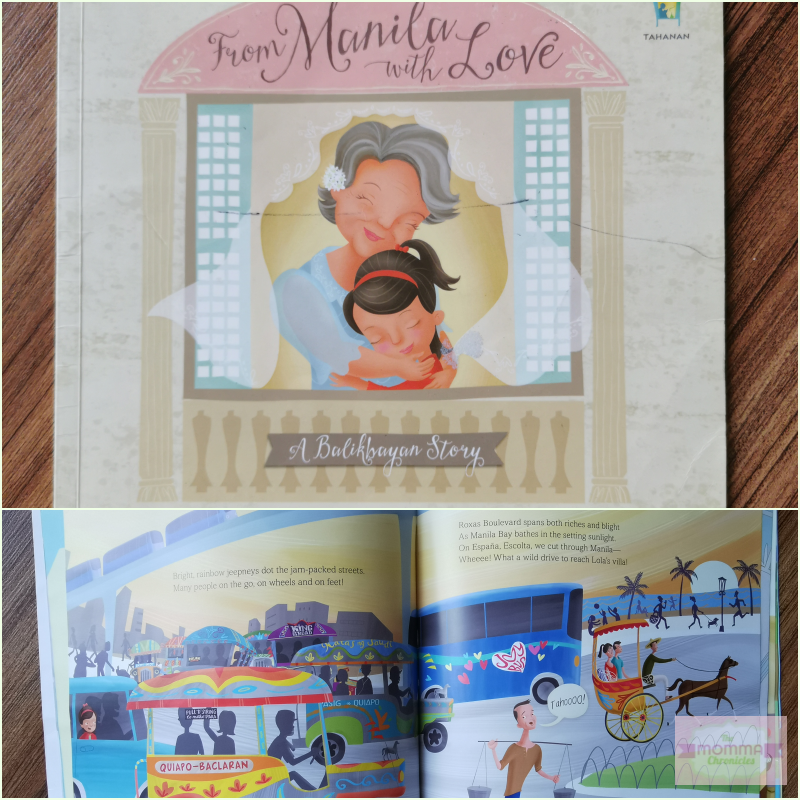 This is a story where surely, many Filipino families can relate to. After all, we will always have that one kamag-anak who lives overseas.
It's about a little girl who "came home" to visit the Philippines for the first time to meet to see her lolo and lola as well as other relatives. In the book, they explored everything Filipino – from food, to places in the metro, and even the concept of balikbayan box.
In a time where understanding who we are takes a backseat, this book is a good reminder how rich and beautiful our culture is.
What about you mommas? What are your kids' favorite Filipino stories?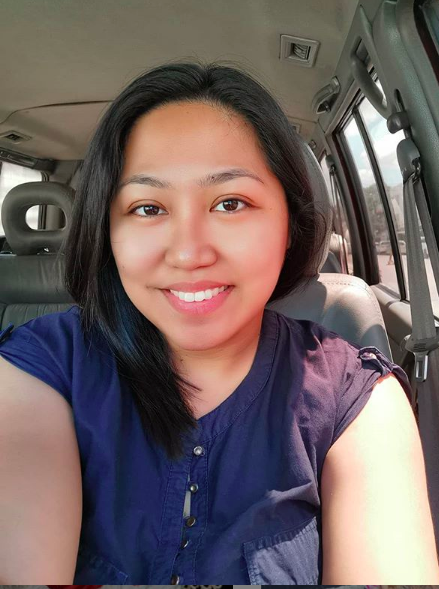 Ayi is a stay-at-home mom of two. When her kids are in their best state, she keeps up with chores, work, and ensuring that her sanity is intact. Join her as she navigates through this rollercoaster ride called motherhood.