I am fascinated with and passionate when it comes to history. For me, it is something we should pass on to the next generation and at the same time, something we can learn from. Now that I have kids, I make sure that history is discussed at home and we try to incorporate it every time we go on trips.
This summer, we decided to go to Las Casas Filipinas de Acuzar. On our way to the resort, we passed by the Mt. Samat marker and decided to see it before we go back to Manila.
Why should we should go to Mt. Samat National Shrine?
For starters, it is a memorial dedicated to honor the sacrifices of Filipino and American forces who fought to defend the country.
History buff or not, it is good to know what the purpose of Dambana ng Kagitingan or Shrine of Valor is. The cross, which sits on top of Mt. Samat and as tall as the Statue of Liberty, reminds us of the bravery of both Filipinos and Americans during the World War II. Bataan became the "last stand" before the troops surrendered and the Philippines fell into the hands of Japanese, which resulted to the infamous Death March.
Second, a visit to the shrine equates to textbook coming to life.
It's not enough that the kids are aware of what our country can offer based on what they read in their books. This shrine has been discussed during my kids' Araling Panlipunan classes over and over. I remember my eldest daughter using Bataan for her final AP project with emphasis on the shrine. She remembered clearly what the Death March is about and when we said that we will visit, she couldn't wait. She wanted to see the cross up close and this trip made it happen.
Unfortunately, as of this writing, the memorial cross is closed for rehabilitation since it's been up for 50++ years. It would've been nice to go up in the observation deck where we can see a panoramic view of the Bataan province.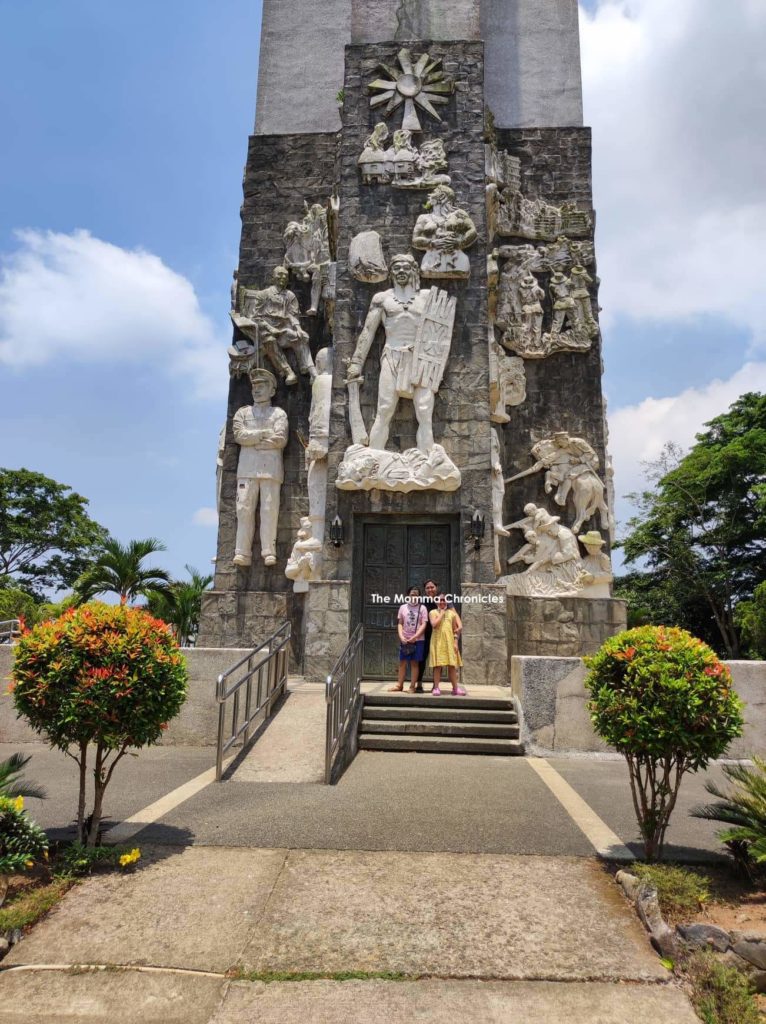 Aside from the memorial cross, we also went down to the Colonnade. Made of marble, the Colonnade houses the Altar of Valor to honor the bravery of soldiers. On each end is the narrative of the Battle of Bataan.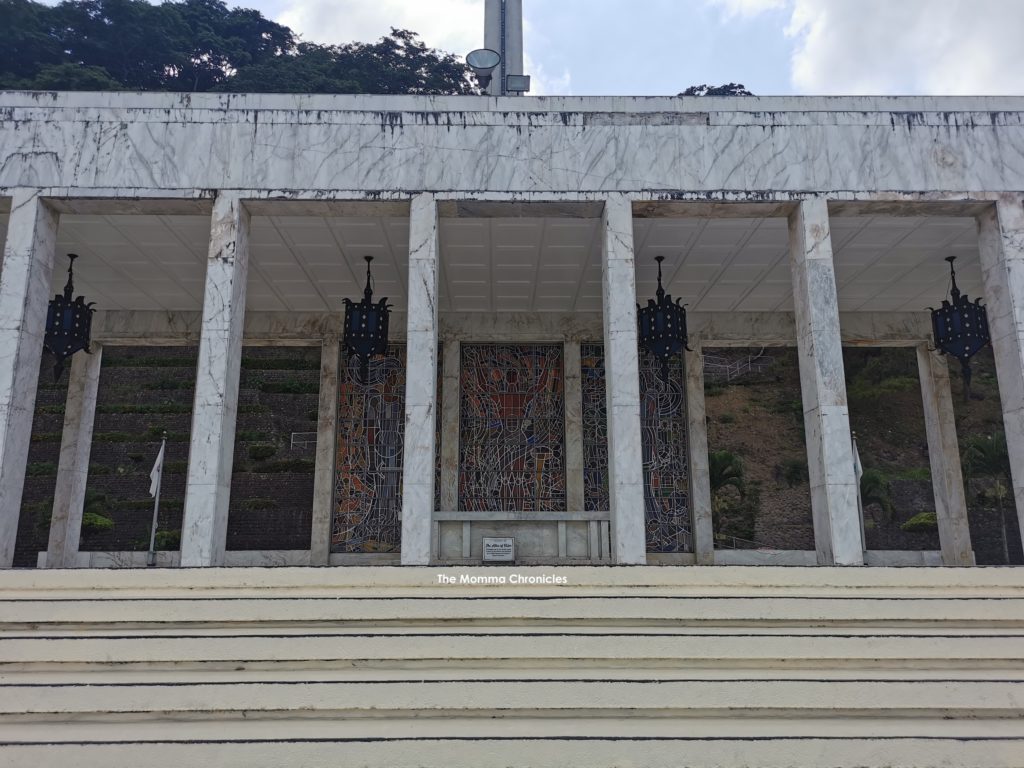 We also went down to check out the museum. It houses artifacts from the war such as weapons used and photos taken during the war. The kids enjoyed seeing the war relics and reading about what happened during those times.
Also, it is a good side trip with the family. I am all for filling the kids' core memories, which is why we make it a point to travel as a family. The trip to Mt. Samat is something the kids will remember. At the same time, it's a good way to teach them something about our country and not just limit it to what they can read in books.
Did I mention a visit to Dambana ng Kagitingan is a good exercise, too?
The only way to go up to the cross is by walking uphill. Unfortunately, cars are not allowed so we didn't have a choice but to walk – at napagod si mother. LOL. We arrived around 10:30am on the site and there's not much people so we took our masks off so we can breathe easily.
Kidding aside, we were welcomed with a view of Bataan, which makes the climb worth it. It was a good trek, too, and allowed us to burn the calories we gained from too much eating. Haha!
No worries though because there are stairs on the way down. Just make sure to use comfy shoes since the stairs are made of cobblestones.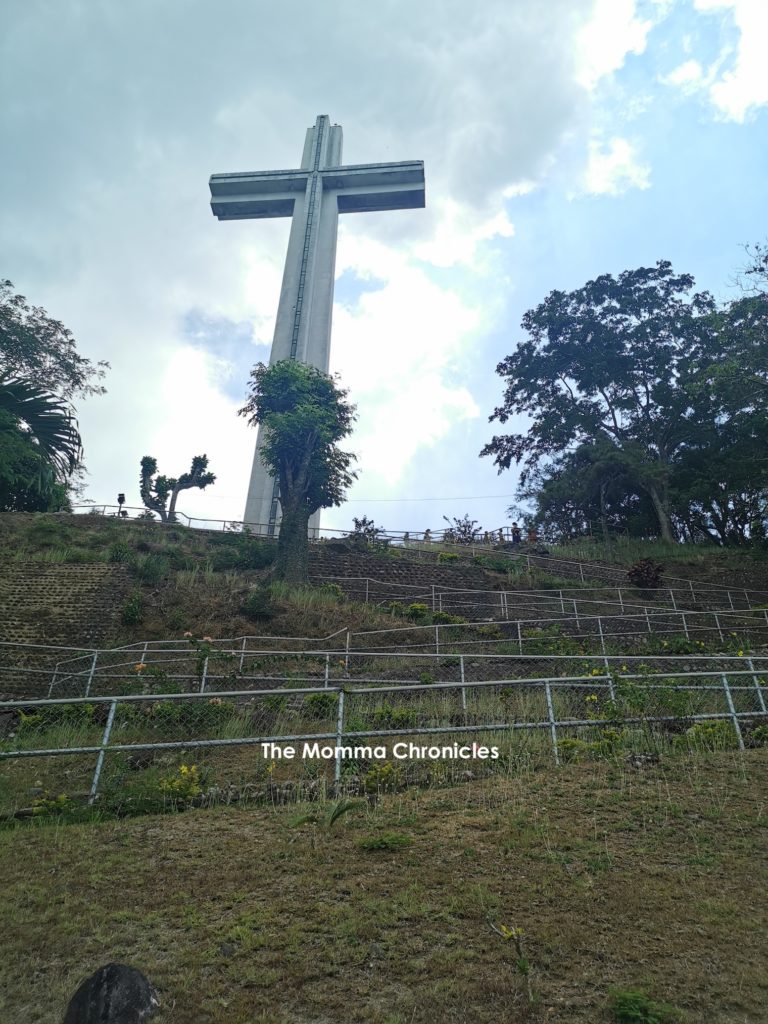 More importantly, a visit to the shrine is a good, humbling experience.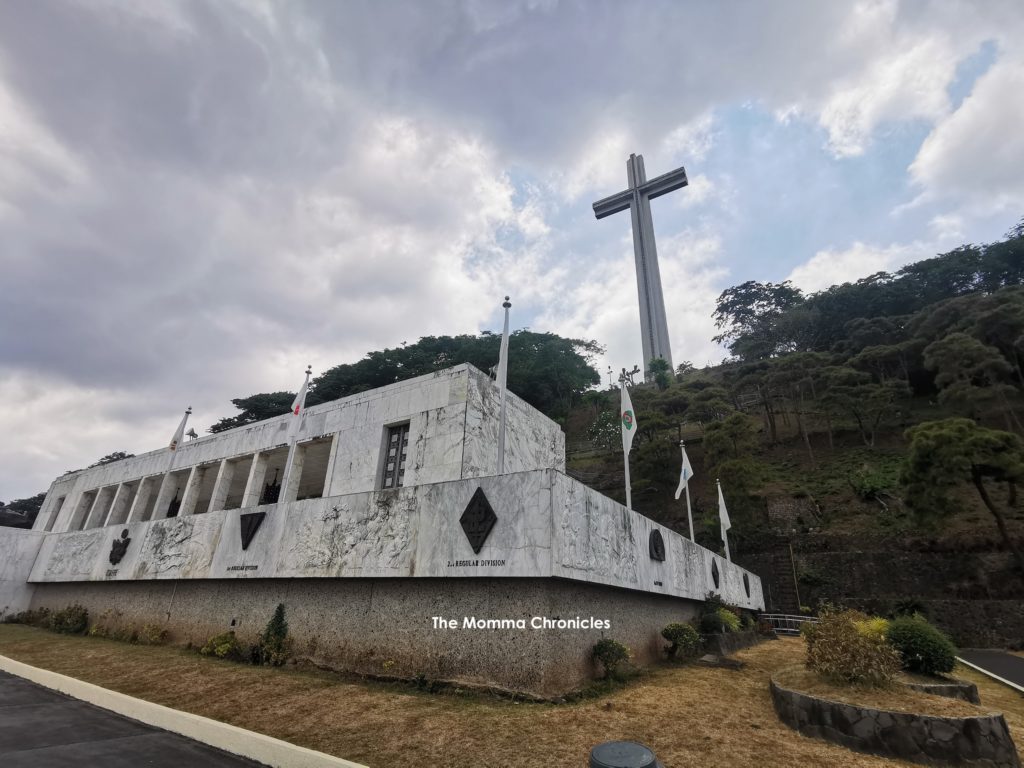 As a family, we try to maximize our experience every time we go somewhere. We'll never know when (or if!) we'll be back, so we make it a point to make the most out of our stay.
The trip to Dambana ng Kagitingan is a first for me and the kids. It is humbling to be in a place surrounded with so much history and so much bravery. I can just imagine how difficult life was during that time and knowing that there are courageous Filipinos who fought and defended our country is a moving experience.
Tips and things to remember when visiting Dambana ng Kagitingan:
A visit to the shrine is NOT for free. Parking fee is P50 while the entrance fee is P20 / person.
There will be an orientation before you can enter the shrine. No worries since this is only meant to orient visitors about do's and don'ts as well as the flow of the tour.
Wear comfortable shoes and clothes. There will be a lot of walking and climbing before you reach the cross.
Bring water. There are no stores on the way up so it's better to be prepared. Food stalls are also located at the entrance of the shrine in case you need to buy drinks.
Wearing cap and sunblock are highly recommended.
The shrine is considered as a peaceful place. Observe silence and avoid making unnecessary noises and watch your tone at all times. Making Tiktok videos within the vicinity is highly discouraged, too.
Restrooms are available on the site.
Make sure that your car is in tip-top shape. We've seen a number of cars that overheat since the way to the shrine isn't an easy one to traverse.
There is a souvenir shop in the entrance in case you need to buy souvenirs.
Mt. Samat National Shrine is open daily from 8:00am to 5:00pm.
DON'T FORGET TO SHARE: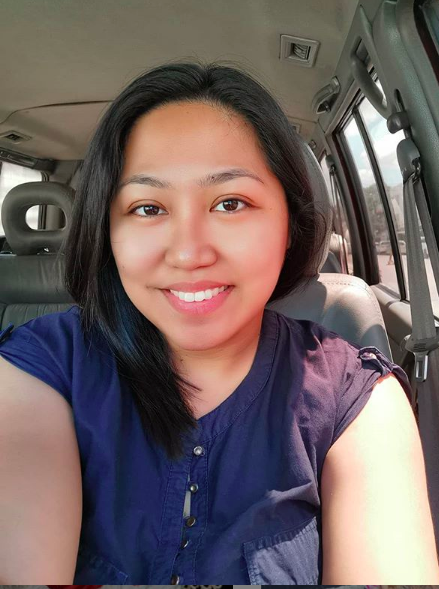 Ayi is a stay-at-home mom of two. When her kids are in their best state, she keeps up with chores, work, and ensuring that her sanity is intact. Join her as she navigates through this rollercoaster ride called motherhood.