As I bid another year goodbye, it will never be complete without looking back to what it has taught me. For me, being 25 is a struggle between maturity and childishness, being a woman or a girl, being driven or simply taking the present as it is. Nonetheless, my 25 years surely taught me a lot.
You might say that I'm still young to know life's most important lessons. True. But age is just a number and what you have learned cannot be quantified with how long you live, right? My experiences may be nothing compared to what others have been through but so what? Thanks to those experiences, I became a better, stronger person.
Here's what I learned and gained in those 25 years:
1) Start thinking about the future. The "you only live once" is not applicable when you're in your 40s and you realize you have nothing – even in your bank account. You might be surprised how much time was eaten in your life because you're too focused on the "now."
2) Most of your friends are engaged, married, have or will have kids. If you are none of the above, start to worry. The clock is ticking, especially for women (although there is an article that says having kids later in life is a sign of longevity).
3) You often find yourself invited in weddings. Despite the laziness to look for a nice dress, it's just hard to say no because of the food. Plus, it can be a reunion too.
4) Then there are baby showers, baptismal celebrations and kids' birthday parties. And brace yourself with some party planning too. After all, extra hands are greatly appreciated.
5) Ninang (Godmother), Bridesmaid, Maid of Honor among others. Leave the flower girl and ring bearer roles to the younger ones – number wise. You're an adult now.
6) It's a battle between what you want and what you need. And between the two, learn how to strike a balance.
7) By now, you should be chasing your dreams. For me, 25 is not the time to experiment and find yourself. It should be the time where you landed your dream job and doing your best in order to get on top.
8) Do well in school. There will always be exception to the general rule but school does play an important role when it comes to job hunting. If only I studied harder and partied less, my grades will be better (but I didn't fail, okay) and I'll be able to land a better job.
9) Save as much as you can. I spent most of my salary shopping for clothes and shoes. When I went back in law school, I ended up using the little money I have and later on relied on my allowance from parents. And I'm 23 at that time. Like what most people say, save for the rainy days.
10) Choose someone who brings out the best in you. Relationships are meant to make you a better person, not worse.
11) Pay extra attention to your health. You're not going to be 18 forever and sooner or later, you'll experience high blood pressure or what have you. Remember, prevention is better than cure.
12) Exercise regularly. It makes you feel and look good, inside out.
13) Read, read and read. There's nothing wrong with tickling your mind once in a while. Go ahead, grab the newspaper or open that book that's been sitting on your shelf for years. After all, learning doesn't stop in school.
14) Never say no to opportunities, no matter how 'new' or 'foreign' it may sound to you. There's just so many things to do and it's a matter of grabbing that chance in front of you.
15) You should know by now what you want to do with your life. You're not getting any younger. There's no time for soul searching. By now, you should have an established career or business and grow with it. Unless you want to get trapped in a job you don't like with other 25 year olds – and it so happened you're already 40.
16) Friends come and go but real ones stick around. I made a lot of friends in college. And almost 10 years after, I haven't seen them yet. Only real friends stick around and make an effort to see you.
17) Take risks. Don't be afraid. You'll never know what you are capable of unless you go out of your comfort zone.
18) Laugh. It is the best medicine.
19) Don't be afraid to fail or get rejected. And when you do, gather yourself and stand again. That's just part of the human life. I've failed too, and instead of wallowing in tears and feeling sorry for myself, I just figured some things are not meant to be. So I moved on.
20) If you're married, take some time off and go on a date with your husband / wife. Having your own family can be exhausting too – and yes, I mean the kids and nonstop crying for reasons unknown to me. When I got married, I realized that the honeymoon stage doesn't stop after three months. Always make it a point to spend time with your spouse and trust me, it can help a lot in keeping the "fire" in your marriage.
21) Spend some time alone. It keeps you sanity intact.
22) Learn to appreciate the little, non-material things. Don't dwell too much on the expensive things that's not even going to last for hundred years. When I feel so tired, and yes, I do get exhausted from being a mom, I just look at my kids and their smile will definitely make me feel better. No Prada bag can equate to that.
23) Life is tough. But you have to be tougher than life.
24) Learn from your mistakes. It will make you a better, stronger person.
25) Smile. You don't need wrinkles and fine lines on your face. They make you ugly. Besides, smile is the cheapest form of make-up right?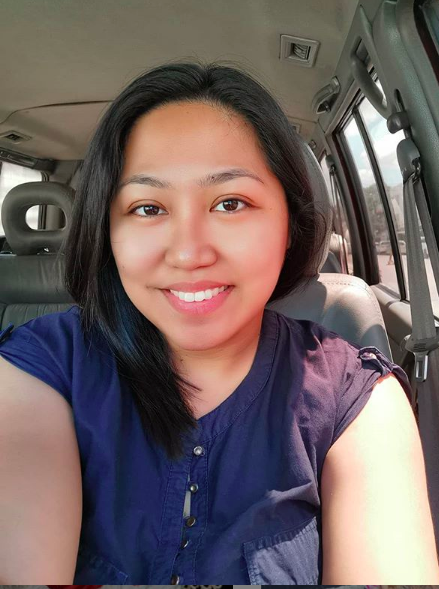 Ayi is a stay-at-home mom of two. When her kids are in their best state, she keeps up with chores, work, and ensuring that her sanity is intact. Join her as she navigates through this rollercoaster ride called motherhood.