I always believe that one's experiences in life is the best teacher. Let's face it. Some of the best things life can teach us is not taught inside the four corners of the classroom. Yes, even books are not enough to prepare us for what life and this sometimes harsh world has to offer.
I can't say 2014 is the best year for me but it is definitely not the worst. 2014 has been both good and bad, boring and exciting, challenging but definitely something I'll always remember. It opened a lot of doors for me, some I took the chance, some I have to let go – for now.
….. and this is what I learned.
1. Take risks.
I'm pretty sure I mentioned in some of my posts that I'm not a big risk taker. I settle for "pwede na" and don't really want to go out of my comfort zone. Yes, I'm boring and a scaredy-cat.
But this year is different. I took some risks in terms of the online business, investing in stocks and yes, even in blogging. After more than a year, I decided to buy my own domain to give myself an identity in the World Wide Web – and I'm so glad I finally took the risk.
It took me a while to gather some guts to try out different things. What I learned is that if I didn't take the risk, I wouldn't gain something. And I wouldn't have learned more.
Bottom line: take risks and don't be afraid. Life is boring without it.
2. Grab opportunities.
Sometime in May, I got a call from Lazada Philippines about supplying for them. Of course, I was hesitant at first since this is something bigger than the online store. After weighing the pros and cons, my husband and I decided to give it a try. After all, it's not everyday where we'll be offered that kind of opportunity.
Of course, this doesn't mean you just grab any chance you get. We all have to weigh the consequences and the possible benefits we can gain before we say "yes" to the opportunity/ies presented in front of us.
3. Be patient.
Patience is never my virtue. Seriously. Though I really try my best to be patient especially with my two rascals. For the previous years, I've been working on my patience meter and by 2014, I must say I improved a lot. I don't even know where I get that truck-load of patience with my kids but I know that once both (yes, both) of them threw tantrums, I need to activate it.
And it's not just with my kids.
Being an online seller and with the entrance of Lazada in the business, I can't wait for the sales to go up. Of course, it doesn't work that way. Everything has its own timing and it's going to take a lot before we reap all our hard work. Patience, patience and patience is really a must in everything we do.
4. Don't trust people too easily.
This has been a challenging year for me in terms of juggling kids, work and the entire household. I am used to having yayas around to help me manage some things in the house and I must admit, I trust them too easily. I was of the impression that giving them everything they need (they even have their own room with CR!), buying food for them and paying them well are enough. Well, apparently not.
I just learned that these people will never be contented. Despite treating them with respect and making them feel they are part of the family, there will always look for loopholes just so they'll look kawawa. Since I became maid-less, I just realized that there are people you can't trust easily. Some people are just there because they need something from you and once they get it, they'll leave. Sadly, it's the reality of life.
5. Never forget yourself.
When I became a mom, everything revolved around my kids. Despite having yayas, I rarely took the time off and will only do so when I'm in the mood. As a result, I looked more stressed out than ever. My mom even teased me, "Sige ka, baka palitan ka ng asawa mo pag hindi ka nag-ayos."
So this year, I vowed to pay attention to myself more. My role as a mom is a tough and challenging one but I learned that it shouldn't stop me from taking care of myself too.  I know my priorities and responsibilities but I made sure to devote at least two hours for myself. It just makes me feel better and more energized after.
To 2014, thank you so much. It's been a great year. Sadly, I have to say good bye to you and welcome 2015 with open arms. Cheers!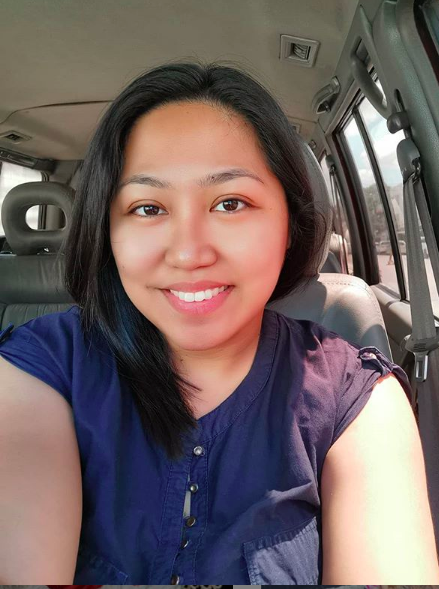 Ayi is a stay-at-home mom of two. When her kids are in their best state, she keeps up with chores, work, and ensuring that her sanity is intact. Join her as she navigates through this rollercoaster ride called motherhood.