My eldest daughter is not a shy little one. In fact, she's the bubbliest kid you'll ever meet. She could easily memorize songs and lines from her favorite shows, she loves to pretend play and she even makes up her own stories and songs. However, there is one problem: she's not the most sociable person in the room. Every time she sees lots of adults she doesn't know, she'll surely come running towards me and won't let go. During her preschool assessment, the teacher also told me that she is ready for school, but her social skills could be an issue.
Come first day of school.
I know she's not like other kids you could easily leave with the teachers. It didn't surprise me at all. Since it's her first time to go to school, the whole idea of attending classes everyday is something new to her. That is why I came up with few tricks to help her get excited. The formula may not be perfect but here's what I did to help her prepare for school and not hate it.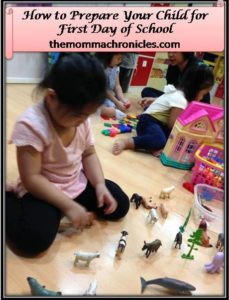 1. Pay a visit.
There is a reason why my husband and I decided to enroll A in her current preschool – she is used to it. She knows the environment, she's been there countless times and the teachers know her already. Still, that didn't stop us from paying a visit and telling her that this is where she is going.
Paying a visit to the school and even playing in there could increase your child's ease and comfort level. This will also help minimize separation anxiety once school starts. Go ahead and schedule that trip.
2. Explore the idea of school in daily activities.
I am no homeschooling mom, so my kids may confuse play time and study time. Still, I used it as an opportunity to teach A the concept of school through pretend play. She has a Peppa Pig toy wherein Peppa and the rest of her friends are in the classroom. We always play with that and at the same time, constantly tell her that she will have teachers (like Madame Gazelle) and classmates.
Aside from this, play time became a venue for "Pretend School." We attended a couple of preview classes so I was able to grasp what and how teachers supervise a class. I incorporated that in our daily activities by singing songs, reading stories, painting and acting out.
3. Read books about school.
I came across this article from a magazine enumerating different books that talk about first day of school or going to school. Unfortunately, I wasn't able to buy one. Reading books about school could help a lot in setting the "school mood" for your child. What I did was to simply create stories about going to school, still using Peppa Pig. Thankfully, my daughter enjoyed it.
4. Enroll in summer classes.
As much as possible, in your child's preschool. If your chosen preschool has summer classes, take advantage of it. Aside from keeping your child busy and tablet-free for a few hours, this could help your child familiarize and become at ease with the school's environment.
5. Buy school stuff together.
This is my favorite part. The whole idea of school and buying stuff for my girls excites me. The weekend before school starts, A and I went to the mall to buy her lunch box and backpack (check out my daughter's Crocodile Creek Owl backpack). Since I want her to be "in control" and emphasize that she is a big girl already, I allow her to choose what she wants (still, with my consent, of course). Somehow, this gives kids the idea of that they are big already and ready for preschool.
6. Establish a school bedtime.
This is one of my biggest challenges. My daughters are used to sleeping at 10pm and wake up at 9am the following day. A's school starts at 9:30 and ends at 12 noon. Prior to school starts, I started to "train" my kids to sleep early so at least, they could have eight hours (or more) of sleep. This prevents crankiness during class too.
7. Be early.
It is imperative to be early on the first day of school. During A's first day, we were in her school already by 9:10, which allows her to play around, get to know her teacher and be comfortable with the environment. Waking up early and being early avoids rush too, which could stress out the child.
A child's first day in school is a big step. With proper preparation and ample time to adjust in a new setting, for sure your child will get used to the environment.
How about you mommas, any tips you could add on how you prepared your little one for his/her first day?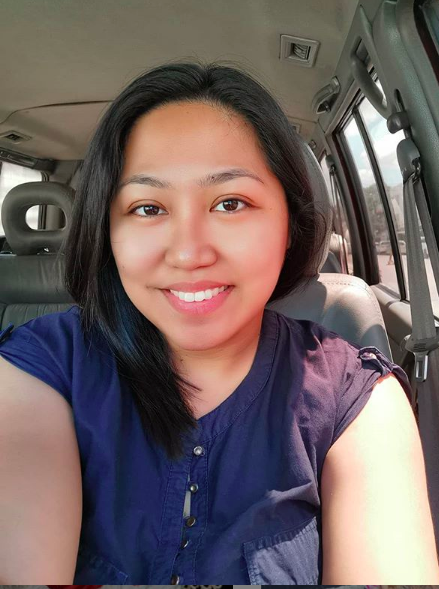 Ayi is a stay-at-home mom of two. When her kids are in their best state, she keeps up with chores, work, and ensuring that her sanity is intact. Join her as she navigates through this rollercoaster ride called motherhood.