Two weeks ago, my eldest daughter had her first week in school. Despite ample preparation (here are tips on how to prepare your child on his/her first day), leaving her inside the classroom with people she doesn't know will surely lead to a crying fest. Even if she is excited to go to school, I know that it will not be a stress-free transition.
According to the Psychology Today website, separation anxiety is a development stage wherein a child experiences anxiety due to separation from the mother or other primary caregiver. Experts and the preschool teachers in my daughter's school also said that crying and clinginess are normal during the first few weeks. Eventually, it will get better once the child got used to the teachers and the school environment.
I saw this on my daughter. On the fourth day of school, I left the classroom and see if she could handle herself without me on her side. Well, she cried. This made me realize that dealing with separation anxiety is not going to be easy. We're still in the process of getting over my daughter's separation anxiety but after two weeks, I am proud to say that she is slowly getting over her "fear." Here's what I did.
1. Always be early.
Punctuality or being early has a lot of advantages, especially at this stage. It allows the child to adjust, play with the teachers and classmates and help build a soothing environment.
I figured there is a reason why preschools encourage playtime before class starts. It helps kids become comfortable and at ease with the new setting, thereby minimizing anxiety in case you decide to leave the classroom.
2. Bring a comfort / security object.
If your child has a security blanket, make sure that you bring it in school. Having something your child is familiar with could help him/her adjust in a new environment. Contrary to popular belief, having a security blanket is not a sign of your child's weakness. In fact, it helps him/her cope with unfamiliar situations, making it easier to adjust. Read more about security blanket here.
Before I left the classroom, I specifically instructed my daughter's teachers to have Pooh (her security blanket) within reach. It helped her calm down a bit and ease any stress she felt during the few minutes I was away.
3. Stay with your child for a few days.
Leaving your child in an unfamiliar environment could lead to crying fest. I heard a lot of crying from the other class when parents left their kids on the first day. I have nothing against this but this could lead to a child's withdrawal or refusal to go to school.
Staying with your child for a few days could ease tension, stress or anxiety. This assures him/her that you will be there until s/he is ready to be on his/her own. Sticking around for a few days while within clinging distance will also help your little one build enough courage to explore since s/he knows you are there. Then, slowly leave.
A piece of advice: even if you stay with your child, make sure not to meddle with their activities. Allow the teachers to do their jobs in assisting your child inside the classroom. This sends your child a message s/he can trust the teacher even if you're not around.
4. Encourage interaction.
Interaction encourages independence and an improvement in a child's social skills. Encouraging your child to interact with other kids and teachers helps him/her build confidence and trust with the people around. This also helps your child become at ease with the new environment.
5. Talk to your child's teacher.
THIS IS A MUST. Every child is different. Despite their years of experience in teaching, teachers still don't know your child's needs and what could upset him/her. They will also encounter kids who are different from the others. Therefore, it is important to keep communication lines open between you and your child's teacher. Relay information that could help in making the transition smooth and stress-free as possible. This could help them easily address your child's issues in case the situation calls for it.
6. Remind constantly.
Surprisingly, kids possess a certain kind of maturity at an early stage. They seem like they don't understand what you are talking about when in fact, they have their own way of deciphering every word you say.
Just constantly remind your child that mommy has to go out while s/he will stay with teacher. Provide assurance that you are out there, waiting for him/her so there's nothing to worry.
7. Practice separation.
This is my biggest challenge. My kids are attached to me, to the point they watch me take a shower or always on my tail. To help my eldest prepare for school, I bring her in my parents' house and let her stay there the whole day on weekends. This way, she'll get used to not having me around.
Aside from this, establish goodbye cues. Walking out of the classroom when they are not looking could stir violent reactions and incessant crying. This could also make your child more uneasy and encourage more clinging. My daughter and I practice saying goodbye to each other every time I bring her to my parents' house or leave her in school. So far, effective and no crying.
8. Be patient.
This is another challenge for me. I am not the most patient person in the room and get easily annoyed when my daughter doesn't want me to leave. I secretly hope she'll get over it instantly – but that's not that easy.
Patience. Patience. Patience. If your child has difficulty letting you go, just be patient. In a few weeks, s/he will get over the anxiety.
9. Allow the teachers to deal with your child.
This is the first tip the preschool teachers in A's school told us during orientation. It is normal for kids to long for their parents especially on the first few weeks. However, don't storm inside the classroom as soon as you hear your child cry. This creates an impression that as soon as your kid cries, s/he knows that mommy is just outside and will come to the rescue. The goal is to let your child's teacher take over, even for three hours everyday. Teachers are used to this kind of situation. Relax.
10. Don't rush.
More importantly, never rush. Don't force your child to be away with you. Dealing with a child's separation anxiety is a process. It doesn't happen instantly and requires time. It may take a while but there will come a time when your child will stop crying when you are out of sight.
UPDATE: My youngest daughter experienced separation anxiety by the third week of school. What we did was allowed to stay inside the classroom for a week. The following week, we established that mommy's spot is outside the classroom, by the door while her spot is inside the classroom. We left the door a bit open so she can take a peek every time she feels uneasy. We also practiced closing the door, but when she opens it, she can still see that I am there. The next week, she was able to get over separation anxiety, but I still stay at my spot outside the classroom so that she knows I'm outside every time she opens the door. Her teachers always assured her that mommy is just waiting outside.
How about you mommas? Any tips on how to get over your child's separation anxiety?
Note: I'm neither a parenting expert nor earned a degree in any parenting-related field. All of these are based on my personal experience in handling my daughter's separation anxiety.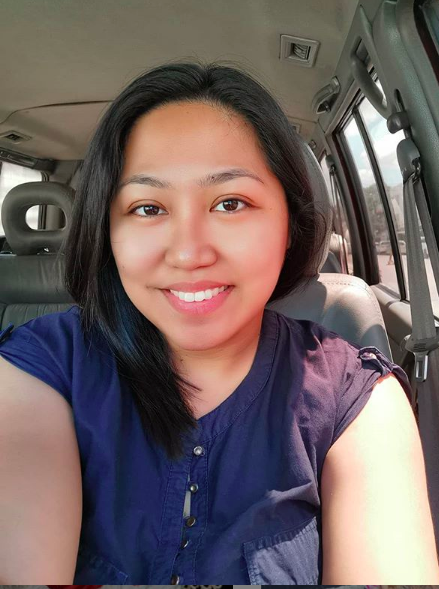 Ayi is a stay-at-home mom of two. When her kids are in their best state, she keeps up with chores, work, and ensuring that her sanity is intact. Join her as she navigates through this rollercoaster ride called motherhood.