Nowadays, I rarely ask my kids' yaya to come with us every time we go out. My kids are 2 and 3.7 years old already and somewhat manageable. However, there are instances when we ask her to come with us for extra hands. After all, kids will be kids and there are cases when they are just too much handle.
This leads to my concern: how should we eat out when yaya is around?
Let's face it. Yayas and financial costs are two things that go together. Always. When we're eating out with yaya, this means paying for an additional person instead of ordering another dish, which my husband, kids, and I could share. On the other hand, I'm not comfortable with giving her separate money and ask her to eat somewhere else. As much as possible, I want to be considerate enough and allow her to taste something new without spending too much on her food.
It's not about being selfish, but here's what we do when eating out with yaya.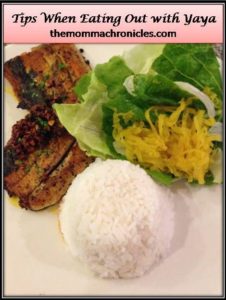 1. Set a budget.
We don't usually eat in expensive and posh restaurants when yaya is around and would rather save it for date nights. We always go for reasonably-priced restaurants with decent food since who doesn't want to enjoy good food, right? When dining out with yaya, we always make sure to set a budget and consider practicality in our food choices. This way, we can equally distribute the food without starving ourselves or looking selfish.
2. Be considerate.
There is a difference between being selfish and being considerate. When eating out with yaya, regardless of the added costs we have to pay for her, it is important to practice consideration.
It may be tempting to order the cheapest food on the menu, but we all know that's not how it should be. This makes us look selfish and could mean different things, mostly bad. What we do is we choose something that make yaya's taste buds happy while keeping our budget in mind.
3. Offer choices.
Most of the time, yaya is too shy to order for herself. In our experience, yaya will always say, "Kahit ano po" or "Kayo na po bahala" every time we ask her what she wants. Instead of wasting time and subjecting each other to torture on what to eat, we usually offer choices for her, while still being considerate. We give her options, describe the food, and provide recommendations then she decides. This allows her to be in control of what she wants to eat while sticking to the budget.
In case we ordered food that is good enough for everyone, we ask yaya what she wants and make sure to set aside certain portion for her.
4. Allow her to enjoy her food.
Having a yaya along gives us extra hands in taking care of the kids. During meal time, make sure we allow her to eat, enjoy her food, and finish it sans the rush.
What we usually do is I feed my eldest while yaya feeds the youngest. I usually eat simultaneously with my eldest to save time. Once my husband is finished with his food, he'll get our youngest so yaya could enjoy her food. We also constantly tell her not to rush. We want her to enjoy her dining experience as much as possible.
5. Make her feel she is a part of the family.
Respect and trust are earned. Despite the scary stories about helpers, there are still people with good heart and willing to stay with the family. We have yet to meet the ultimate yaya but it's not a good excuse to treat her differently.
Selfishness breeds hate and anger between yaya and employer. Despite the added costs, eating out with yaya is also our way of saying thank you for everything that she has done for our family.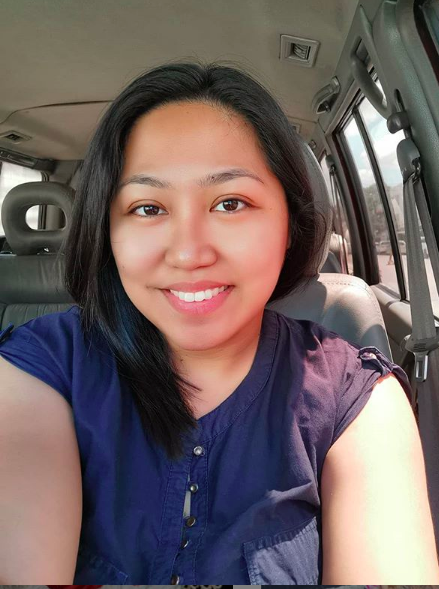 Ayi is a stay-at-home mom of two. When her kids are in their best state, she keeps up with chores, work, and ensuring that her sanity is intact. Join her as she navigates through this rollercoaster ride called motherhood.