I'm a sucker for red velvet cupcakes. Every time I pass by Sophie's Mom or Vanilla Cupcake Bakery, red velvet cupcake will always be part of my "must buy" list for cupcakes. Apparently, cupcakes can be costly (minimum of P60.00 per piece) especially when you want to taste only the best.
Instead of buying again on my next stop to the mall, I just decided to make one. I searched for the recipe until I found the perfect one. And I must say, this recipe worked out well for me and the red velvet cupcakes I made tasted really good.
So here's what you'll need:
2 1/2 cups of flour, 1/2 cup unsweetened cocoa powder, 1 teaspoon baking soda, 1/2 teaspoon salt, 1 cup butter (softened), 2 cups granulated sugar, 4 eggs, 1 cup sour cream, 1/2 cup milk, 1 ounce red food coloring, 2 teaspoons vanilla extract
For the cream cheese frosting:
8 ounces of cream cheese (softened), 1/4 cup butter (softened), 2 tablespoons sour cream, 2 teaspoons vanilla extract, 2 cups confectioner's sugar
HOW TO DO THE RED VELVET CUPCAKES:
Baking the cupcakes is pretty simple. For starters, preheat the oven to 350F. Then sift the flour using a strainer to make sure there are no lumps.
For the cupcake:
1. In a large bowl, mix flour, cocoa powder, baking soda and salt.
2. Combine the softened butter and sugar and beat it until it becomes fluffy. Slowly add the egg, one at a time. The put the sour cream, milk, red food coloring and vanilla extract.
3. Gradually add the flour mixture until well blended.
4. Spoon the butter in the muffin pan. Make sure that each cup is 2/3 full.
5. Bake for 20 minutes. Although I baked mine in just 15 minutes and it turned out perfectly cooked. Make sure to stick a toothpick and if it comes out clean, then the cupcakes are good to go.
6. Set aside and let it cool.
For the cream cheese frosting. 
1. Mix together the cream cheese (I used Philadelphia cream cheese), butter, sour cream and vanilla. Beat it until it becomes light and fluffy.
2. Slowly add the confectioner's sugar.
I was kind of worried when the mixture turned out pink then eventually brown. But when the cupcakes were made, it looked like a red velvet cupcake so at least I know I did it right. I was also supposed to put some choco bits on it but I forgot to buy one so I'll just stick to the recipe.
Once the cupcakes are cool enough, you can put the cream cheese frosting. If you don't have the necessary frosting materials, then that's fine. I just used a ziploc and cut the edge of the plastic. Just please don;t judge the way I frosted the cupcakes since my artistic skills are zero.
Easy right? And this recipe can make up to 24 cupcakes so it's perfect for parties or events. Plus, it tastes really good too! Thanks to McCormick for sharing the recipe!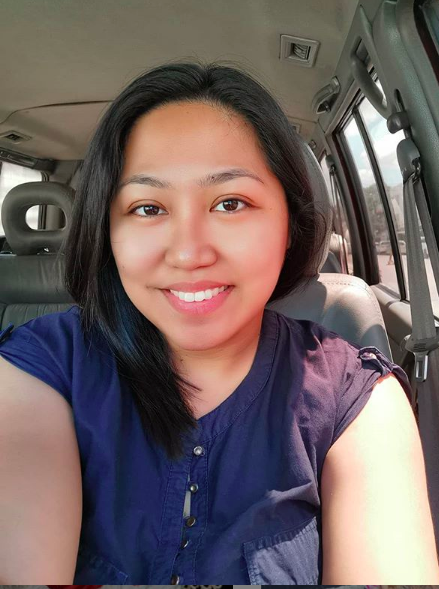 Ayi is a stay-at-home mom of two. When her kids are in their best state, she keeps up with chores, work, and ensuring that her sanity is intact. Join her as she navigates through this rollercoaster ride called motherhood.