I always make it a point to bake every week. And last week, I decided to combine fruit cocktail and brownies into one.
When it comes to brownies, people always use nuts, chocolate chips, corn flakes or even colored sprinkles. I have never eaten a brownie with fruits in it (okay fine, I tried the ones with cherry). So when I saw the recipe from a food magazine, which combines fruit cocktail and brownies, I decided to give it a try. And mommas, I promise you it tastes really good.
So here's how to make easy fruit cocktail brownies.
What you'll need:
2/3 cup butter, 3/4 cup cocoa powder, 2 cups sugar, 4 eggs, 1 tsp vanilla extract, 1 can fruit cocktail, drained (reserve 2 tbsp of the syrup), 1 1/4 cups all purpose flour, 1 tsp baking powder, 1 tsp iodized salt.
Here's how to do it:
1) Preheat oven to 350 degrees Fahrenheit.
2) Melt butter in a saucepan. Add the cocoa powder. Stir to dissolve
3) Transfer the cocoa mixture in a mixing bowl. Add one egg at a time, sugar, vanilla extract and the reserved fruit cocktail syrup. Mix well.
4) Add flour, baking powder and salt. Mix thoroughly.
5) Put in the fruit cocktail. Take note that you don't have to finish 1 can in the brownies. Just adjust the amount of fruits to be included in the mixture.
6) Spread into a greased pan and bake for 30 minutes or until brownies starts to pull away from the sides. Let it cool before cutting into bars.
The top is crispy on the outside but so moist and chewy on the inside. Plus, it gives that sweet, fruity flavor that blends well with the brownies. Try this easy brownie recipe.
You can also opt not to use fruit cocktail and just stick with the plain brownies. Simply ditch the fruit cocktail from the recipe. Don't forget to add more chocolate chips on top or nuts in case you prefer something to chew. The kids and kids-at-heart will surely love it.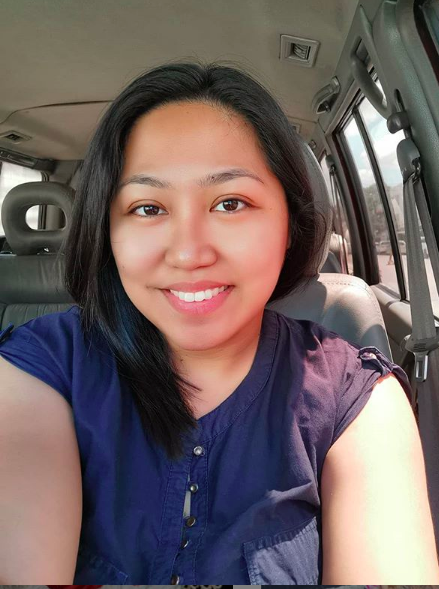 Ayi is a stay-at-home mom of two. When her kids are in their best state, she keeps up with chores, work, and ensuring that her sanity is intact. Join her as she navigates through this rollercoaster ride called motherhood.