I've been seeing a lot of posts about breastfeeding in my Facebook feed. At first, I thought it's just a marketing campaign to promote breastfeeding in the world. After reading through various posts, I found out its World Breastfeeding Week so I decided to make this post about my own breastfeeding journey.
When I was pregnant with my first child, the childbirth class I attended puts too much emphasis on breastfeeding. To be honest, I never really planned on doing it and I don't feel comfortable "being exposed," if that even makes sense. Of course, things are different when I gave birth. I did breastfeed but being a young, naive mom, I never tried harder. It only took me two months to breastfeed and that's it. My pedia even restricted me with certain foods because my daughter had a skin condition and eating fish, chicken and eggs can aggravate it. I figured if she doesn't want my milk, then fine. It's easier for me anyway. And looking back, my baby turned out fine, with occasional cough and colds during the cold weather.
But things were different on my second baby. Of course I knew better – but it was never easy for me. Back in the hospital, the nurses kept on insisting that I breastfeed even if there's still no milk coming out. My baby girl was crying incessantly because of hunger and they won't even allow us to giver her formula milk. This stresses me out and ended up forcing myself and hoping for a miracle that I'll finally get that golden milk.
Breastfeeding for me didn't come easily. In fact, breastfeeding was never easy at all. Those pictures and commercials you see about happy moms wearing a big smile was breastfeeding their kids aren't always the case. And believe it or not, I was the exact opposite. During the first few weeks, I was stressed out and hated myself for not having enough supply for my kid. Plus, my husband wasn't exactly the support system I was hoping for and just added to my stress. And no, I didn't wear a smile every time I breastfeed. I cried in pain.
Still, that didn't stop me from breastfeeding, or at least trying to breastfeed. While we were still in the hospital, my baby was only able to latch on the second day. Imagine my happiness when I finally saw her sucking and enjoying the milk. Of course, it took a while and my nipples hurt and cracked that even the nipple moisturizing cream wasn't helping at all. And it hurts so much, I cringe every time I breastfeed my baby. They say maybe the baby wasn't latching properly that's why it hurts but what the heck, I was in pain the whole time – or at least during the first few weeks. My only consolation was at least milk is coming out – though at first it wasn't that much.
So I looked it up online for breastfeeding tips, talked to fellow moms about breastfeeding and applied what I learned. Eventually, milk came out easily and breastfeeding didn't hurt anymore (it's all about the right position and proper latching). I relaxed, took my time and stopped pressuring myself to have more milk. My husband also became the support system I was hoping for. I nursed while trying to put my baby to sleep and at the same time, give myself a time to catch some too. Finally, breastfeeding turned from being painful and stressful to giving me a sense of joy and fulfillment.
Then I said, "I'm going to do this until my baby starts to have teeth" – which is during her seventh month. The idea of her teeth, biting me isn't exactly something I want to go through. And guess what? She's already almost 14 months now and I am still breastfeeding. I don't even know how I was able to do that but I'm glad that as of this writing, I am still nursing here. I wanted to stop but the ease and convenience and knowing what I can give to my kid makes me want to continue. And to be honest, I don't have plans on stopping anytime soon.
Breastfeeding is a commitment. You can't just do it now then forget about it tomorrow. Sure, it's not an easy thing to do but that shouldn't stop us moms to fulfill our responsibilities. Personally, it wasn't easy nursing my child while having another little girl to take care of. It wasn't easy to watch what I eat and make sure I am getting enough nutrients which I can pass on to her. It wasn't easy to attend to other equally important things and squeezing breastfeeding and pumping sessions in between. But I'm glad I was able to sustain it. My baby girl is very healthy and rarely gets sick (she only had colds once, last December, probably because of the cold weather). Plus, the fact that I am able to give her the best gives me a different kind of fulfillment.
To all new moms and mom hopefuls, I encourage you to breastfeed. And guess what, it also helped me lose weight too!
For more info, check out the other articles I wrote about breastfeeding – 
http://momhandsarefull.wordpress.com/2014/01/11/breastfeeding-tips/
http://momhandsarefull.wordpress.com/2013/11/21/breast-is-best-the-importance-of-breastfeeding/
http://momhandsarefull.wordpress.com/2013/10/01/love-your-breast-breastfeed/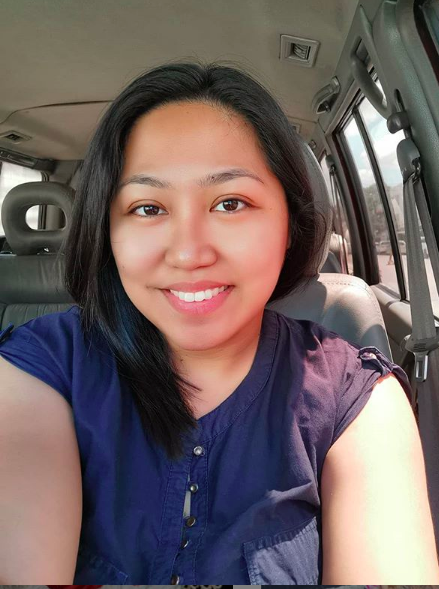 Ayi is a stay-at-home mom of two. When her kids are in their best state, she keeps up with chores, work, and ensuring that her sanity is intact. Join her as she navigates through this rollercoaster ride called motherhood.