Hands down, my kids probably have the most sensitive skin in the entire planet! A mosquito bite on their legs will turn black – and it takes weeks before the marks go away. However, this time is different.
Weeks ago, I noticed red, scaly rashes on my eldest's arm – right between the folds and insides of her elbow. She was scratching incessantly since it is next to impossible to tell her to stop scratching, right? I just put oil on it first since to avoid the "friction" and anti-itch ointment and she somewhat felt relieved. After a few days, I noticed the same-looking rashes on her legs, at the back of her knees and in the thigh area. Since my mother-in-law is into traditional and natural things, she recommended the bayabas (guava) treatment. We'll just boil a couple of leaves then use it to wash my kids' bodies, which I did. Thankfully, there was an improvement since bayabas leaves are antibacterial. But being the paranoid mom that I am, I still felt the need to bring her to a pedia-derma.
Oh diba, my eldest have a pedia-derma as early as two months old (see mommies, I told you she has uber sensitive skin). When we went back and the doctor checked on her arms, she said, "Nako, eczema yan. Atopic dermatitis. Don't worry, we can control that." She also checked on my second daughter (since she has rashes on her face too) and she said that it's just a mild skin condition so "nothing to worry."
Prior to the doctor's visit, I already have a feeling that those rashes are eczema, hence the need to go to a doctor. During our doctor's visit, I asked so many questions about eczema, which she willingly and gladly answered, asked her the treatments and tips to prevent it from happening. Of course, this is not a life-and-death situation but as a mom, or a paranoid mom to be exact, I want to make sure that I will give the utmost care my kids need, including their skin.
Here are some of the things I learned about eczema on children. 

What is eczema? 
Eczema, or atopic dermatitis like what our pedia-derma wants to call it, is a chronic itchy skin condition that starts within the child's first five years of his or her life. It usually appears on forehead, cheeks and scalp and is worse on crawling surfaces – knees and elbows.
For babies, eczema looks more like red spots scattered on the face but for toddlers, it looks more dry and the skin is red, thickened, rough and scaly with prominent skin lines, which is what happened with my daughter. This is called lichenification. This usually appears on the creases or insides of elbows and knees.
How does it happen? 
According to our pedia-derma, a family history of eczema, asthma or allergic rhinitis can be the main causes of atopic dermatitis on children. However, she also noticed that both of my kids have dry skin. Usually, eczema in kids is triggered by having dry skin and comes in contact with irritating substances or anything that can trigger allergies such as dust, scented products, pets and certain fabrics. Dry skin and hot weather is not also a good combination, which could explain why my daughter had eczema. Sadly, this hot weather is something my kids have to deal with for the rest of their lives since they are living in the Philippines. Hehehe.
In my youngest child, her rashes on the face and cheeks are caused by her saliva, a condition she calls 'lawayitis." That's normal especially for teething children.  
Can it be cured? 
The good news is yes, although eczema might be with them forever. Thankfully, my kids don't need to take antibiotics or antihistamine since for her, the condition is still manageable. At the same time, it can be controlled since eczema condition on kids gets better over time.
For my kids, she recommended and even stressed the importance of moisturizing their skin. Dry skin is an eczema's best friend, hence the importance of moisturizing it. At the same time, she recommended the following treatments.
Moisturize the skin. In this case, our pedia recommended Vanicream. It is dermatologist-recommended moisturizing skin cream that is free of lanolin, dyes, masking fragrance, parabens, formaldehyde and any fragrances. I'll simply apply it on their body for three to five times everyday to keep their skin soft and moisturized. I'm not sure if this is available in Mercury Drug or Watson's since she already gave this to me after the check up.
Apply topical treatments. She recommended Diprolene ointment + Petroleum jelly. This one is mixed by Mercury Drug, 10 grams of each. It is an ointment especially made for those with atopic dermatitis. It must be applied on the rashes three times a day for three days, then reduce it to twice a day for four days.
Change bath soap into something milder and more gentle on baby's skin. I use Johnson's Baby Bath for my kids. She advised us to switch to Dove Extra Sensitive and Physiogel cleanser.  Since my kids have skin conditions, changing their soap into something milder is advisable since some soaps, even baby soaps can trigger eczema flares too. It can also be a reason why my kids' skins are dry.
In other words, treating atopic dermatitis means addressing both the dry skin and skin inflammation.
Tips to prevent Atopic Dermatitis
Of course, a doctor's trip will never be complete without asking her what can be done to avoid atopic dermatitis. Here's what she recommended.
Avoid scrubbing the skin after bath using rough washcloths, loofah or scrubbers. It adds to the dryness of the skin.
Keep the child's skin moisturized. According to her, sweating is unavoidable especially when the kids are playing. Unfortunately, sweat can contribute to eczema and skin dryness. Hence, the best we can do is to at least moisturize the child's skin.
Avoid too much sun exposure. Again, it can contribute to skin dryness.
Apply the moisturizer within two to three minutes after bath. This is to ensure that the moisture is locked in and will keep the skin well-hydrated.
Take care of the diaper area. Although this is not prone to eczema, it can still be a breeding ground for bacteria to go forth and multiply. She advised to apply powder on the butt area (she recommended the Johnson's Baby Powder Complete Care) to avoid rashes.
I still continue the bayabas bath even if the doctor prescribed creams. I'm also a believer of going natural, but of course, I'm not closing my doors on anything Medicine can offer. Thankfully, my daughters' skin, especially that of my eldest has improved. There are still visible rashes and rough patches on her skin but it's getting better everyday.
My advice mommies – if you noticed anything unusual on your child's skin, don't hesitate to consult a doctor. A child's skin is very sensitive. Plus, we don't want them to grow up with too much scars on their skin, right?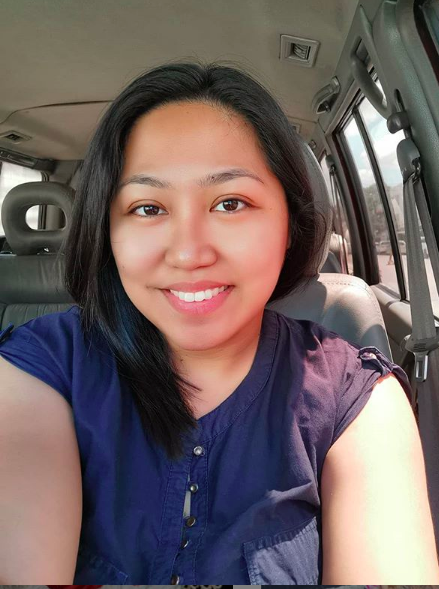 Ayi is a stay-at-home mom of two. When her kids are in their best state, she keeps up with chores, work, and ensuring that her sanity is intact. Join her as she navigates through this rollercoaster ride called motherhood.