Admit it, mommies. Holidays are starting to get upon you. Trust me, I know how it feels. Christmas parties here and there, decorating the home, shopping for gifts and what to wear on Christmas Day, reunions with family and friends and yes, even grocery shopping for noche buena and media noche  can be really stressful. It's almost Christmas time and I haven't even finished my Christmas shopping yet.
Anyway, I'm still working on everything, one task at a time. So, I compiled this holiday tips to keep us sane and hopefully, less stressed. 
1) Make a list. 
Whether it's your gift-giving shopping list, what you need to prepare on Christmas Eve or even plans for the holidays, make a list of it. Write down everything you need to do and buy and cross out as soon as you've accomplished it. It is easier, more organized and reduces that "Oops, I forgot" moments.
2) Don't overdo your home. 
I know how that whole Santa-Christmas decorations can look good on pictures. And admit it mommies, it gives you some bragging rights too. But, do you really have to put Santa in every corner of your home and dress up your Christmas tree as if it can't breathe? My mom tends to overrdo on this one and up to her placemats, the Christmas vibe is there. Well, I do it differently. I have a Christmas spirit but I just put a tree, add some decors, hang Christmas socks, bring out our parol and that's it. It may look simple on pictures but hey, that's not what Christmas is all about, right?
3) Keep your family healthy – including yourself. 
'Tis the season to be sickly. For unknown reasons, I always get sick on Christmas Eve, whether it's just plain cough and colds. Well, I have to blame it on too much sweets and cold weather but this is not the perfect time to get sick. Let's all give our immune system a boost by eating healthy, exercising regularly, sleeping early and drinking lots of water. If you plan to take a vacation outside the country to have a White Christmas, make sure you're properly geared too so your body can easily adapt to the change in weather.
4) Don't spend too much. 
Fine, I know how hard it is not to spend for Christmas. It only comes once a year so you have to give it your all, right? Seriously, do you really want to enter New Year worrying about your unpaid credit cards because of too much shopping? If you can't afford it now, don't force yourself to buy it by using your credit card to pay for it.
Take it easy on spending. Don't spend like there's no tomorrow.
5) Learn to say no. 
Christmas is the season where everyone throws a party and demand for your time. If you can't make it because of other equally important commitments, so what? Just decline the offer in a nice way. Plus, you can still plan parties and reunions anytime of the year, right?
When it comes to saying no, that includes our work too. A few years ago when I was still working in the bank, there was a time when the last day was on December 24 and office work returns at January. My bosses were requiring us to stay late to finish work. Being the diligent worker that I am, I made sure I finish my work early so I can leave. I've been dedicating nine hours or so of my time in the office. I need to take my time off too. Plus, there's not overtime pay, so why would I bother?
In other words, know your limits. You don't need Christmas just so you can see your high school girlfriends.
6) Stay away from the crowd.

This is my cardinal rule when it comes to holiday shopping. Waiting for a parking spot, falling in line in the grocery, and being surrounded by people stresses me out and gives me a headache. Hence, being early is a must. Going to the mall even a few minutes before lunch time is already chaos.
You can also consider online shopping or shopping at bazaars since this is more manageable and less hassle, although some Christmas bazaars have tons of shoppers too. Plus, there are a lot of cute and perfect for gifts items that you can't find in malls. Cheaper too. Again, the key is be early.
7) Consider store or restaurant-bought food. 
Okay fine. Nothing beats home-cooked meals especially during the holidays. But if you don't have all the time in the world to prepare and you only have a few hands to help you (just like in my case where my girls are better at making a mess), don't do all the work and ask for "outside help."
Three Christmases ago, we just ordered a few dishes from Conti's for Christmas Eve since I was almost due at that time and cooking really tires me. Christmas celebration was less stressful, plus, Conti's Salmon, Chicken Ala Kiev and Chicken Ballotine are really good too. We've been ordering from them since then.
My tip: just choose a restaurant that serves really good food, make early reservations and you'll be fine. Food restaurant can be okay too.
8) Do Christmas tasks one step at a time. 
Here's another trick I do during Christmas season: I don't finish everything in one day. That's just so impossible. I tried doing that a few years ago and I was dead tired as soon as I get home. As much as possible, take it one day at a time. Schedule your trips to the mall until you're able to cross everything on your Christmas list. You can finish your gift shopping in one day but that doesn't mean you should start doing your grocery shopping on that same day. Aside from the flow of people you have to deal with, it can be exhausting too.
And if you can, go on a weekday and make sure you're early. Less people, less stress and better mood while shopping.
9) Remember what Christmas is all about. 
Christmas is a season of giving and sharing. Of course, gift-giving will always be part of the tradition but aside from giving something to your family, why need give back something to the community too?
It's part of our Christmas tradition to donate old and usable clothes, toys and books to certain orphanages in Quezon City. It may not be a lot but we are able to help in our own little ways. Aside from this, we should all be thankful for all the blessings we received this year. Let's stop, take a few minutes of our time to be grateful.
10) Breathe. 
At the end of the day, just relax and breathe. Christmas season only comes once a year. Just enjoy, make new memories and have fun.
Despite the stress, rush and traffic, Christmas is a wonderful season that is supposed to focus on family and loved ones. It's not just about giving material gifts but also creating wonderful memories. It's not just about eating sumptuous food but also making traditions with our families. Let's all enjoy the holidays with a smile (and sane mind) on our faces.
Happy Holidays!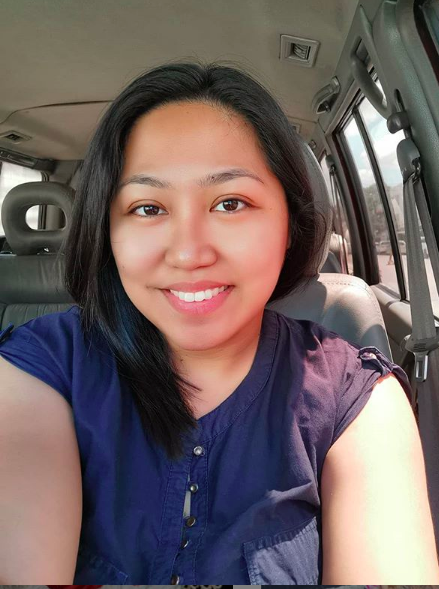 Ayi is a stay-at-home mom of two. When her kids are in their best state, she keeps up with chores, work, and ensuring that her sanity is intact. Join her as she navigates through this rollercoaster ride called motherhood.