I have a confession to make: my almost three-year old daughter still wears a diaper.
Yup. So you can just imagine how much I spend on diapers every week with my two girls. But before you judge me for not potty training my child, well, you should know that I did.
In fact, as soon as she turned one, A is already potty trained. Even if she can't speak well yet, every time she feels the need to poop and pee, she'll walk straight to her potty, or make noises so her yaya will notice, and sit down. She'll even wake up from her sleep just to pee.
Unfortunately and for reasons still unclear to me, she stopped sitting on her potty by the time she turned two. My best guess was because she saw her younger sister wearing diaper, she wants one, too.
It's either she'll ask for a diaper or pee anywhere she wants too. I tried the usual things I did to make her sit down – offer distractions, train her to sit every morning as soon as she wakes up, put the potty in front of the TV, and any crazy ideas. But she didn't like it.
Since she'll start schooling by next year, my husband and I decided that we really have to impose potty training on A. For one, she's three by the time she goes to school and I have seen some kids her age who don't wear any diapers anymore, and two, it's way, way cheaper. Imagine, P300++ savings.
So, here's what I did.
DON'T FORCE.
This is actually a tip from my pedia. I told her I was having problems getting rid of the diaper. She said that never force a child to sit down, especially when she doesn't want to. Otherwise, she'll hate it and might even scare her to sit since I'm imposing something she doesn't like. If A said, "put diaper," I'll show her the potty first so she will know that she needs that every time there is an urge. If she sits down, then yay for me. If not, then that's fine. She might learn how to control the urge to poop or pee instead of letting it all out – and that's what I'm trying to prevent.
RE-INTRODUCE THE CONCEPT OF POTTY.
My daughter knows what the potty is for. In fact, she's been sitting there for almost a year before she realized that "hey, I suddenly want to wear a diaper again because I don't want to grow up yet." Hence, the re-introduction.
As I've said, I showed my daughter her potty every time she asks for a diaper. As soon as she wakes up, either in nap time or in the morning, I let her sit (only if she wants to) so she knows how it feels again. I also show the potty and ask her to sit down since she tends to pee before she takes a bath. By constantly showing the potty, the child will know that they need that in their routine and eventually, realize the need to sit down.
KEEP 'EM BUSY.
When A has the urge to either poop or pee, I always tell her to bring the iPad or any other toy with her while she sits down. Lo and behold, she finally sat down without saying "No" and did her thing while she's busy playing with whatever toy she gets. So every time she wants to pee, she just gets something, take off her bottoms and sit down to pee. Finally.
HIDE THE DIAPER.
Haha! Okay, this is a mean-slash-desperate move on my part. I actually experimented on this one and somehow, it worked. When A asked for a diaper, I told her that there is no more diaper so she needs to sit on the potty. Being the smart girl that she is, she knows where I put their stash, went straight to it and got herself a diaper while saying "there it is."
So I hid her diaper. When she realized that it's not in the usually place and probably because she really wants to pee, she sat down and yes, she finally peed. And I still hide the diaper up to this day. Bad mommy.
BE PATIENT.
Patience was never really my virtue – until I became a mom. I have to admit that it really irritates me when A just pee anywhere without even giving us a warning. And yes, I get annoyed too when she doesn't want to sit on her potty (again mommies, don't force please). There were days when she feels like sitting, there were days when she'll cry and look for a diaper just so she can pee. So there, it took us some time before my daughter was able to develop this habit once again.
My daughter still wears diaper but only at night or when we have to be somewhere. She only wants to pee on her potty so I am taking this one step at a time. At least, she finally learned to pee and poop, sans the diaper. That is good enough for me.
What about you mommies? What tricks did you do to potty train your tot?
DON'T FORGET TO SHARE: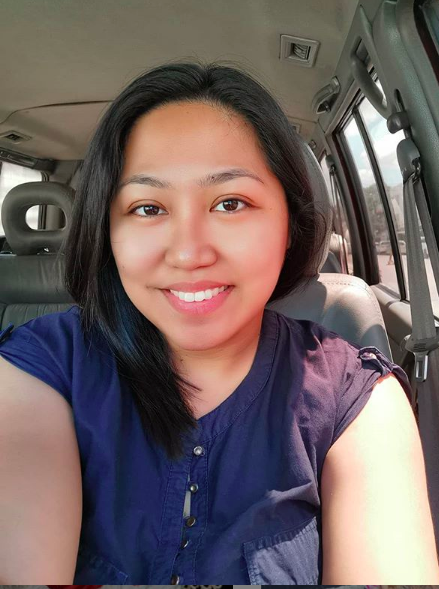 Ayi is a stay-at-home mom of two. When her kids are in their best state, she keeps up with chores, work, and ensuring that her sanity is intact. Join her as she navigates through this rollercoaster ride called motherhood.