I love Baguio. Aside from the weather, growing up in that place brings back so many childhood memories stored in my memory bank. But because of school and pregnancies, it took me years before I was able to get back again.
Last June, my husband decided to go to Baguio this December for a change. When I told my mom about the plan, she said (okay, more like demanded) to make reservations at The Forest Lodge in Camp John Hay. She prefers it over The Manor, although both are under the same management. Of course, I don't understand why but for the past few years my family are taking a trip to Baguio, my mom made sure they'll stay in The Forest Lodge.
Now I know why.
The Good Side
Rooms: When you hear the term "Deluxe" room, for sure you picture one queen-size bed plus all the basic amenities you can find in a hotel room. Well, not for Forest Lodge. We were welcomed with not just one but two full-size beds, which is exactly what we need.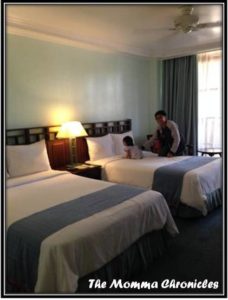 What I really like about our rooms is that it is so spacious. My girls were running around and having fun since there's enough space for them to do their thing. And yes, it is carpeted, which is another plus for me since my girls think that lying down on the floor is a good play. Oh, and their mini bar area has a sink! This is perfect for me since I don't have to wash their bottles in the CR, plus, I can easily check on them while I do mommy duties.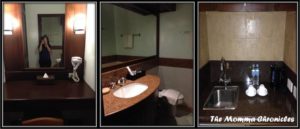 The rooms also come with a spacious porch, which my kids enjoyed by the way.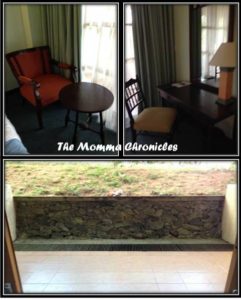 And if you've seen their one-bedroom suite, wow. It has two full size beds, walk-in closet, two toilet and bath, sofa, mini bar. Oh, the room has microwave too.
Food:The reason why I love to go to different places? Food! Being in a new place, I get excited just at the thought of trying out new and local dishes. Thankfully, Forest Lodge didn't fail.
The hotel's restaurant is under Le Chef (same with The Manor) so you can expect good food. We ate at the hotel during lunchtime on our first day since we don't have much energy to go around and battle with Baguio traffic. I must say, I enjoyed my Bangus a la pobre for lunch. Plus, they have generous servings too.
Staff: I have never met the friendliest staff in my entire 20-something existence except in Forest Lodge. The moment you stepped inside the hotel, bell boys will greet you and get your bags. Every time I pass by, from housekeeping to guards to receptionists, you will always hear them greet you while wearing a big smile on their faces.
The Lobby: I am so in love with this. It's like I'm in a five-star hotel. The lobby is so spacious, with lots of couches to sit at and they really dressed the lobby in celebration for Christmas. My girls also had fun walking around and looking at the giant trees and belen by the fire place.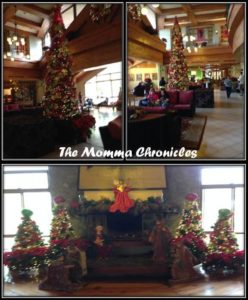 Hotel Room Rates: Given the amenities and facilities, I was expecting higher room rates. Apparently not. Regular rates for the Deluxe room is at P3,600.00 per night. Since we went there during Christmas season, it is natural that we'll be charged at P5,100.00 per night. Still, with the kind of service they offer, it doesn't really matter.
Aside from this, here's what I like about the hotel:
Spacious parking. Yes, it's a must. And it has security too.
Free wi-fi. And it's not just available in the lobby. You can still have access to Internet even while in the room.
It is accessible. Since The Forest Lodge is inside Camp John Hay, expect it to be accessible to everything. The hotel is walking distance to Baguio Technohub, various coffee shops, restaurants and stores in case you want to go shopping.
Perfect for morning jog. Healthy lifestyle, remember?
The Not-so-good Side
Okay fine. I have so many good things to say about The Forest Lodge. It's just so hard to pinpoint anything bad about it. Well, if you ask me, here's what I think they can improve on:
The fire extinguisher. The first thing that you'll notice is the fire extinguisher sitting on the floor. If you don't have kids, this won't be a problem. But if you have super kulit tots who love to run around, well, this is an issue. My kids, especially the youngest, want to play with it that I have to sit beside the fire extinguisher so they won't come near it.
Free breakfast. Sadly, they don't have one. It would be nicer if they offer free breakfast as well so we don't have to think about where to eat first thing in the morning (although there are lots of restaurants to choose from when in Camp John Hay).
Overall, I'll give The Forest Lodge 4.5 out 5 stars. It is one of the best and coziest hotels I've ever stayed at and I simply love everything about it. And yes, it is kid-friendly since there are areas where the kids can run around and play. Of course, there are areas to improve on but that's just minor. At first, I was a bit worried since rooms are not air-conditioned but my brother said there's nothing to worry about since it gets really cold at night – and it really is.
Though seriously, don't you just love this view when you wake up in the morning?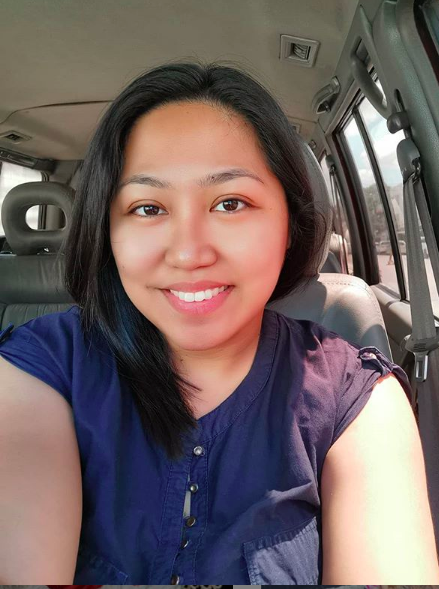 Ayi is a stay-at-home mom of two. When her kids are in their best state, she keeps up with chores, work, and ensuring that her sanity is intact. Join her as she navigates through this rollercoaster ride called motherhood.