My girls are generally active kids. Tell them to stop moving for five seconds and it will be a struggle for them. Even while sitting, it is a constant effort for them to stay still. My youngest daughter has to play outside for a few minutes before she studies so she could concentrate.
In school, I would often see them running around and playing with classmates come dismissal time. They enjoy PE subject as well because it is their chance to move. This is why this pandemic has been challenging for them – and I'm sure most kids have the same issue, too. They want to go out and play with their friends. They want to visit different places where they can just easily run around and explore.
Kids are naturally energetic. Play is always part of their vocabulary. Given today's circumstance, how can we, parents, make sure that our kids get enough physical activities at home?
Aside from their weekly PE classes, here are some ideas plus the things we've been doing as well:
LIMIT SCREEN TIME
This is the first rule if we want our kids to move around. To make them move, we need to limit their screen time and gadget use. Otherwise, they'll just lie on the bed and stare in the screen for hours.
I know how convenient gadgets are in keeping the kids still so we could get things done. I'm guilty of this, too. Unfortunately, it will be easier for them to develop addiction and at the same time, there is a big possibility that they will see inappropriate content.
What we do is we set a timer on how long they can use the gadgets. I also set aside a schedule everyday to allow them to use their phones. As soon as the phones alarm, they have to put down their gadgets and continue with their activities.
GOOD MORNING, MR. SUN
Vitamin D is a crucial component for the kid's development. It helps build bones and keeps them strong. Although supplements could help, nothing beats Mister Sun.
Before everything else starts, have a walk in the morning with the kids. It's a good way to get some vitamin and at the same time, an opportunity to just walk around. Although we don't do this religiously every morning especially now that they have school, we try to keep up whenever possible.
MAKE ROOM FOR EXERCISE – AS A FAMILY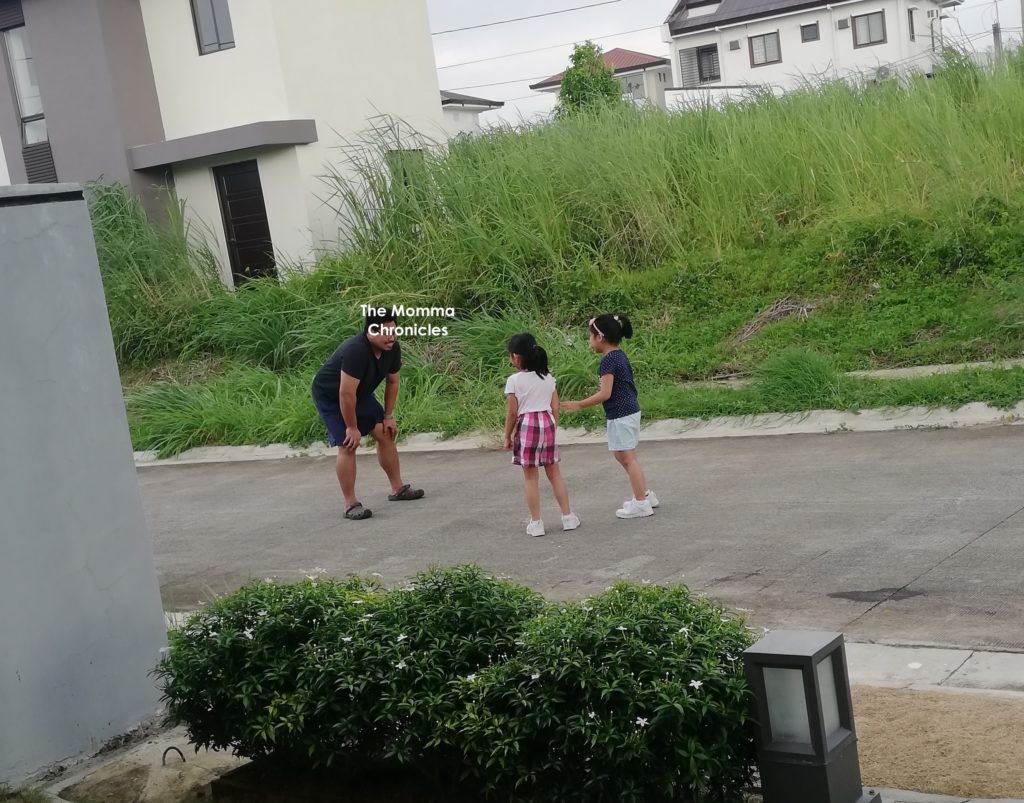 This is a must. If we want our kids to have a physically active lifestyle, then they need to see us, their parents, move, too. This sets a good example for our kids to follow instead of just telling them what to do.
Exercising as a family doesn't have to be strictly exercise with elaborate routines. It could be as simple as playing games or even doing silly dances (our fave!) while listening to upbeat songs on YouTube. The husband exercises daily, so he would sometimes ask the girls to walk with him, teach them how punch, or do stick exercises.
The point is exercising must be a family habit to encourage our kids to move around.
TRY MOVEMENT CARDS
Online classes can be exhausting for kids. Despite being at home, sitting in front of the computer for at least three hours can be too much for them.
So, I made these Movement Cards to force them to get up and re-energize. Whenever they feel tired or they need to take a break from their online classes, they will just pick a card and do what is written on it. It sounds simple but these movements could make a difference and get them back in the mood.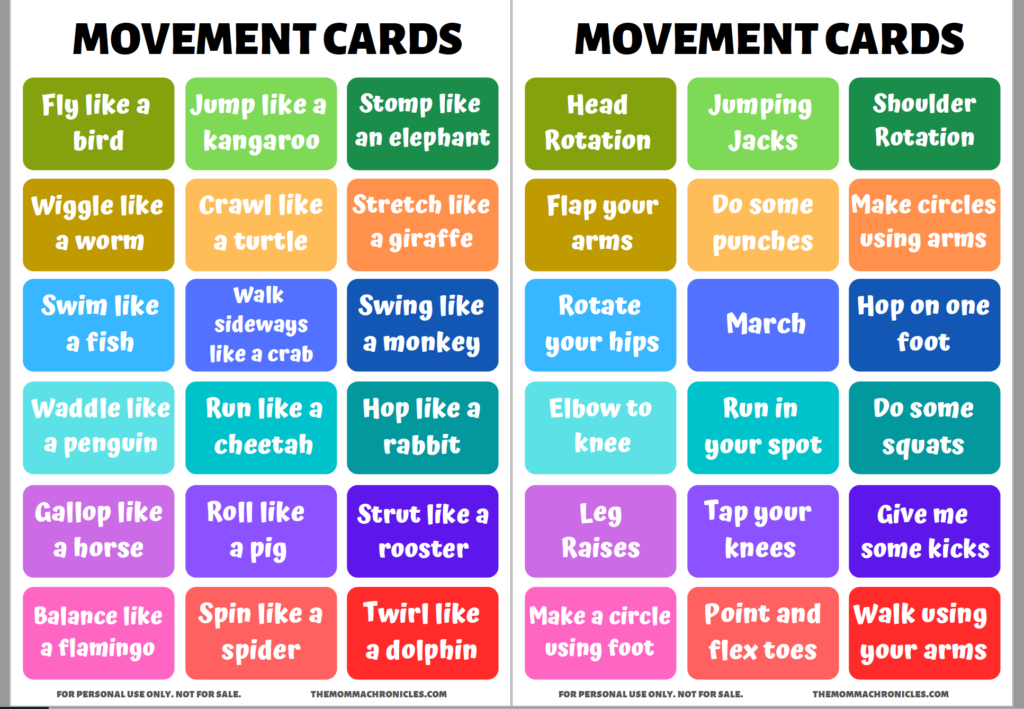 You can download these Movement Cards for free by clicking the picture above.
GO FOR OUTDOOR ACTIVITIES
Movement was heavily restricted as a result of the pandemic. As of this writing, kids below 15 years of age are not also allowed to go out for leisure. Still, this is not an excuse not to get the kids move.
Lucky for us, the kids could go biking around the village every afternoon. They would also play with our neighbors' kids – although we constantly remind them to follow social distancing. Ha!
My parents' house is also in the other street, so we would often walk while going there. Sadly though, we cannot play as much as we can outside because of school and erratic weather. Nevertheless, whenever time and weather permits, we would go out and play.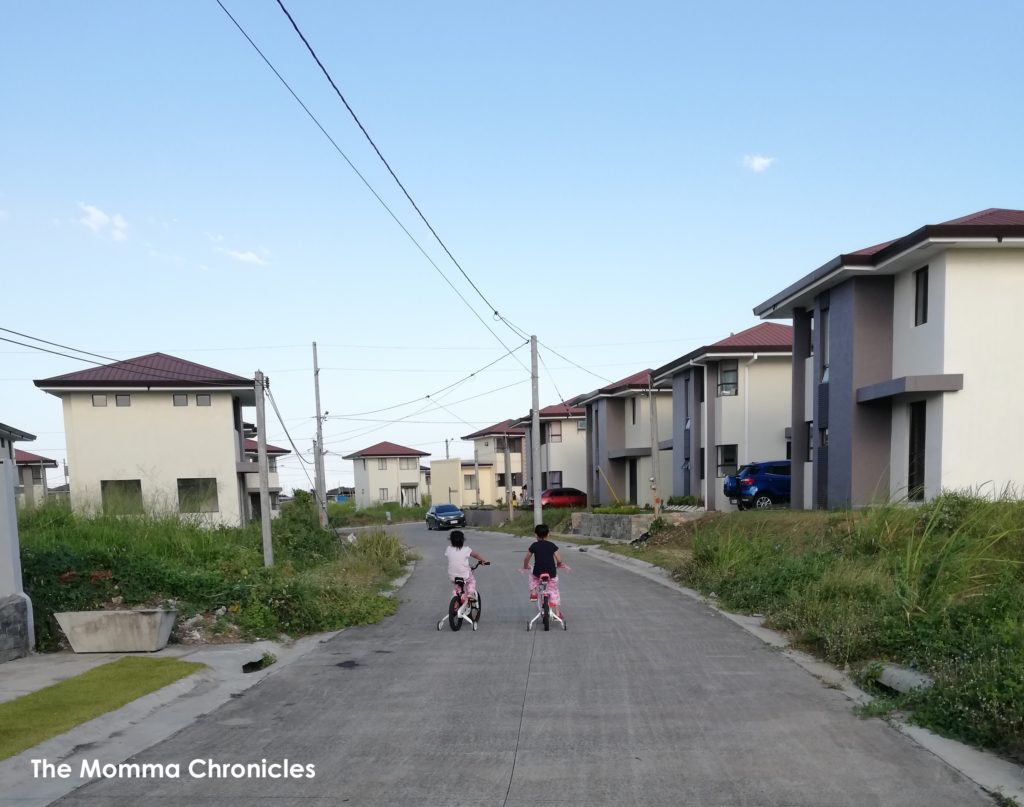 ENROLL IN FITNESS CLASSES FOR KIDS
I've seen tons of classes online – from art to dance, and even Yoga for kids. Consider enrolling the kids in physical activities classes to keep them moving. What I like about enrolling the kids in classes is that there is a dedicated schedule. The kids have no choices but to attend these classes since these were already paid.
Another option would be to look for fitness videos on YouTube. I usually find Yoga exercises for kids and ballet classes that they can follow. This could be a cheaper alternative.
LET THEM HELP WITH CHORES
Between my girls, my youngest is just a huge ball of energy. To make use of that energy, I usually ask her to help me with chores. She would do the laundry and hang the clothes after, help clean the bathroom, wash the dishes, and even cook.
It would take me longer than usual but at least, I was able to train them to help me with the chores. It gives them a sense of responsibility, too.
This is a challenging time for many of us. Still, let us not compromise our health and that of our kids. Physical activities still come with tons of health benefits, so make sure we include that in our daily routine.
DON'T FORGET TO SHARE: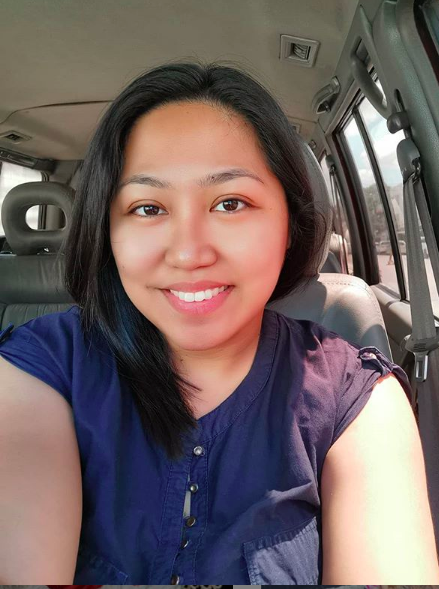 Ayi is a stay-at-home mom of two. When her kids are in their best state, she keeps up with chores, work, and ensuring that her sanity is intact. Join her as she navigates through this rollercoaster ride called motherhood.