"Mommy, did you know that Coy Mathis was born as a boy but now he's a girl?"
This is how our conversation started. I asked the girls who Coy Mathis is and they showed me the story included in the Rebel Girls book. It turns out that Coy Mathis was born biologically as a boy but always considered herself as a girl. When she started going to school, she was not allowed to use the girls' restroom because she is biologically male. This act by the school prompted Coy's family to file a case against the school for violating Colorado State's Anti-Discrimination Law. The court ruled in Coy Mathis' favor.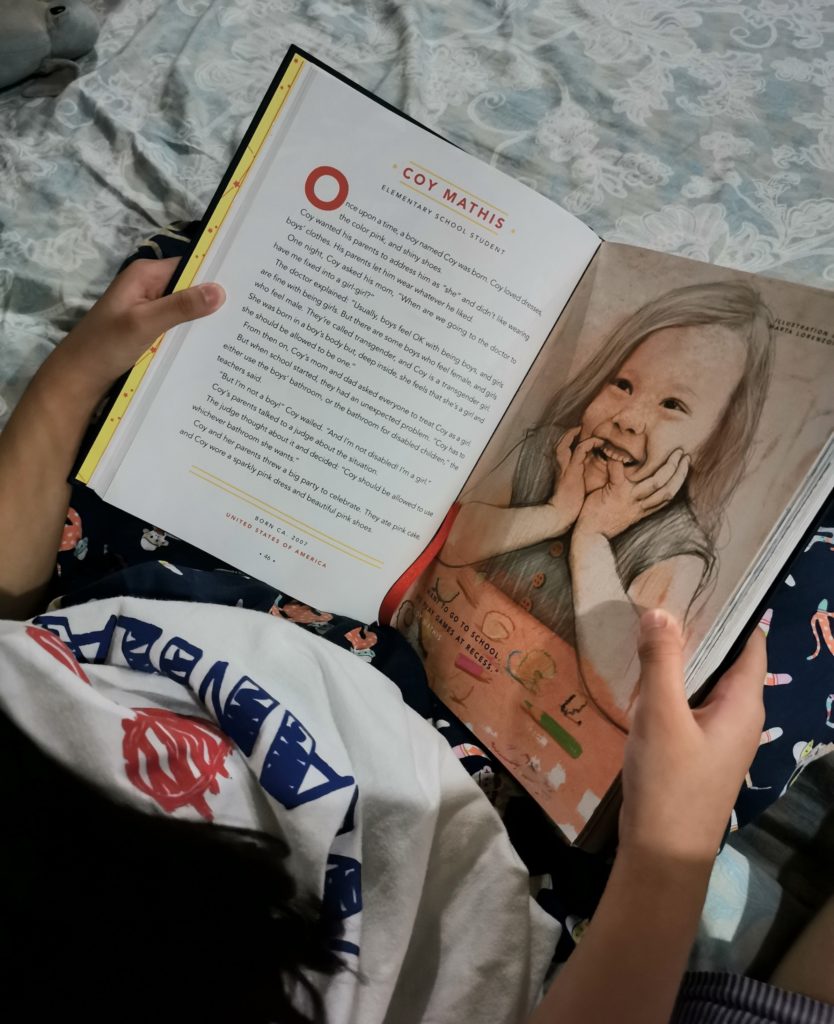 Because of this, the girls are now more curious about what it means to be a transgender. Then, there are questions about lesbians and gays or why some people want to "change."
To be honest, I wasn't prepared for this.
I studied in an all-girls school, so lesbians and same-sex relationships are nothing new to me. I have friends who are gays and got one of my closest law school friends to be my daughter's ninong. Interacting with them was never an issue to me and I don't discriminate based on sexual orientation.
I wasn't really "briefed" on this but I think being respectful towards other people comes out naturally as part of my upbringing. So when my daughters asked me about LGBT, I was surprised. I feel that I "know" the answers but I am not sure on how to frame it in a way that they will understand.
Nevertheless, we had a talk.
The husband and I agreed that it's okay for them to learn about these things. Why? What's the point of shielding them from reality, right? Sometime, somewhere, they will meet people who will identify themselves as lesbian, gay, bisexual, transgender, or queer. They also study in an all-girls school, which means in a few years, they will have friends, classmates, or acquaintance who are lesbian AND IT'S OKAY.
That being said, how do we talk to school-age kids about one's sexual orientation?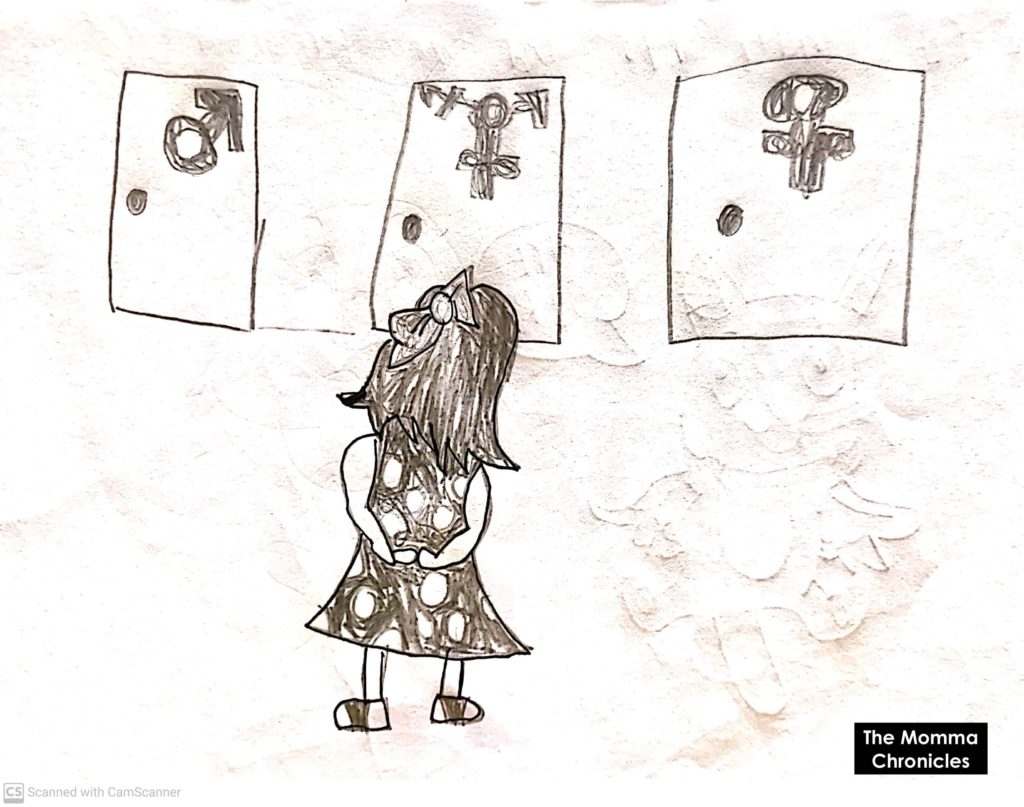 LOOK FOR A "TEACHABLE" MOMENT
I don't know when and how we will talk to our girls about one's sexual orientation. Thanks to Coy Mathis' story, which was included in the book, we were able to discuss it.
Have a conversation whenever the situation arises and regardless of the child's sexual orientation. Watch the news, look for articles, or talk about someone you know that is a member of the LGBTQ community. Our kids will meet someone who are gay or lesbian eventually and as parents, we need to teach them as early as now on how they should react to it, which is to be respectful.
LISTEN
This is important. I asked my kids how they feel about transgender and they told me that, "It must've been painful going through the surgery." I asked them about two men or women being together and their response was, "is that okay, mom? Maybe some will not like it."
The point is we need to listen to what our kids will say. Acknowledge how they feel and respect their views on LGBTQ. Avoid interrupting them and let them speak their mind. Kids will have different positions from ours and as parents, we should not force them to change those views just so it will be in line with ours.
USE SIMPLE, EASY TO UNDERSTAND WORDS
Same-sex relationships, transgender, and queer are some of the concepts that kids have not encountered – yet. When having "the talk," make sure to go down to their level so it will be easier for them to understand what LGBTQ and related concepts mean.
For instance, instead of saying "same sex relationship," we can say "a girl loves a girl" or "a boy loves a boy." I also say "a girl who believes she is a boy" or vice versa.
Videos can also help in case you're struggling with how to use the right words. I came across Queer Kid Stuff on YouTube and there were several videos about LGBTQ, which were presented in a way where kids can easily understand.
HONESTY IS STILL THE BEST POLICY
My kids asked me why there are gays and lesbians. To be honest, I wasn't sure how to answer it. I just told them that each one of us has our own preferences and we must respect that, even if it's different from the others.
What's my point? Be honest to your kids. If you don't know the answer, then say you don't know. If your child asks a complex question, then you can also respond with a question to keep the conversation flowing. This can also be a good learning technique instead of giving kids answers that may not be aligned with how they feel or believe.
FOCUS ON VALUES
This is also important. During the course of our conversation, my kids believe that a man and a woman belong together. They were also concerned that not everyone will like the idea of two girls or two boys together, which I validated because it's true. Not many people will tolerate same sex relationships.
Aside from identifying what LGBTQ means, this gave me an opportunity to focus on and teach values. I reminded them that regardless of who a person is with, we must respect that. Respect towards others is something we're lacking nowadays, otherwise, there will be no more name-calling or shaming.
As they get older, they will meet people who will think or feel differently from them, especially when it comes to this. It is not their job to change other people's perspective or how they should feel about members of the community. It is not their job to ask the lesbians, gays, trans, or queers to change and comply with the norms.
Their job is to be open-minded and respectful, and to call out those who are discriminating people based on sexual orientation. As parents, we need to prepare our kids for that.
DON'T FORGET TO SHARE: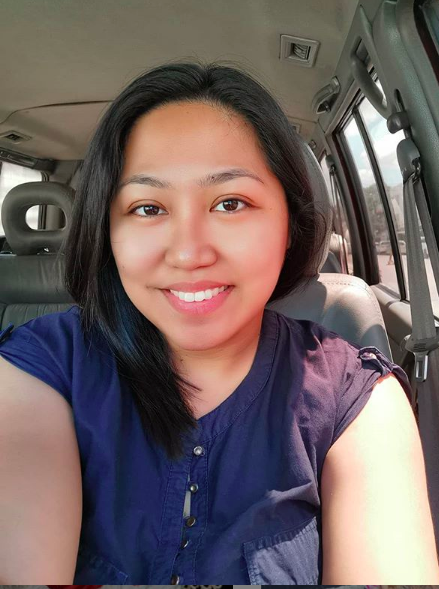 Ayi is a stay-at-home mom of two. When her kids are in their best state, she keeps up with chores, work, and ensuring that her sanity is intact. Join her as she navigates through this rollercoaster ride called motherhood.