One of the things my husband and I agree about is filling our kids' Memory Banks. This is why we agreed to travel at least once a year with the kids and visit new places. We've been doing that since our eldest was born, although most of our trips involve cars and road trips.
This year, we felt that the kids (they're six and five as of this writing) are ready to travel by plane. Plus, we want to prepare them for our planned international trips, so when my dad asked if we want to go to Bacolod during the kids' sembreak, we agreed.
I must say that I am excited but more scared. This is a new environment for the kids, plus my eldest has motion sickness, which is another point of concern. I'm not sure how the kids will react especially when we're thousands of feet above the ground. Thankfully, our kids were generally manageable throughout the ride.
Here's what we did:
Encourage them to sleep.
Sleeping child while on the plane equates to happy momma. My eldest slept throughout the entire plane trip, so I only have to worry about one kid. Haha!
Kidding aside, sleeping minimizes ear discomfort for the child. The trip will be smooth sailing as well since you don't have to worry about a crying or uncomfortable child. Plus, they'll have more energy when going around.
Food is key.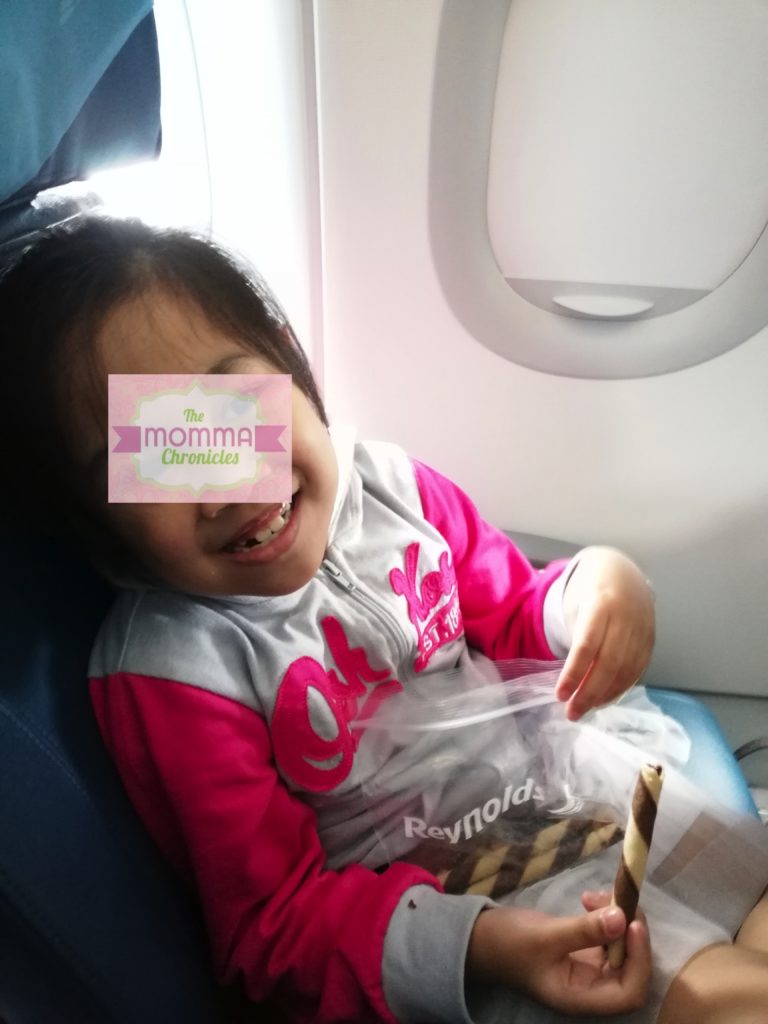 I filled the kids' bags with two things: food and art materials.
My kids are behaved when they eat, so I made sure I brought enough food for them to eat. I placed finger foods like crackers, chocolates, and cookies in separate Ziploc bags so they have something to munch on while on the plane. Chewing also alleviates ear discomfort, so I made sure I'm ready.
Keep them busy.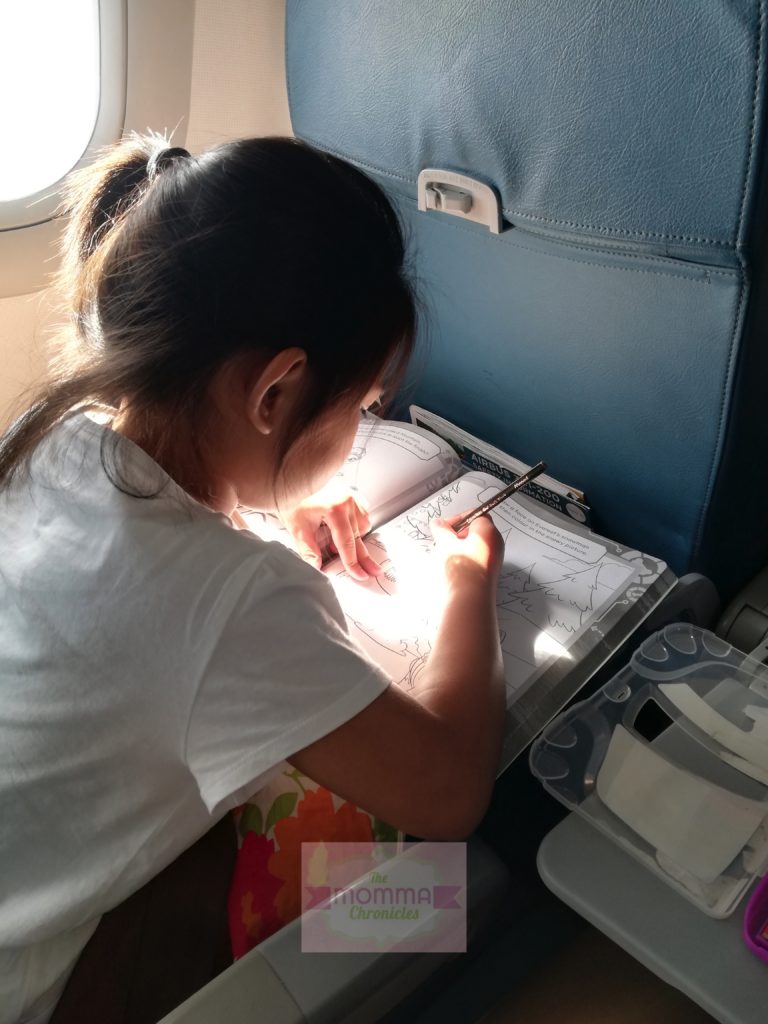 Aside from food, I packed sketch pads, coloring books, crayons, and activity books and placed one of each inside the kids' bags. My kids have short attention span and get bored easily, so I try to keep them busy as much as possible to avoid disrupting other passengers.
My youngest didn't sleep in the plane, so I kept her busy by letting her draw and color. I also downloaded their favorite shows on their phone just in case. Effective.
Don't forget the security blanket.
… just in case your child has one.
My eldest daughter has a security blanket and refused to put it inside the luggage. I didn't force her anymore since I want to make this plane ride as comfortable as possible. Having her A-Pooh with her made her feel comfortable, which could also be the reason why she fell asleep during the ride.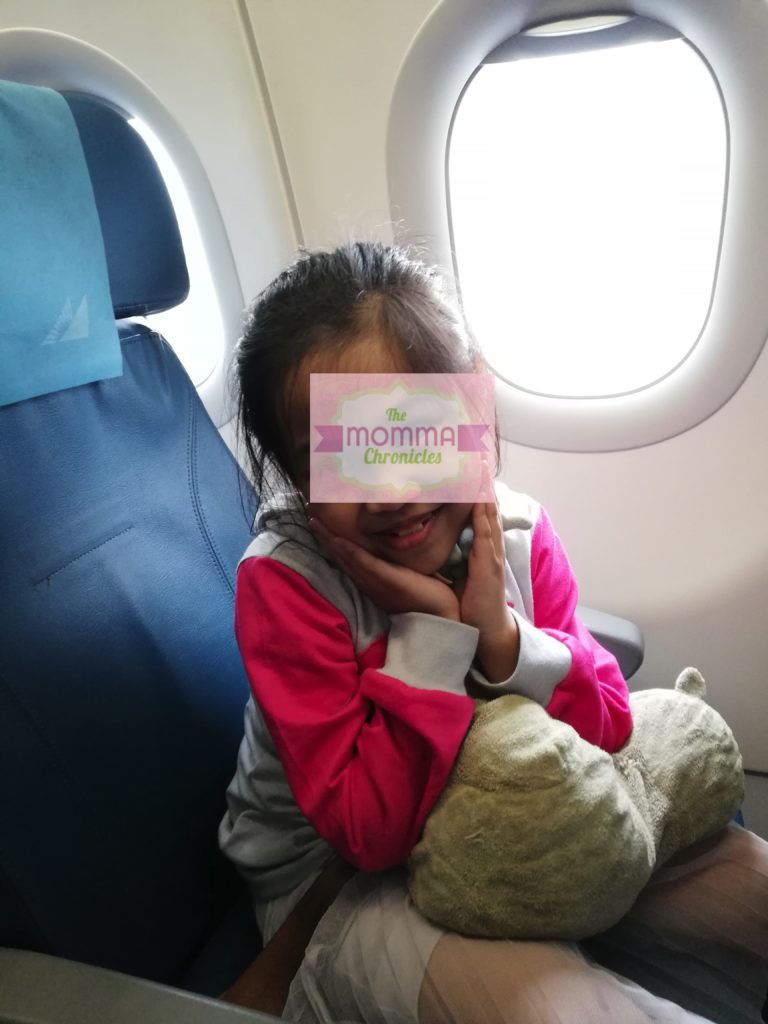 READ: Special Connection between Kids and Security Blanket
Be willing to pay for the aisle seat.
This was my mistake. I refused to pay for PAL's additional fee for the aisle seat, so the husband and I agreed to be in-charged of one kid each. On our way back to Manila, the kids decided to act up and wanted to sit beside me. Since the plane is full and one of my daughters was crying, we asked the person seated beside me if he could exchange seats with my daughter. Thankfully, he agreed.
The point is be willing to pay for extra just to make sure that the child will be comfortable. This will make the ride easier and more peaceful too.
Remind them of Do's and Don'ts when riding the plane.
I talk to my kids like they're adults. Weeks prior to our scheduled trip, I constantly reminded the girls of the things they can and cannot do while in the plane. This includes:
Stay on the assigned seat since transferring is not allowed.
Use of quiet voices to avoid disrupting other passengers.
Always wear seatbelt.
Be mindful of other people.
Another important tip: Bring proof of identification.
Airport employees are strict about this, even if the flight was domestic. While checking-in, I was asked to present a photocopy of the kids' birth certificates just to make sure that they are travelling with the parents.
When travelling with kids, make sure you bring proof of identification with you. Birth certificate or passport (if your child has one) is your best proof. Some may ask for additional documents, so bring your child's school ID if s/he has one.
Any plane tips you want to share? I would love to know what you did, so don't forget to leave a comment below.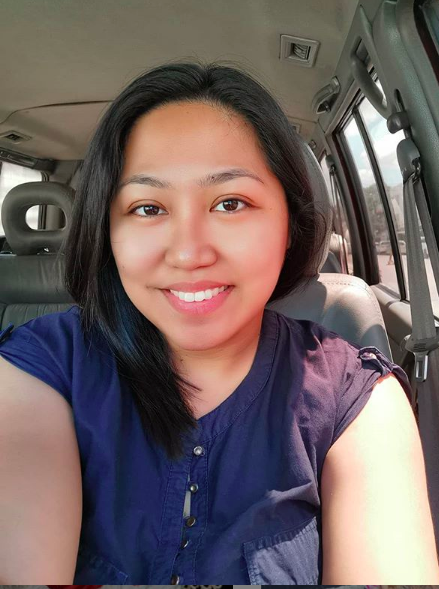 Ayi is a stay-at-home mom of two. When her kids are in their best state, she keeps up with chores, work, and ensuring that her sanity is intact. Join her as she navigates through this rollercoaster ride called motherhood.