Let's face it. Being a stay-at-home momma is not an easy job. Even if there are helpers to help us around, we feel that there is a need to do everything by ourselves. That's part of the job description, right? And yes, being a stay-at-home mom has its ups and downs too.
I'm sure every household is different. But after (virtually) talking to other SAHMs and being able to take a peek in their lives through their blogs, I realized that there are similarities too such as –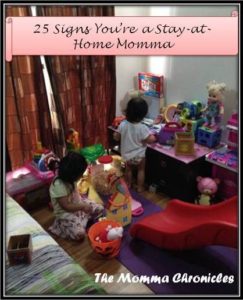 1. Having an online job, or an online business, or anything that can keep you busy and earn money.
2. "A messy house" is an understatement.
3. Taking a shower and actually rinsing whatever yucky thing stuck on your hair is a major accomplishment.
4. Eating leftover food is part of your "diet."
5. When you know the latest adventure of Dora and Peppa Pig but have no idea what's happening in the world.
6. Looking at the clock is not that important – unless it's time for Hi-5 or your child needs to drink some medicine.
7. You can sing to any songs from Disney or Nickelodeon and even memorized "Let It Go," "Brave" and whatever Disney movies. Sadly, you don't know who is Ariana Grande or at least the latest song of Taylor Swift.
8. Wearing a jeans or dress makes you feel prettier.
9. You have a newly-bought lipstick or perfume or shoes, but don't even know where to use it.
10. You have a planner – but have a hard time using it or at least keeping track of the things you need to do because the kids are handful already.
11. You can't take a shower without an audience.
12. Mastering the art of keeping the kids busy so you can do your own thing, at least for five minutes.
13. You can eat with one hand – and you're pretty good at it.
14. Waking up early is part of the daily routine. The early bird catches the worm, right?
15. You suddenly appreciate silence – at 4 in the morning and 10 in the evening.
16. You always look forward to your kids' nap time and sleeping. This means you can do other things too.
17. Your idea of "me time" is getting your hair and nails done at the quickest time possible.
18. When your husband asks, "How's your day" and you always say "Same old, same old."
19. When preparing meals requires using your brain cells since you don't know what else to serve. So you resort to recipe from magazines or the good ol' Google.
20. Multitasking is one of your strengths.
21. You have an iPad or any other tablet full of apps for kids. You need to divert their attention, remember?
22. Your TV knows only one or two channels. And yes, it's for your kids.
23. Your phone is full of your kids' pictures and the silly and cute things they do. Is there a need to take a picture of your messy home?
24. Only you can understand what your child says.
25. You realize that after all the sacrifices and giving up personal happiness for kids, one day, they'll stop asking for your help and do things on their own. Finally, you have time to take a shower with no kids screaming, sleep peacefully at night sans the crying, clean the house with no toys scattered everywhere and even do anything you want – undisturbed. After all, kids grow up too.
So, are you a certified stay-at-home momma? Be proud!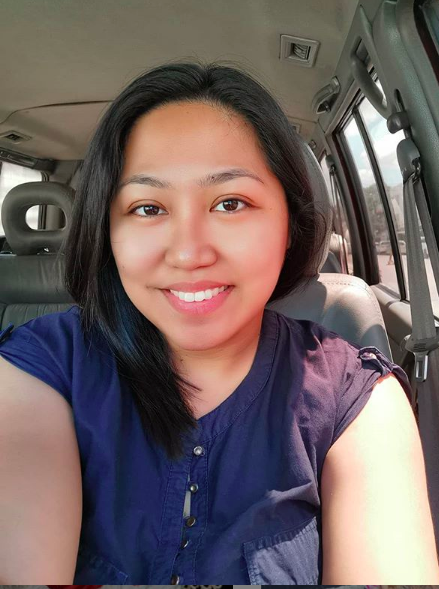 Ayi is a stay-at-home mom of two. When her kids are in their best state, she keeps up with chores, work, and ensuring that her sanity is intact. Join her as she navigates through this rollercoaster ride called motherhood.