I had a picture of a perfect mom in my mind. Before I got pregnant, I told myself I'll be the most fabulous and most patient mom in the universe. I'll try my best not to get mad at my kids and promised to do this and that. After all, our kids are reflection of who we are and how we raised them as parents, right?
….. then I became a mom. And I said I'll not do any of these but life has its own way of turning things around, mostly in a good way.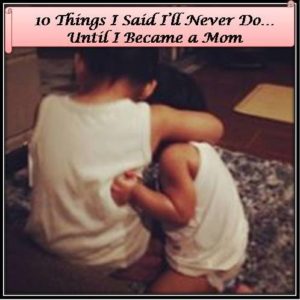 1. Say NO to CS operation.
Apparently, my eldest is too big. Plus, I was in labor for almost 24 hours, which is stressing me and the baby out so instead of forcing to go on normal delivery, my doctor said I should undergo CS operation. I wasn't the happiest person inside the delivery room, until I saw my baby of course.
2. Breastfeed.
I used to "hate" or feel ashamed on women who breastfeed in public. I'm like, "Get a room" or "Do that somewhere more private." When I became a mom, I understood and realized the importance of breastfeeding. I wasn't able to breastfeed my eldest that long but I made sure I'll make up for it with my second child. She's 18 months already and I'm really glad I was able to nurse her for as long as I can.
3. Allow myself to gain weight.
I never had problems with gaining weight or anything that involves metabolism. I figured, if I became a mom, weight won't be an issue. Apparently not. I was at my biggest self when I was pregnant and I am having a hard time trimming my weight back to 100. I just learned to love my curves but still continuously work out to at least bring my weight closer to my pre-pregnancy body. Trust me, it's really hard.
4. Be friends with fellow moms.
In my high school barkada, I was the first one who got pregnant. Most of my closest friends too are still child-less. I had no idea about what to expect but since there is Google, I can just type anything I need to know to give me some answers. Motherhood gave me an opportunity to know fellow moms, thanks to the childbirth class and fellow mommy bloggers. I also realized that there is no such thing as "too old to gain friends."
5. Buy M or L clothes.
And I refused to spell it out. Haha! In relation to my weight, I used to be XS or small, if I'm feeling bloated. Now, most of my clothes are in medium or large. Good thing I discovered Uniqlo and Cotton On. Their sizes are big, I still get to wear size small. Ha!
6. Let my kids use iPad.
We all heard about the dangers of exposing our kids to iPads and other gadgets. I told myself I will never let my kids use it. Well, I was successful, at least for the first 10 months of my kids' life. I was maid-less for months and I need to something to keep my kids still for a few hours. Aside from toys, books and the never-ending Frozen and Monsters University in the background, I was able to manage my energetic girls, a messy house and online job with the help on an iPad, which leads me to the next one.
7. Stay at home.
More like work at home. I had everything mapped out when I was 16 and things are going well according to the plan. Then I got pregnant before law school starts. I was able to go back and got pregnant again. That's when I have to make a choice and surprisingly, I found myself staying at home, being with the kids and enjoying every moment of it. I'm not going to lie. Sometimes, I miss my carefree life too. But I would rather spend my every minute with my family than think about what if's and feel sorry for myself.
8. Let my kids wear cloth diapers.
When I was still pregnant, my mom instructed me to buy cloth diapers or lampin for the baby. Kawawa naman the baby if she always wear disposable nappies. At the time, my thinking was it's so hassle since I have to change every time the baby pees. But when my kids came out and after realizing the savings I could get from using cloth diapers, I decided to make a switch. I only let my kids wear disposable ones at night and when we're out of the house. Saves me a lot. Read more about the benefits of cloth diapering here.
9. Forget my needs and want.
I'm not going to be the losyang-looking mom, at least that's what I told myself more than three years ago. Three years after with two little kids on the side, I sometimes forget to comb my hair, put some lipstick on or even dress nicely. I still have time for myself and treat myself once a month for a foot spa and massage. Most of the time, I rarely care about clothes. Don't worry, I still look presentable. Haha!
10. Ask help from other people.
I tend to be a one-woman team. Even in school, I prefer working alone since I don't trust people that much. Yes, I know, I'm mean. After giving birth to my eldest and a fresh scar from CS operation, I realized I couldn't do it alone. I'm thankful my mom was there to help me with my baby since I still don't have a yaya that time. I also entrust my husband to take care of the kids when I need to attend to myself for 20 minutes. I just realized that as much as I want to be a superwoman, I need help from others, especially when I need to keep my sanity intact.
How about you, mommas?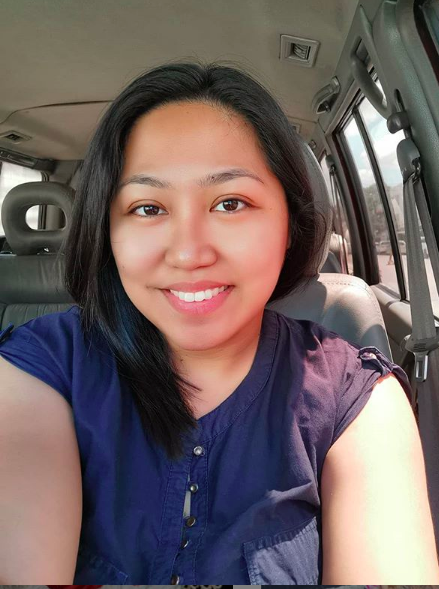 Ayi is a stay-at-home mom of two. When her kids are in their best state, she keeps up with chores, work, and ensuring that her sanity is intact. Join her as she navigates through this rollercoaster ride called motherhood.