I never really worried about real property taxes and other grown up stuff. Living with my parents for 23 years made my life easier and more convenient. Of course, I had to move out when I got married, which means I have to take care of my own home, including payment of property tax.
After doing some research, I found out that there is an easier way to pay for property taxes – through G-cash. Although tempting, I'm not sure if our taxes are updated so I decided to pay it myself and go directly to the Quezon City Hall.
I arrived in the Quezon City Hall at 7 in the morning. The place where one has to pay property taxes is at the back building, in front of the Quezon City Public Library and just beside Landbank. From Quezon City Circle, you have to enter the Kalayaan Road then make a right turn on the first street you will see. If you see lots of people lining up, then you know you're in the right place. I was a bit surprised because I know I'm too early. Apparently, there are more early birds than me. Lol!
In case you decide to pay for the property taxes in Quezon City Hall, here is a step-by-step guide on how to do it. 1. Go to the Assessment Lounge for assessment on how much is due. A guard will give you a number depending on the status – Current, which means your taxes are updated, Senior Citizen and Delinquent, in case you missed payments, whether for one quarter or the whole year.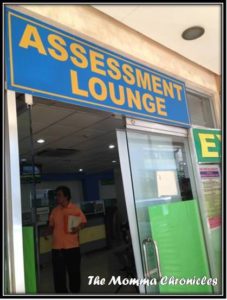 2. Wait for your number to be called. There are large TV screens where you can see if it's your turn already.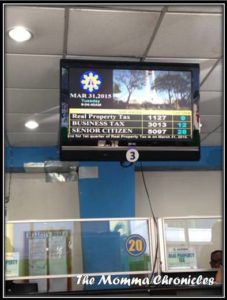 Once your number is called, hand over the last year's receipts. This will make it easier for the person-in-charge to check your property records. After checking, the officer-in-charge will then give Real Property Tax Bill.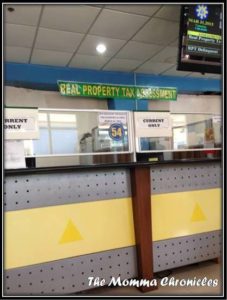 3. Proceed to the Payment Lounge, just beside the Assessment Lounge. The guard will also give you a number. To make it easier for them, tell them if you are Regular or Senior Citizen. Then wait for your number to be called.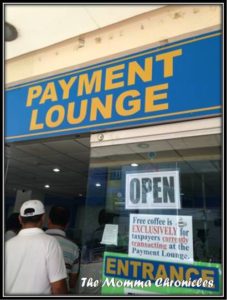 4. Pay the necessary fees. It's up to you if you are willing to pay one quarter, half year or for the entire year. Just make sure to tell the person in charge during assessment so they could give you the corresponding amount.
TAKE NOTE: If you plan to pay using Manager's Check or Cashier's Check, make sure to write Quezon City Treasurer as the Payee and don't forget to write the contact person and contact number at the back of the check for their reference.
That's it. After payment, they will give you a copy of the property tax receipt as proof that you paid.
Tips when paying real property tax
Bring necessary documents. For faster transactions, bring the last paid tax receipts. In my case, I wasn't able to bring the last receipts so I gave a copy of the Tax Declaration and the last payment I have on hand. Good thing, the person who assisted me was nice enough to check if our property tax was paid on time.
Be early. I arrived at 7:00am and the line is already insane. It could be because I paid on March 31, the last day for the 20% discount. Nevertheless, it won't hurt if you arrive early since they start at 7:00am.
Wear comfy clothes. The area is air-conditioned but with the volume of people inside, it is best to wear something comfortable.
Don't wait for the deadline. I was supposed to pay earlier than March 31 but because I failed to wake up early or I had other errands, I wasn't able to pay earlier. According to the guards and employees, last day of the 20% discount, which is March 31 every year, have lots of people compared to ordinary days. To avoid long queue, pay early.
Pay every quarter. If you can't pay for the entire year, then at least pay before the quarter ends. Otherwise, you will be paying a penalty fee of 11%.
Note: From January to March every year, you can pay your property taxes even on Saturday or Sunday.
HERE'S GOOD NEWS!
Aside from G-Cash, online payment of real property tax is now available using LANDBANK and BANCNET ATM and Debit Card. Check out the guidelines here.
There you have it. It is recommended that we all pay the taxes due on time to avoid any penalties. I hope this post helps.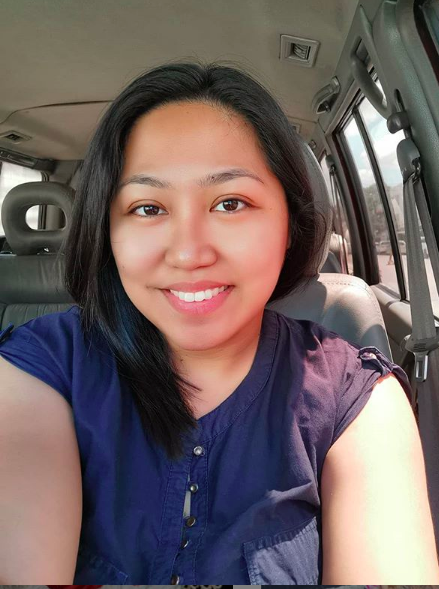 Ayi is a stay-at-home mom of two. When her kids are in their best state, she keeps up with chores, work, and ensuring that her sanity is intact. Join her as she navigates through this rollercoaster ride called motherhood.