I grew up with books surrounding me. When I was in grade school, I have a portion in my room where I keep all my Sweet Valley, Babysitters Club and Nancy Drew books. I would rather have a new Sweet Valley Kids book than get a Barbie doll on my birthday (though I love playing with Barbie and lutu-lutuan). Maybe I got it from my mom, who is also a voracious reader.
When I became a mom and considering the popularity of tablets these days, I made sure that my kids will still experience how to hold an actual book, flip through pages and let their imagination run wild. I started with the simple cloth and board books that introduce the letters, numbers, shapes and colors. Later on, I bought character books (Dora, Disney princesses, Mickey Mouse books) since it caught my toddlers' attention. I slowly transitioned to big story books (yes, that includes Peppa Pig) and tried my best to read to them every night. Activity books that teaches my kids to write also became part of my "Books Budget." Right now, I included classics in our collection to familiarize them since I'm sure English classes will always include classics in the reading list.
My girls are 2 and 3.6 years old now and I could say that they already share the same passion that I have when it comes to books. They love getting books in their shelf and pretend to read. Surprisingly, my eldest prefers buying books instead of toys and constantly "nags" me to read her story every night.
However, reading to my kids is not always easy. There are lots of "No," "I don't like," "Me only" and shouting before I finish one Peppa Pig board book – with five pages! Reading to two active toddlers is also a sort of mission impossible because it's hard to keep them still.
We're still a work in progress and there is still a constant battle on who and what to read. I'm glad because my kids show inclination towards books at an early age. Here's what I do to teach my kids to become book lovers.
5 Tips on How to Read to Toddlers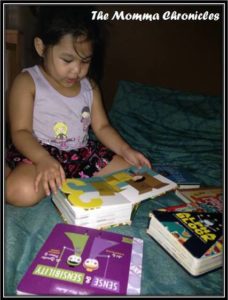 1. Make reading a daily habit.
When I was younger, I remember my mom buying me a new book every week then asks me what happened after I finish the story. Since then, I developed my love for reading. Constant exposure to books and reading one book at a time religiously made me love books.
As a mom, repetition is important to teach my kids something valuable as they grow up. The same mantra goes to reading. At first, my girls were agitated and restless every time I pick a book. As the days go along, they become used it and started to listen when I read them something. They even choose the book they want. It takes time but making reading a daily habit could make the kids change their mind about reading and books in general.
2. Just read.
Admit it. It hurts when you try to teach your kids something and they don't want to listen. However, one thing I noticed with my kids is that they can learn and move at the same time. In fact, I was surprised to hear my youngest respond to a story or sing a song, just when I thought she's not listening.
So go ahead and read to your kids, even if they don't look like they are listening. Kids are smarter than we think and they have their own way of processing and recalling information. However, if you notice that your kids are agitated and uncomfortable, then stop, close the book and read later. Pay attention to how they react since forcing reading into your daily schedule could make them hate books.
3. Choose books wisely.
Every time I am in Powerbooks, I always have the tendency to buy as many books for my kids. Before paying for the items, I stop and ask myself if this is something they want and listen to.
For sure, all children's book authors have the best intentions when they carve out a story. Apparently, kids are not the same, with separate interests, favorites and preferences. Therefore, when buying books, make sure to choose books according to your child's interests and favorite topics. This will make them engage more during reading sessions.
4. It's okay to be interrupted.
Mommas, when reading to your kids, don't hesitate to welcome interruptions. That's okay. We can't expect our kids to just sit down and listen to every word we say. Every time I read to my eldest, she always interrupts me by making funny sounds and endless comments about the characters. She even makes up her own story instead of making me finish.
I used to get annoyed but eventually, I realized it's part of her learning process. She may not remember every single word on the book but she did remember what happened to who. The more she explored on her own, the better the recall.
5. Designate a reading schedule.
Aside from making reading a habit, make sure to allot a certain time where you and your kids could read a book. I don't usually have a specific time but I noticed that my kids participate well when I read to them at night, usually after their night bath.
Observe your child to determine when is the right time for you to read to him/her. Some kids enjoy reading before going to bed, as soon as they wake up in the morning or even after bath.
Reading to your kids could be challenging. The important thing is to make a constant effort to introduce books to our children, read to them constantly even if they look like they're not listening and find ways not just to get their attention but to encourage them to love books more.
Happy reading mommas!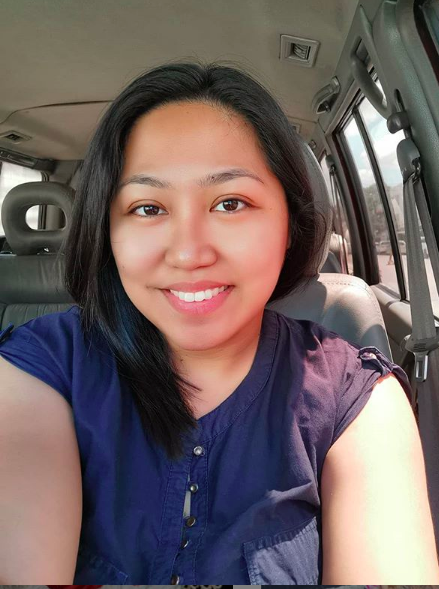 Ayi is a stay-at-home mom of two. When her kids are in their best state, she keeps up with chores, work, and ensuring that her sanity is intact. Join her as she navigates through this rollercoaster ride called motherhood.