School, whether preschool or big school, is a big stepping stone for our kids. Apparently, schools these days just won't accept kids easily, regardless if you are an alumni or you know the owner of the preschool. One of the requirements you and your child has to comply with is the assessment.
I have to be honest: I don't know what to expect on this. Two years ago, before I entered my eldest daughter in GPS, I was told that she needs to undergo an assessment first. An assessment is where the teacher will gauge your child's skills, familiarity with basic concepts, and school-readiness based on their prepared exercises. As usual, my daughter (who is anti-social at that time), refused to participate that the teacher has to conduct the "test" while I was inside the room.
Fast forward today, my eldest daughter have to go through another assessment, this time for big school. Yes, she was still shy and refused to talk at first, but eventually gave in and felt at ease with the teachers.
Here's the challenge: how to prepare our child for assessment.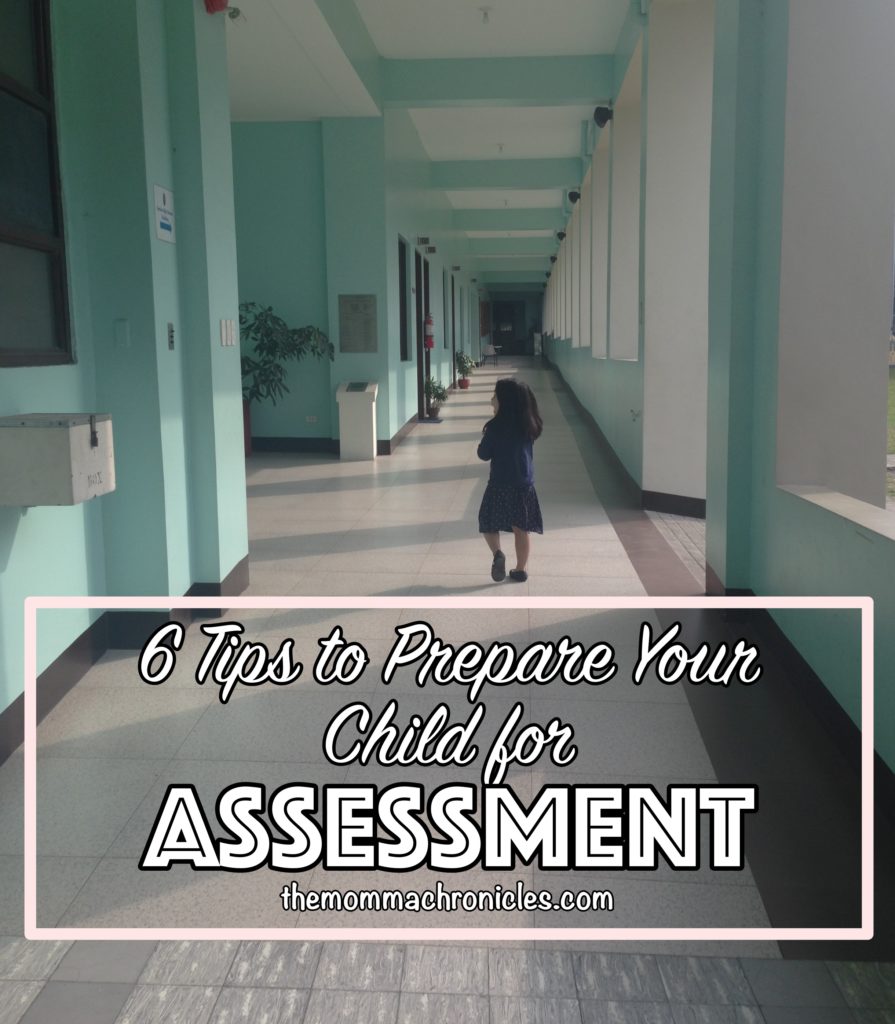 Here's what I did:
1) Remember, it's "assessment," not "entrance exam."
If there's one thing I noticed, teachers use the term "assessment" instead of "entrance exam," and I think that is a good thing. The term "entrance exam" can be intimidating and stressful, which we could pass on to our kids – and it won't help them. After all, assessment, especially for preschools, rarely involves written exam and teachers simply want to assess if the school is fit for your child's needs.
2) Talk to your child as part of the preparation.
Talking to your child and setting the mindset is another step to prepare your little one for assessment. Slowly, you prepare your child of what's about to happen and at the same time, provide assurance that there is nothing to be afraid of.
Before the scheduled assessment, I talk to my daughter about it, tell her that we are going to a school, and the teachers will ask her questions about things she knows, like alphabet and numbers. I constantly remind her that the teachers in the school are nice and they just want to talk to her while mommy waits outside.
This leads me to the next tip.
3) Show your child the school.
My eldest daughter is the shy type and getting acquainted to a new place and new people takes time. As part of our preparation, I made it a point to show her the school where she will have her assessment. We usually pass by the school few times before the scheduled assessment and tell her "that's the school." Thankfully, she had positive responses and said she can't wait to go there, which is a good start.
If possible, give your child a tour around the school and introduce him/her to the teachers. Make sure to pay attention to your child's reactions so you can make necessary arrangements before the scheduled assessment.
4) Prepare the necessaries.
Assessment for preschool and kinder may be different, but this doesn't mean we shouldn't prepare the kids.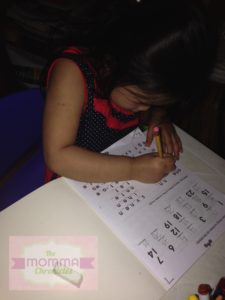 I usually extend learning in our home by buying workbooks and doing exercises to make my kids more familiar with the basic concepts. Practice writing, reciting the alphabet and number, and saying their name out loud. Keep in mind that schools conduct assessment differently. It won't hurt to ask the school how the process of assessment is done, so make sure you ask. This could also help in preparing your child.
There is no need for a tutor since you can do the preparations at home. Just make sure you don't put too much pressure on your child since kids learn at their own pace.
5) Two words: Be early.
Unlike in her preschool, my daughter was unable to go around the big school where we plan to enrol her. That is why I made sure we are early so she can get acquainted with the place and at the same time, a good chance to show her around. My daughter needs to warm up before she can function, so being early is a must.
6) Don't nag after the assessment.
Admit it, mommas. We tend to "nag" our kids and ask them how their day went. If they didn't answer, we keep on asking them until we find out.
With my two kids, I learned that it is important to let them tell about what happened at their own pace. I noticed that the more I ask them, the more they won't answer. After the assessment, I just told my daughter to tell me everything that happened inside the room and she kept on blabbering about how she was able to read the words and write everything the teacher asked her. Avoid asking "How was the test?" or "Were you able to answer it?" and just direct your concerns to the teacher who conducted the assessment.
More importantly, we should be able to assure our kids that no matter what happens, we are still proud of them. Going to school is a big step and adjustment for them. Just be calm, relaxed, and focused, and surely, our kids will do well.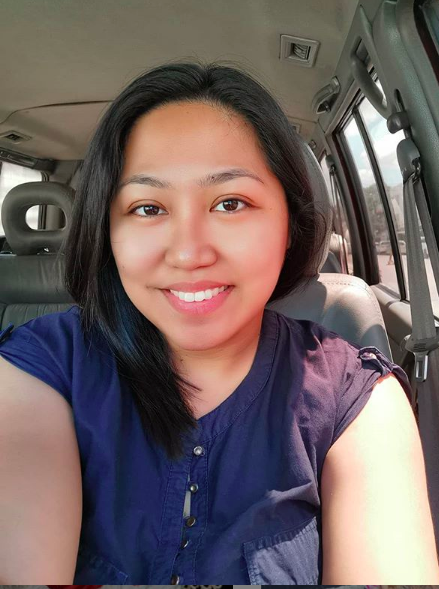 Ayi is a stay-at-home mom of two. When her kids are in their best state, she keeps up with chores, work, and ensuring that her sanity is intact. Join her as she navigates through this rollercoaster ride called motherhood.