One of my kids favorite places is Kidzoona primarily because they get to play and move. Let's face it: Kidzoona is often crowded. Try going there by 12 noon and you'll see the place slowly getting filled with people.
One time, instead of going to Solenad in Nuvali, we decided to check out Vista Mall since there are less people. We chanced upon KinderCity on the second floor and the kids can't stop bugging us to give it a try. After inspecting the area and seeing that there's not much kids inside, we decided to go in.
Admission Rate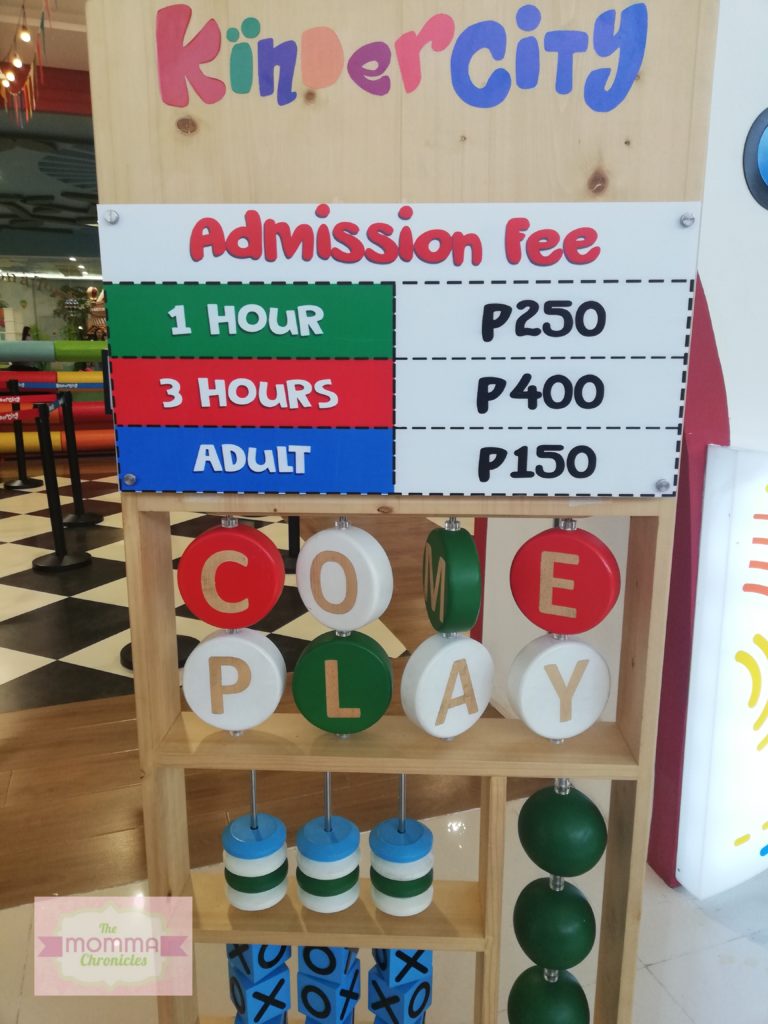 For me, the fee is reasonable. KinderCity charges P250 and P400 per kid for one and three hours, respectively. Socks may be a bit expensive (P80.00) so I advise that you bring socks if you plan to go to KinderCity.
Here's what I didn't like: there's a separate fee of P150 for adults. I didn't say anything about this anymore, but I do hope adult fee is included in the admissions fee. After all, we're not going to play and only going to look after the kids, right?
On a sidenote, a fellow mom blogger told me that KinderCity has a one-adult-per-child policy. This means if you have three kids, there should be three adults looking after them. I was the only adult companion for both my kids and I wasn't informed about this policy. In fact, they even let me in, so I'm not sure if the policy is still being enforced.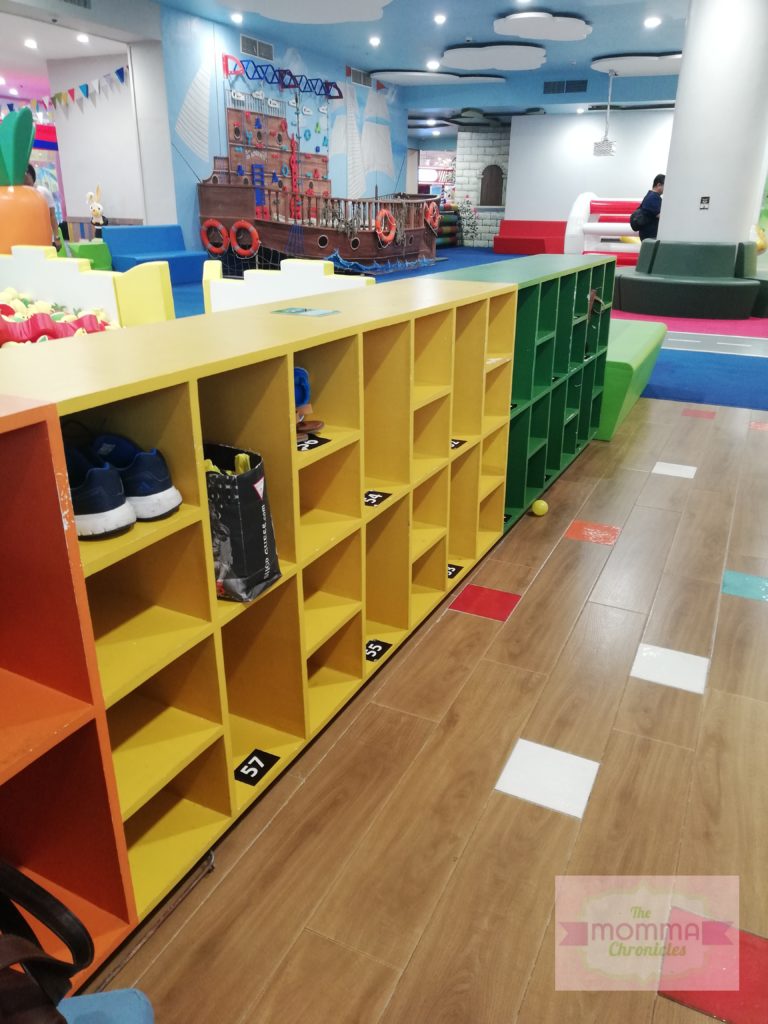 Play Area
This is what welcomed the kids as soon as they got inside. Yes, they immediately ran and went to the slide.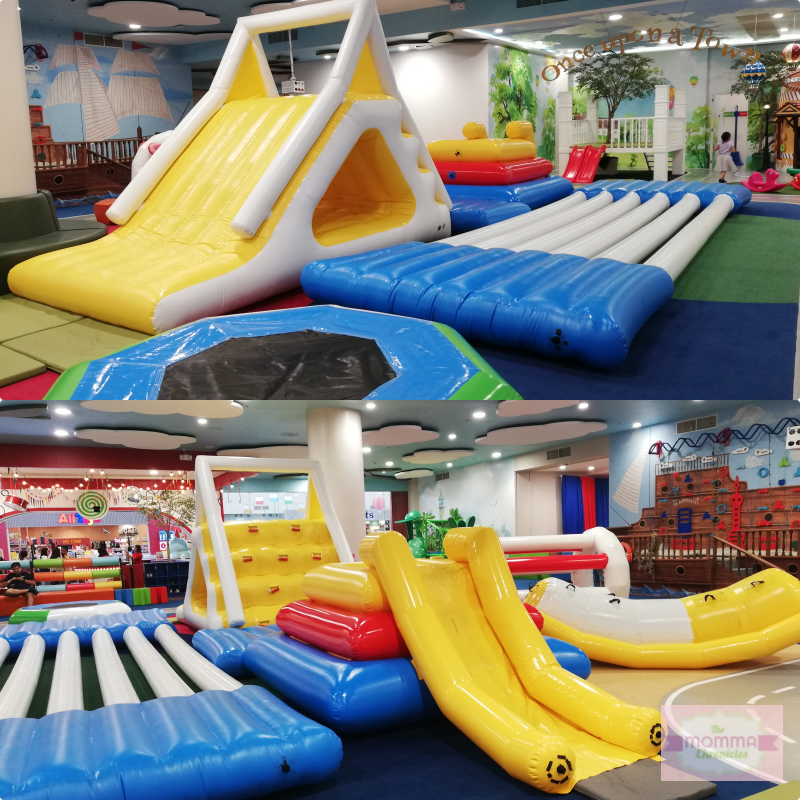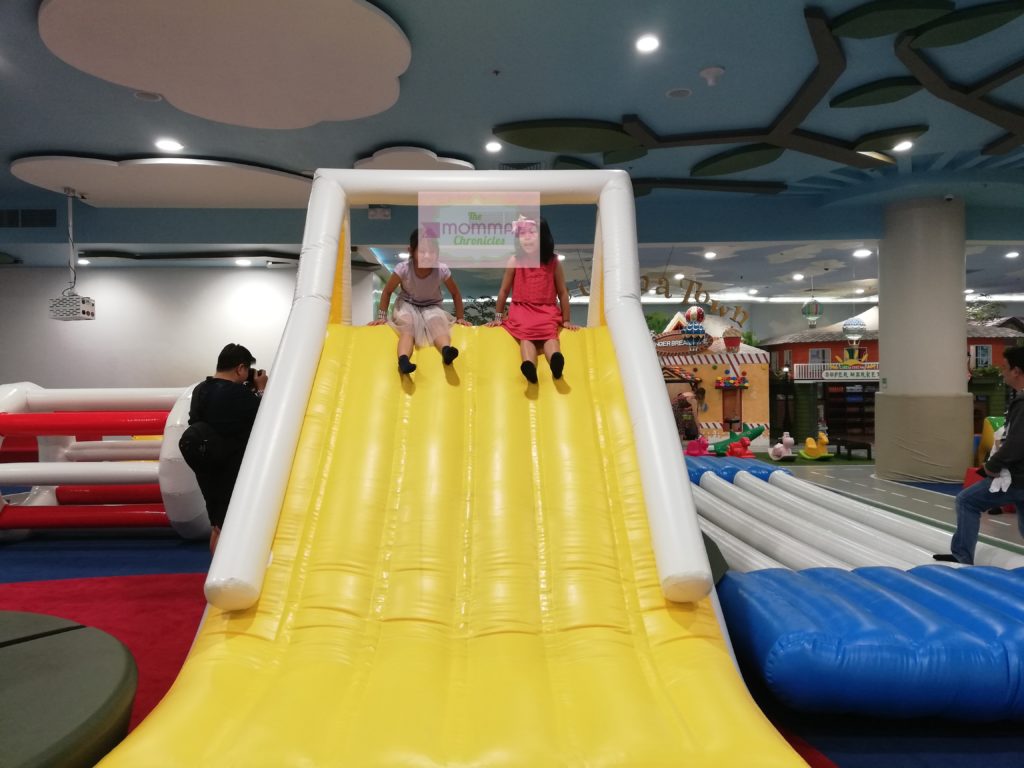 There was also a pirate ship on the side where kids could experience how to be a pirate. Kids get to try wall climbing and climbing on the ropes, which my kids failed at doing. Haha!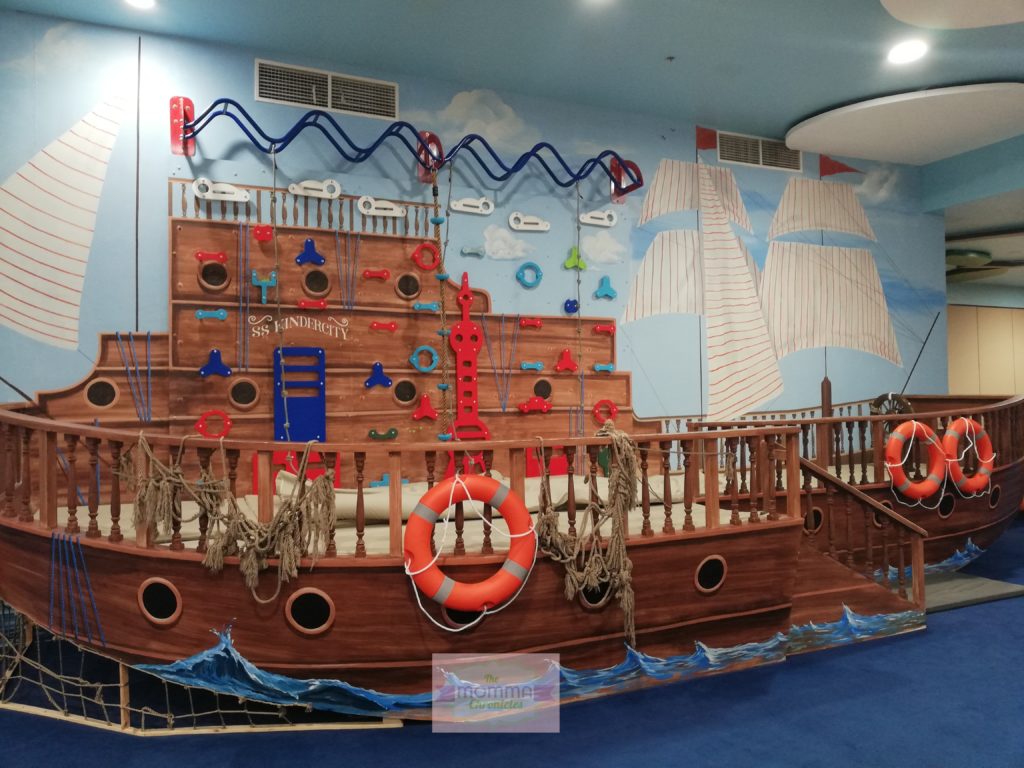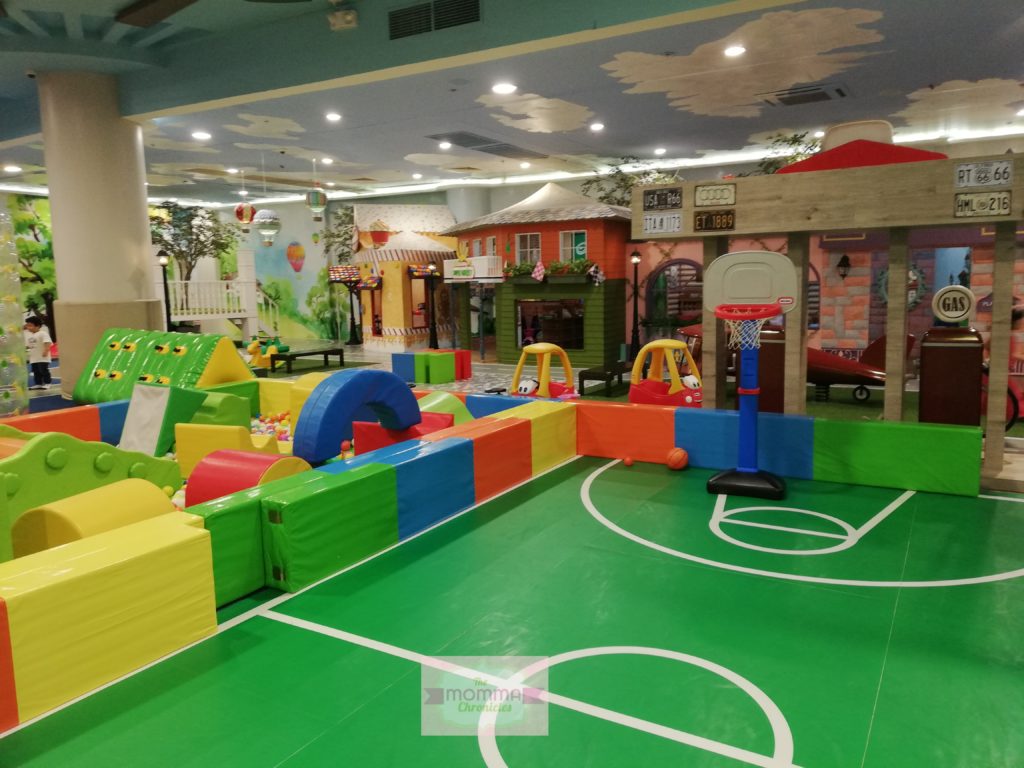 My kids also loved the obstacle course. My eldest, in particular, enjoyed this area because apparently, she loves the challenge.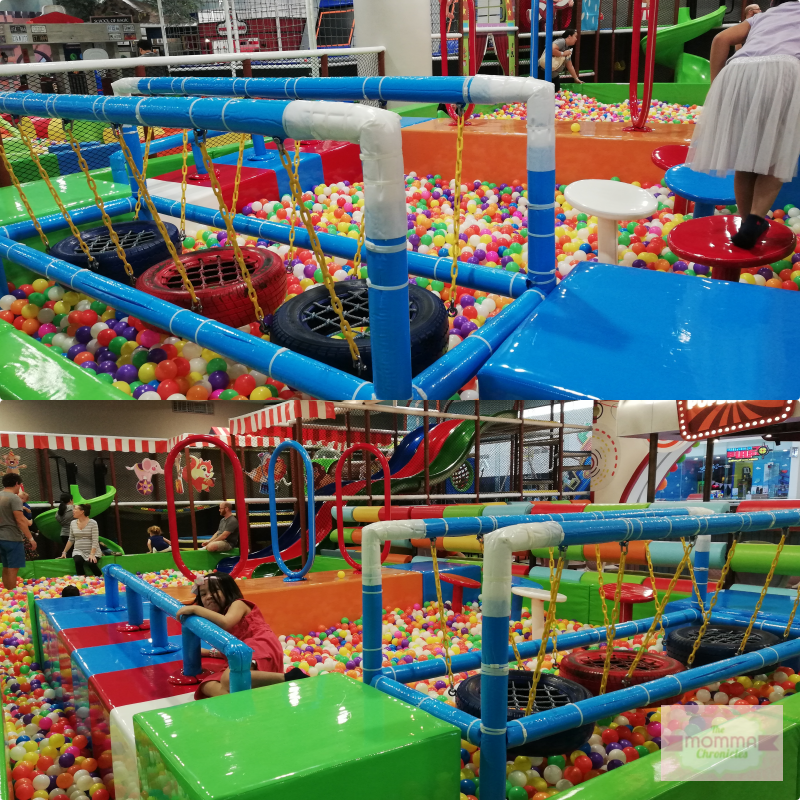 Then, there's another slide filled with stuffed fruit pillows.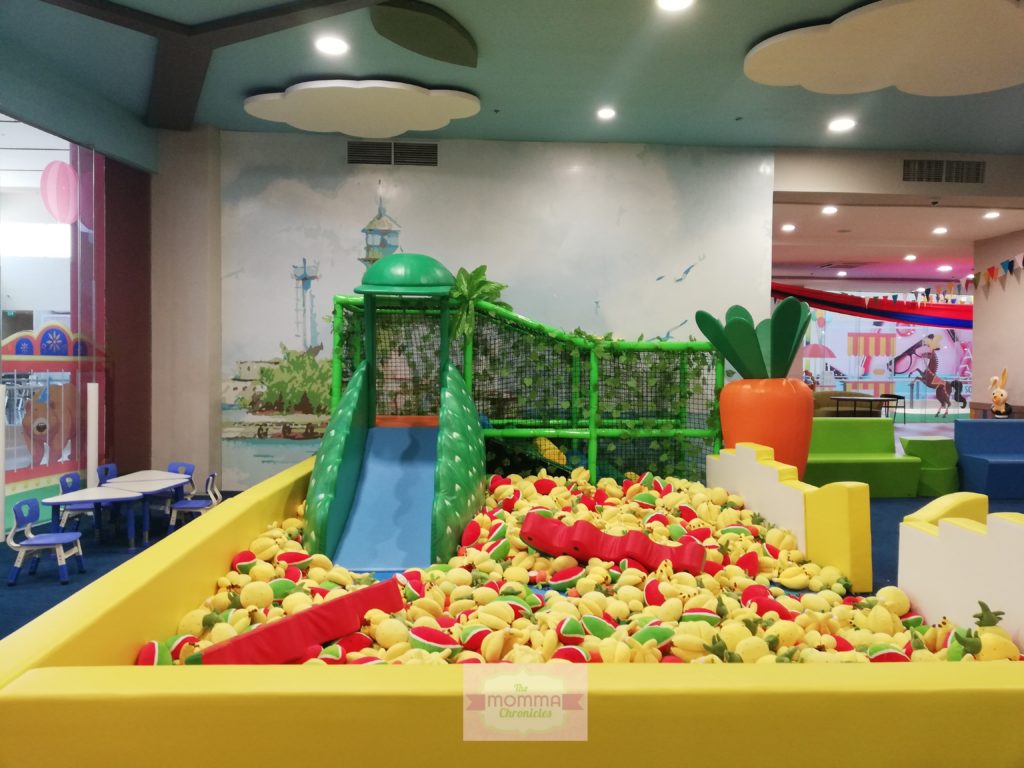 There was also trampolines, where my kids enjoyed jumping nonstop. LOL.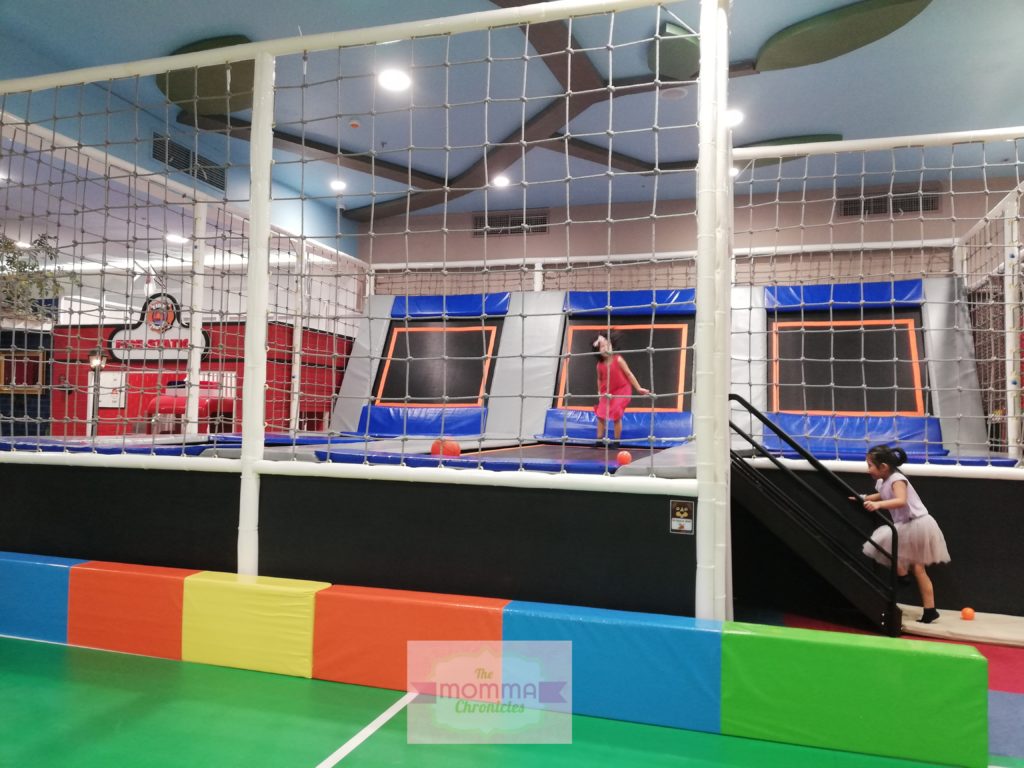 Of course, it wouldn't be complete without giant slide and a big ball pit.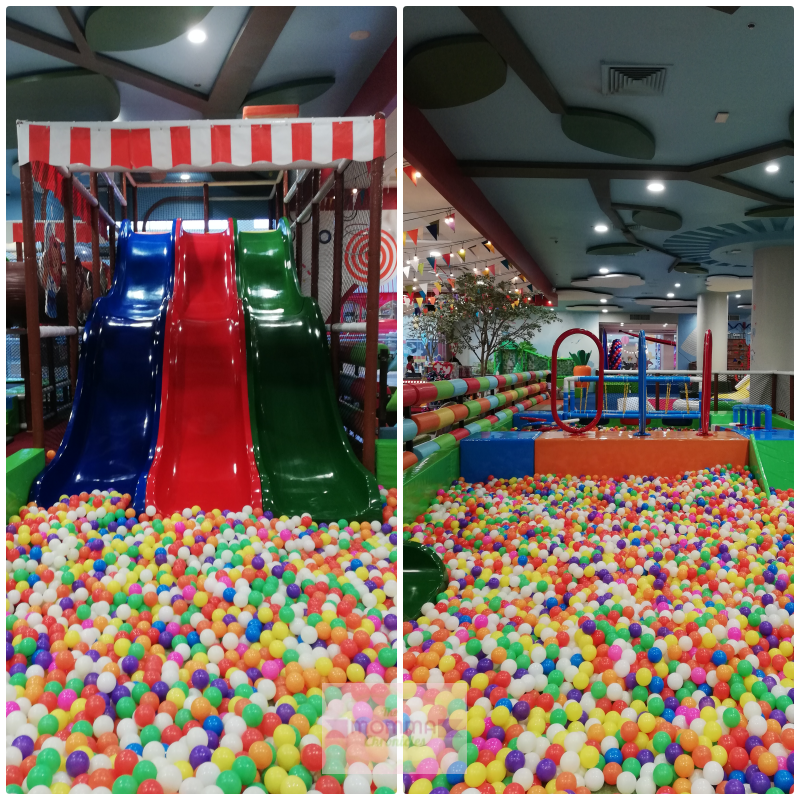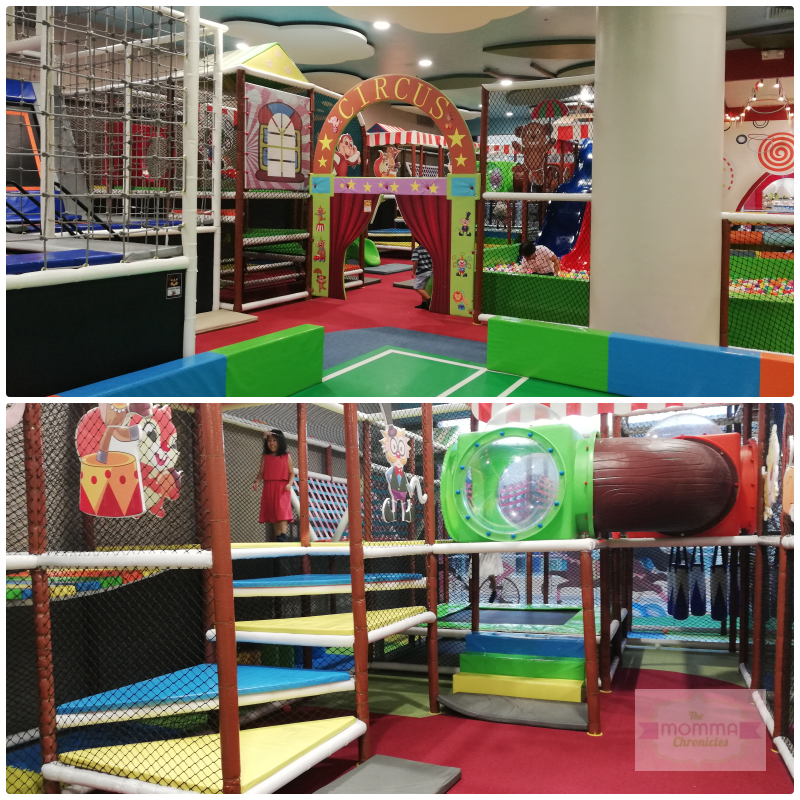 Once Upon a Town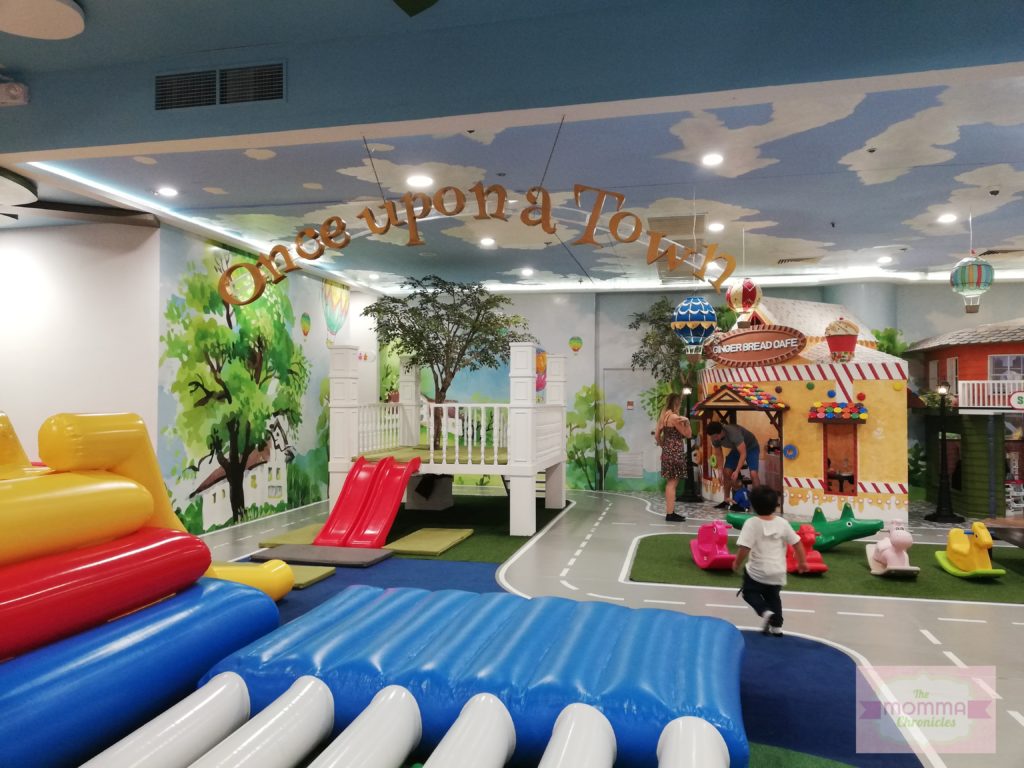 I really like this part and enjoyed seeing my kids hop from one place to another. There's a cafe / restaurant,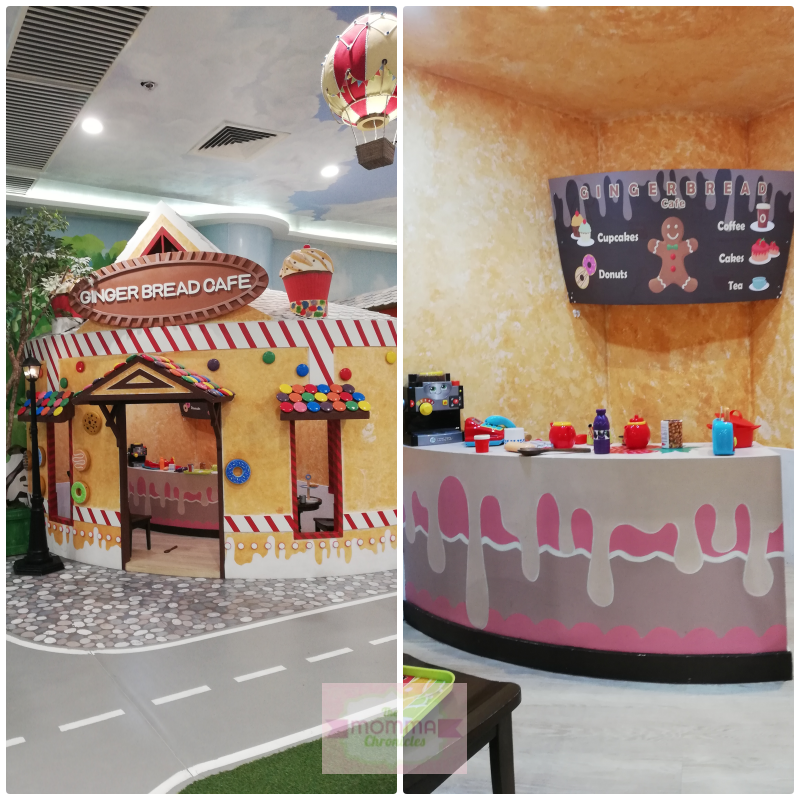 All Day supermarket, which I particularly loved because kids get to feel how it's like to do grocery shopping in real life. It was more organized as well since the toys are grouped according to their kind.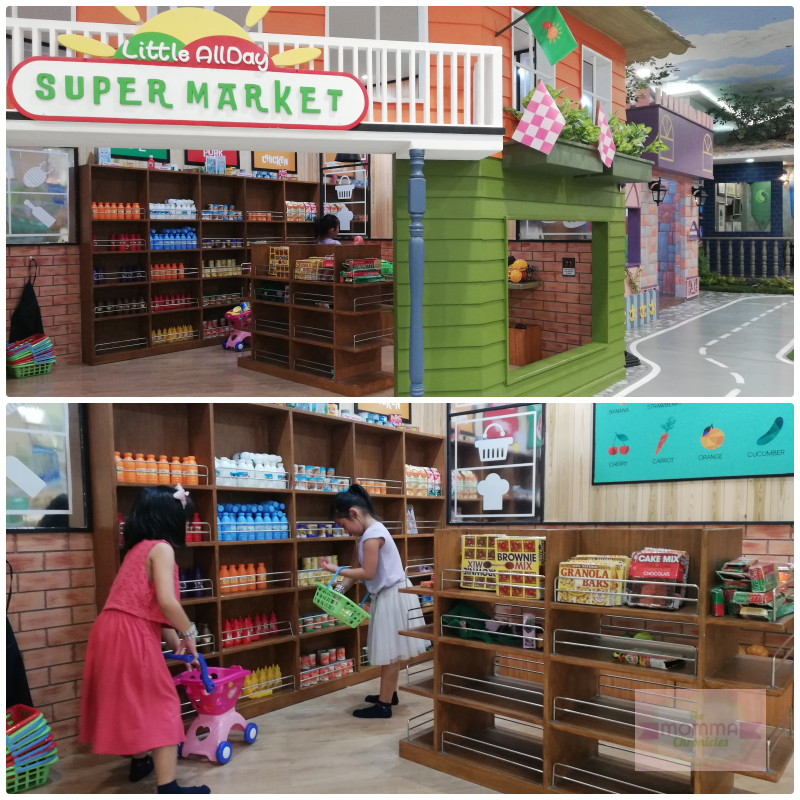 Playhouse, which was inspired by Goldilocks and the Three Bears story,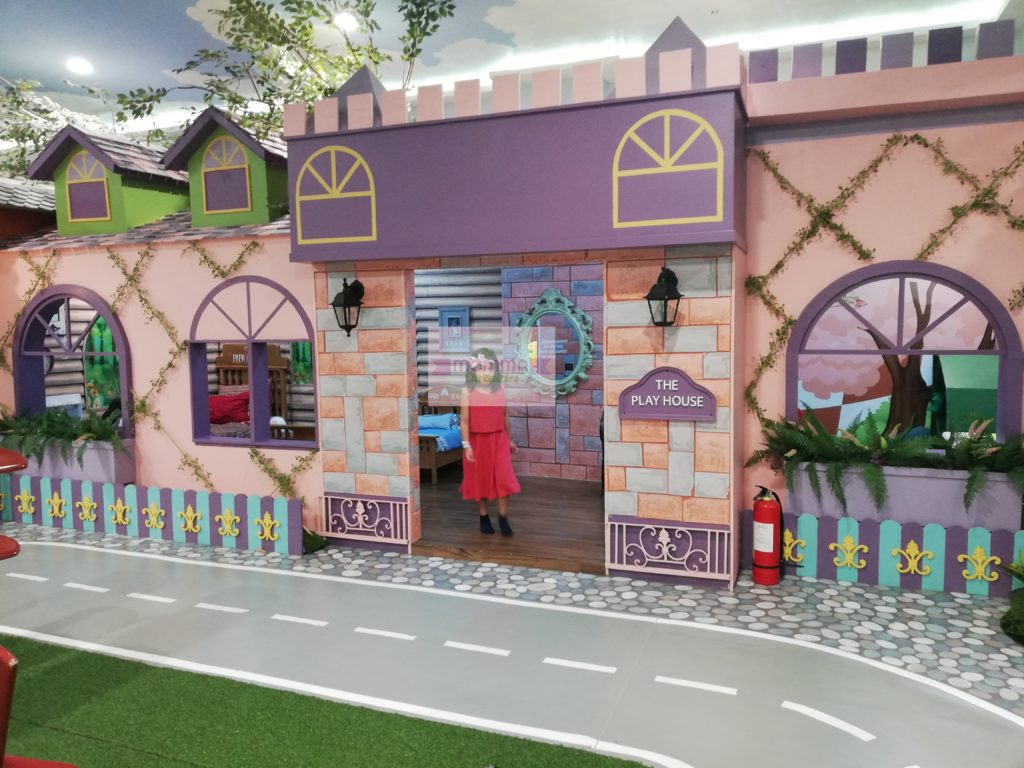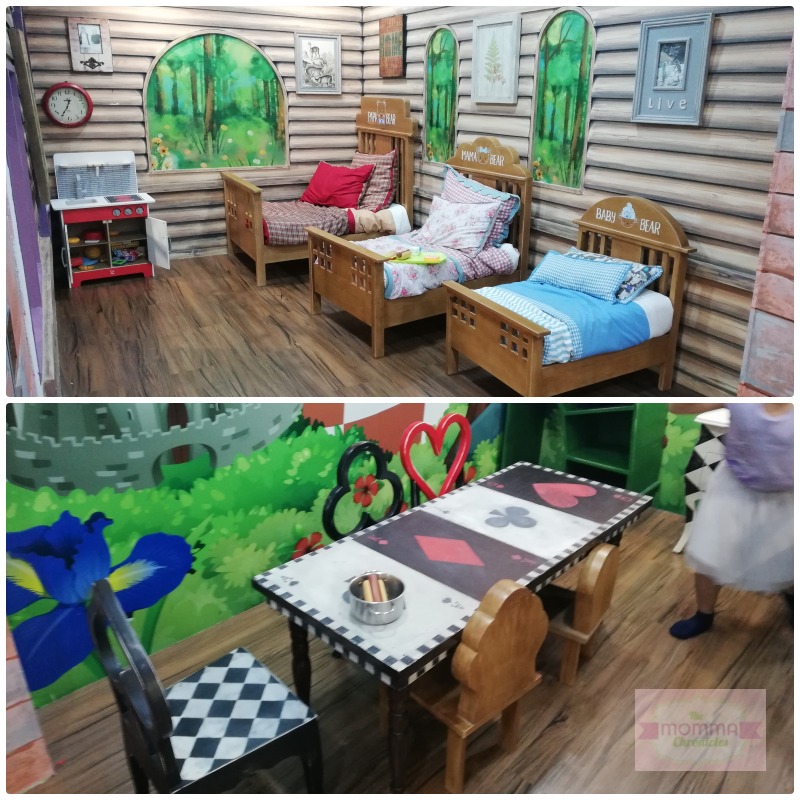 School, which was inspired by Harry Potter;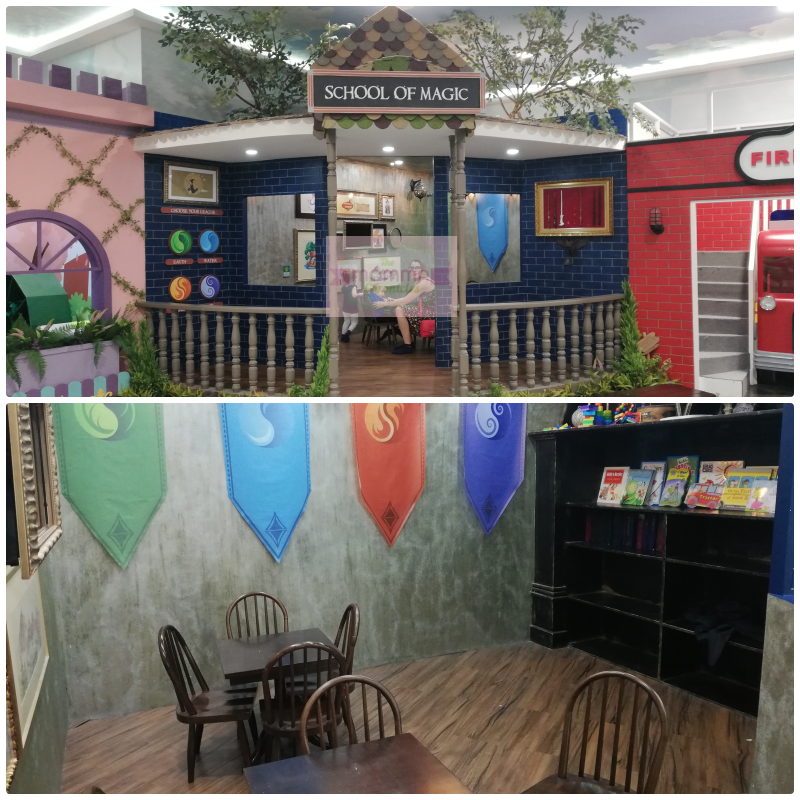 Gas Station, with parked cars on the side;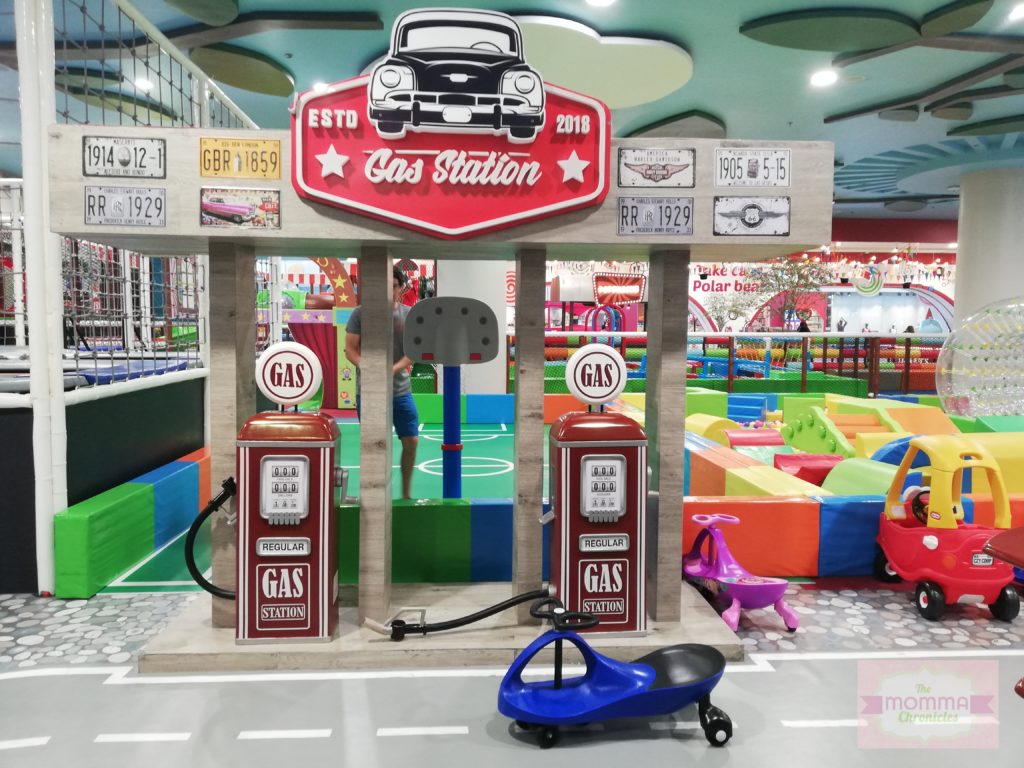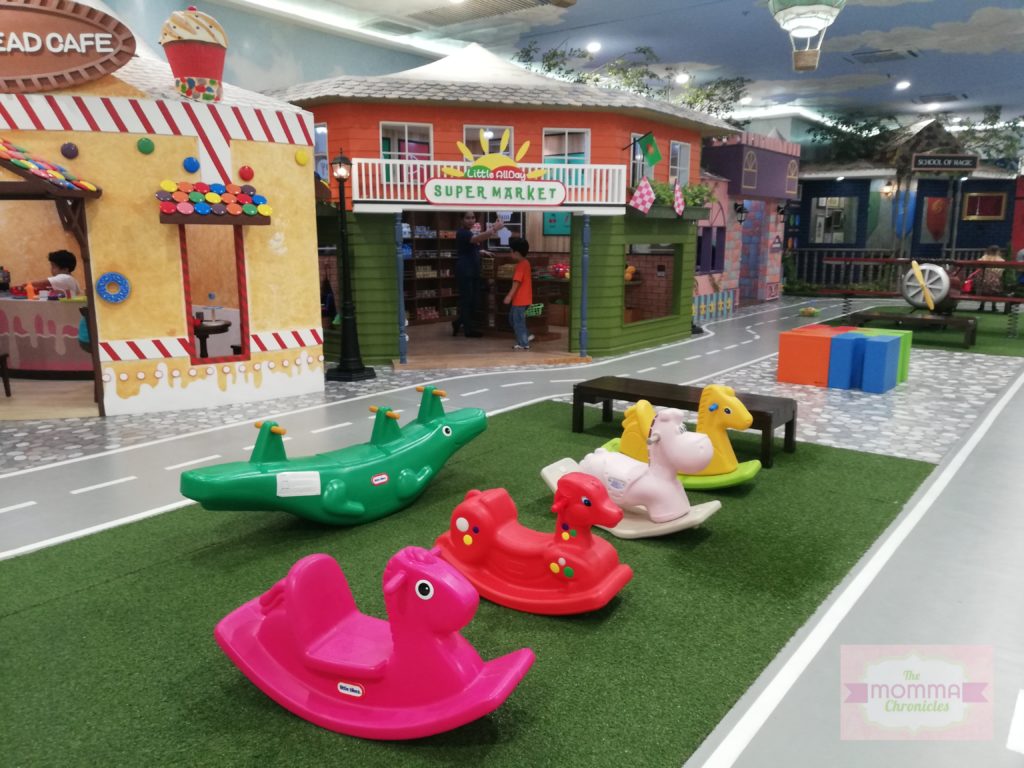 and Fire Station. I like this part since kids get to feel what it's like to be a firefighter. There's even a pole used when going down, which my kids tried as well.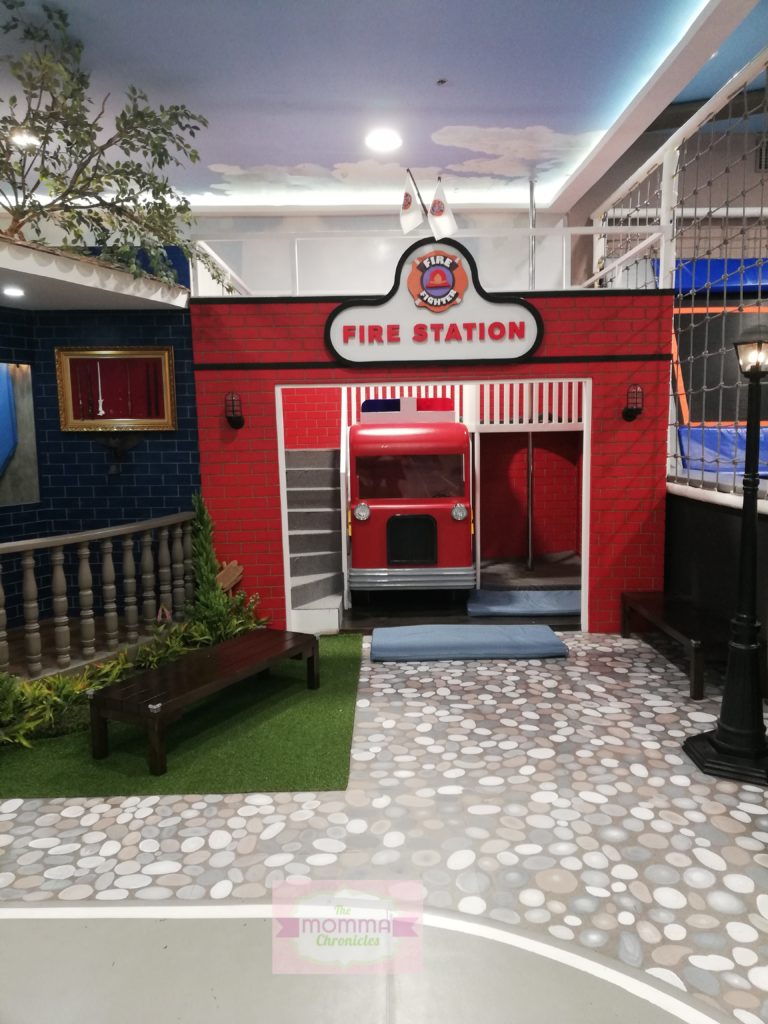 Unlike in Kidzoona where areas are in cubicle types, I love how these areas are placed in a "house." It was also spacious enough and could fit even five kids in one house.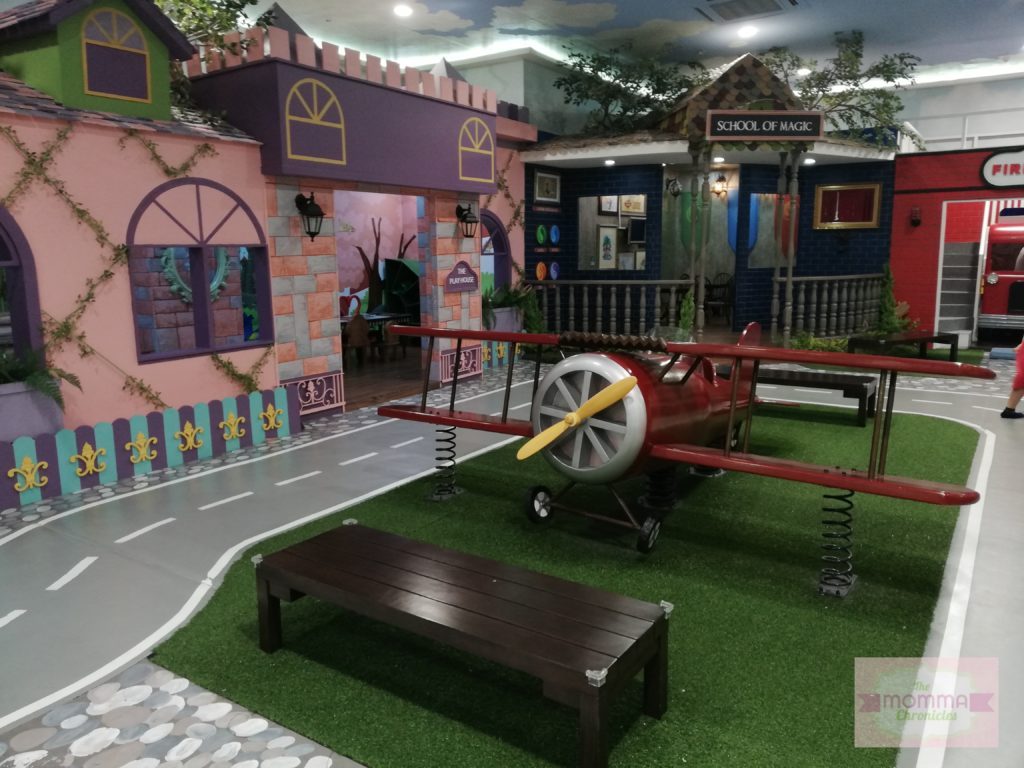 Still, there's not much variety compared to Kidzoona. There was no clinic / hospital, post office, police station, salon, or bakery. I'm not sure if they have these areas in other branches but as of this writing, I didn't see these in Vista Mall in Laguna.
Overall Experience + Will I Recommend It?
Overall, our experience in KinderCity was fun and my kids enjoyed their stay. It's a good alternative to Kidzoona since there are not too many kids (and adults) playing so they get to enjoy the facilities.
The areas are also more organized since the toys are segregated accordingly. It is also clean even if there is no staff putting the toys back together.
Staff were nice and accommodating as well. In fact, they told me to buy socks from the department store since they sell theirs at a higher price. Nonetheless, we just bought the socks they are selling since I don't want to go around anymore and surely, my kids won't stop bugging me to get inside.
In case you get hungry after playing, they have a restaurant as well for quick food fix. We haven't tried this though, but will do next time.
I just hope they'll add more "establishments" in the Once Upon a Town area for variety. Again, it is possible that bigger KinderCity branches have more variety than the one in Laguna so it's better to ask about this first.
Also, they need to address their pricing by including the adult fee. If they insist adult fee, then make it more reasonable, say P100.
I'm not sure if the one-adult-per-child policy is still enforced since they still let me in even if I have two kids in tow, so I suggest that you ask them first.
Just some tips if you plan to visit Kinder City:
Bring socks for you and your kids so you don't have to pay P80.
Don't forget your water bottle. Unfortunately, I didn't see any water dispenser in the area and had to buy water from their store.
Kids should be in comfortable clothes. Obviously, we weren't prepared for this since my kids were wearing skirt and dress. They had to be careful in their movements though.
Use smaller bags. I didn't see lockers for bags and I'm not comfortable leaving my bag in the depository area for shoes so I had to carry my usual mom bag the entire time we were insider.
You could check out KinderCity in Vista Malls or visit their Facebook page for more details.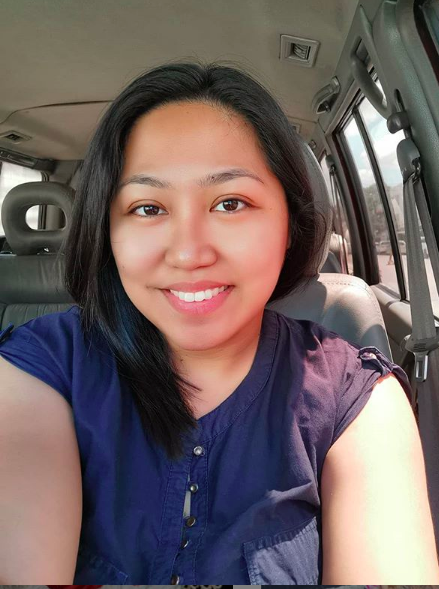 Ayi is a stay-at-home mom of two. When her kids are in their best state, she keeps up with chores, work, and ensuring that her sanity is intact. Join her as she navigates through this rollercoaster ride called motherhood.