If there is something I can eat everyday, it's Spanish food. Growing up with my lola around, I got used to the smell of Paella, arroz ala cubana, croquettes and salpicao in our home. Since then, Spanish food always made me feel like home and reminds me of my lola's cooking.
Sometime last week, I accompanied the husband in SM Megamall for his passport renewal. As soon as he's done, we went around the new wing in Megamall to look for a place to eat. Then we saw Alqueria. It is a Spanish restaurant that serves my favorite foods. After checking their menu, we hurriedly went inside.
Good choice. And good thing we went around before settling with other restaurants.
Here's what I have to say about Alqueria.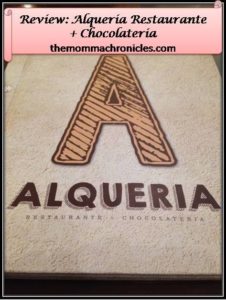 Food
Churros con chocolate is always a favorite in our family. When I found they have it, which they should since it is a Spanish restaurant, we ordered one. You can go for three, five or 10 pieces of churros. Then choose between white or dark chocolate for the dip. They also use Valor for their chocolates, which is like Nutella but from Spain.
Aside from churros, we ordered Salpicao, Rib-eye and of course, Paella Valenciana. A trip to a Spanish restaurant will never be complete without this, don't you think?
Let's start with Salpicao. The yummiest restaurant-served Salpicao I ever tasted was from Dulcinea. When I tasted Alqueria, I could say this is so much better. You could taste the effect of garlic on it, which is really good. The meat is also tender and easy to chew. I even enjoyed dipping the bread on the salpicao sauce.
The rib-eye is good too. I appreciate food with liberal amount of garlic on it and this one didn't fail me. The meat is so tender and flavorful, you don't need a knife to cut it. I particularly loved how the beans were cooked. It was crunchy enough and not saggy.
Here comes the paella. It's not the same as my lola's paella but I still enjoyed eating it. What I like most about this dish is that the ingredients are not tipid. As you can see, the dish is full of seafood and chicken above and underneath the rice. Really, really good.
Too bad I wasn't able to try their hot chocolate. The weather is too hot to get that drink anyway. Maybe next time.
Ambiance
I prefer eating in restaurants outside malls because of the home-y vibe. Except for the noise from the outside, I like Alqueria's ambiance. It exudes a posh although a bit intimidating vibe, an almost open kitchen with wines and other ingredients on top and sophisticated-looking seats.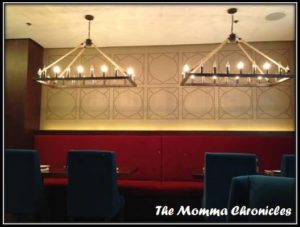 I wasn't able to check the rest of the restaurant, though I noticed there are a lot of executives going inside. Looks like it is a good place for client meetings and lunch/dinner with friends.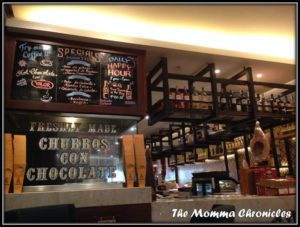 Overall service
Service is one thing I am always particular of. I don't like eating in restaurants with bad service and rude waiters because who wants that, right? Thankfully, Alqueria didn't disappoint. The service was fast, we waited for five to 10 minutes for the food and the servers are the nicest. I really appreciate restaurants who train their staff well when it comes to dealing with customers.
Price
Now the price. Since it is a posh-looking restaurant that serves Spanish food, you expect it to be a bit expensive. As expected, the paella and rib-eye prices are expensive. Thankfully, there is no scarcity of ingredients, which could make up for the pice. However, the rest of the food have reasonable prices. For me, it is a bit cheaper than the other Spanish restaurants I've been to, which is a good thing.
Will I recommend it? YES. If you are in Megamall, sick of lining up in Yabu or Ippudo and want to give your palate a Spanish taste, then I recommend Alqueria.
Alqueria Restaurante + Chocolateria is located in 3L, Mega Fashion Hall in SM Megamall. For more info, check out their Facebook page.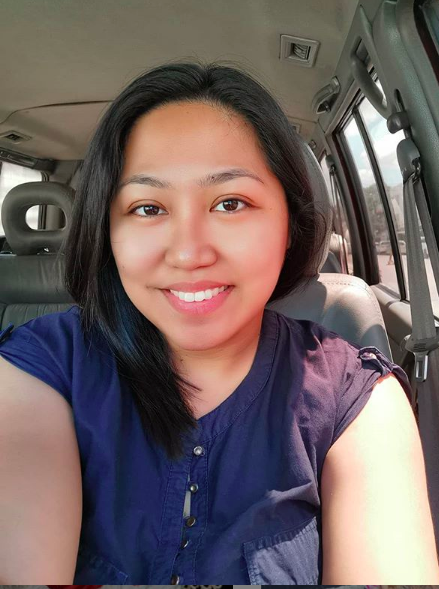 Ayi is a stay-at-home mom of two. When her kids are in their best state, she keeps up with chores, work, and ensuring that her sanity is intact. Join her as she navigates through this rollercoaster ride called motherhood.