Disclaimer: This is NOT a sponsored post.
According to the American Academy of Opthalmology, eye screening should start as early as newborn stage and followed up regularly (1). This is important because vision problems could interfere with school performance. At the same time, it could pose safety concerns on the child.
I know that my kids will wear glasses eventually since sadly, I have a poor eyesight. The husband is also wearing glasses, so no surprise if the kids will inherit that gene. I'm surprised that they got it early.
The Warning Sign/s
I pick up the kids from school everyday. When I saw my eldest from the gate, I waved at her and signalled her to come. Then I noticed that she squinted her eyes and then came to me after. It happened the following day then the day after.
So, we decided to get her eye checked.
Apart from squinting of eyes, other warning signs of vision problem includes:
Tilting the head to one side
Complaints of discomfort, fatigue, and difficulty in seeing objects
Frequent headaches
Covering one eye
Seeing double
Holding reading materials or gadgets too close to the face
Frequent blinking or rubbing of eyes
Eye Checkup Experience At Del Mundo Eye Clinic
A pediatric opthalmologist is best qualified to conduct eye checkup for kids. Thankfully, we discovered Del Mundo Eye Clinic in Trinoma, near the MRT entrance and Landmark.
We got there on a Friday, around 1pm. Luckily, there were two patients before us so we didn't wait that long. I suggest that you come earlier because there were three or so patients after us.
Eye Examination Procedure
Before getting my daughter's eyes checked, the medical assistant asked us to answer a questionnaire about vision problems in the family, warning signs we noticed, and the frequency of gadget use among others.
Then, refraction test follows, which is part of the routine eye examination. This is where you have to look at an object, usually a car. Then, the machine checks the eye grade or prescription.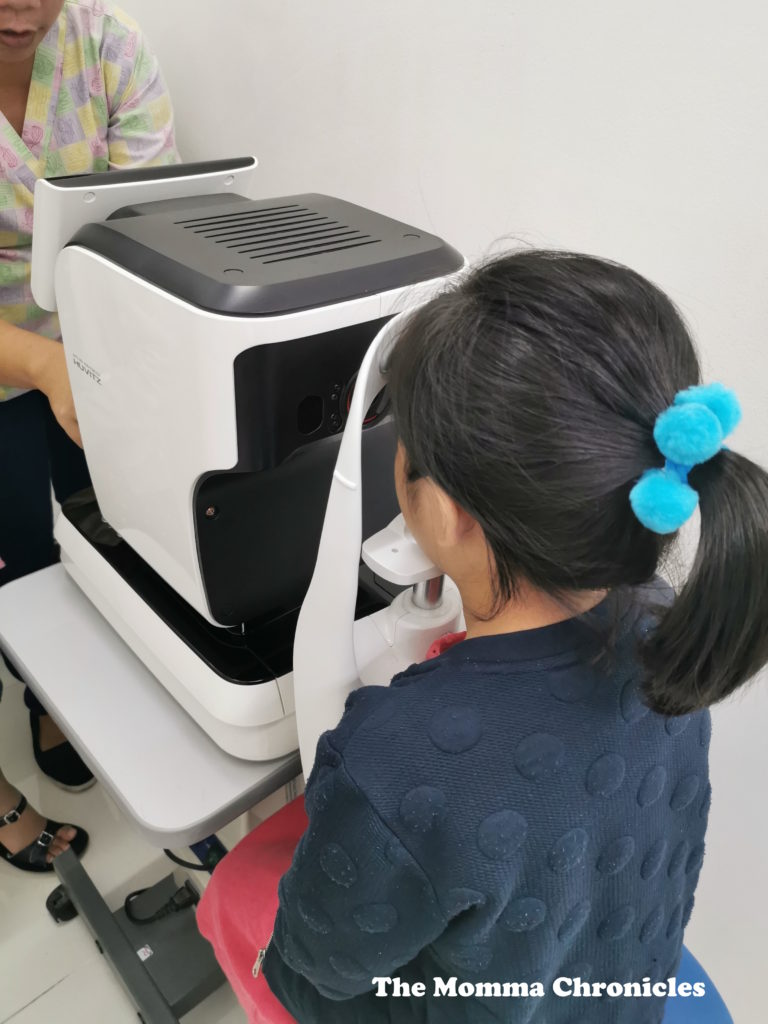 In case you're wondering how it looks like on the other side, here it is as taken by my youngest.
There is also a visual acuity test wherein my daughter was asked to read letters from a specific distance, starting with one eye first while the other eye is covered, then the other eye, and then both eyes.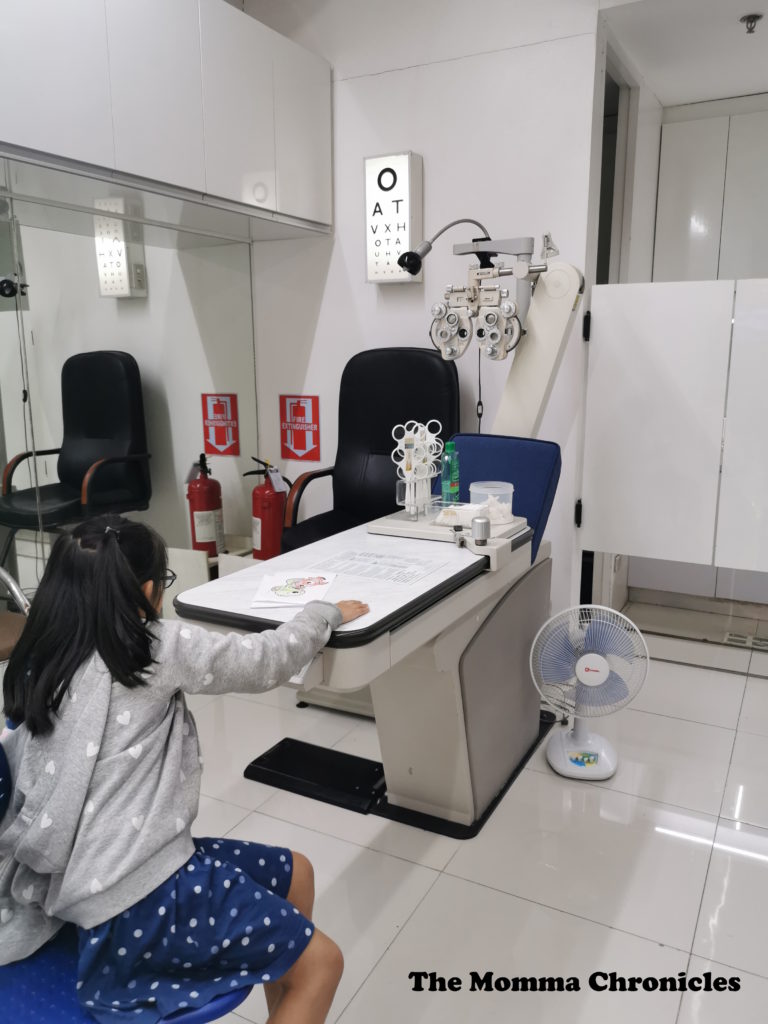 Once we're done, it's time for the pedia opthalmologist to check my daughter's eyes. There was an external inspection of the eyes and examination of the pupils (to check the size and whether or not both respond to light). Ocular history was likewise discussed.
Dilated eye exam comes after. The medical assistant dropped a solution on my daughter's eyes to dilate the pupil. This is a required procedure since dilated pupils will make it easier for the eye doctor to examine the health of the retina and optic nerve.
We were asked to wait for 15 to 30 minutes to allow the drops to fully dilate the pupils. Then, refraction test and visual acuity test will be performed again. The eye doctor performed the procedure she did earlier as well before she prescribed glasses.
The Verdict
As it turns out, my daughter needs to wear glasses since she is nearsighted. Thankfully, her vision problem can still be salvaged, though she has to wear glasses for her comfort.
Del Mundo Eye Clinic has a wide range of glasses for all ages. I'm very particular with the brand though, so I politely asked for prescription from her.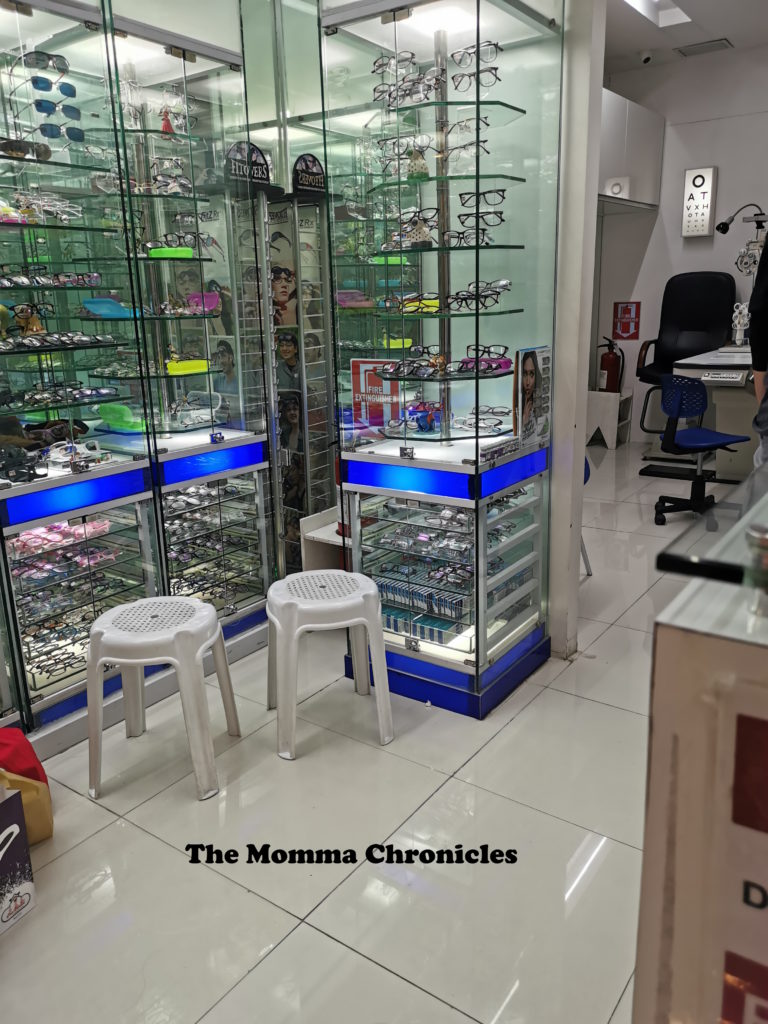 Overall, we had a good and stress-free experience in the eye clinic. The place is clean, organized, and well-maintained. The staff were respectful and the doctor is careful in checking my daughter. She willingly answered questions and gave tips on how to take care of the kids' eyes.
In case you're wondering about the cost, I paid a total of P848.00. I assume this includes the consultation fee and the cost of the eye drops.
Plus, I don't really like going to hospitals. With my youngest, it took us one whole day for eye checkup – and we had to go back the following day because St. Luke's had a brownout. Thankfully, we discovered this eye clinic that's nearer and more convenient to go to.
How To Take Care Of Kid's Eyes
That being said, here are some tips to help take care of your little one's vision and at the same time, prolong the possibility of using glasses:
Encourage kids to eat more vitamin A-rich foods like carrots and asparagus.
Include yellow fruits and veggies in your child's diet.
Reduce gadget use since it tends to dry the eyes. Plus, too much gadget use could be detrimental to a child's development.
Consequently, make sure that the child blinks and gets frequent breaks to reduce eye strain every time we allow them to use gadgets.
Maintain at least three and a half meters distance every time your child watches TV.
Avoid watching TV or reading in dimly lit room.
Kids must wear sunglasses and hats on bright days for added eye protection.
Unsafe toys, including those with sharp edges, must be avoided at all costs.
Stop and remind your child not to rub the eyes.
Let's all take care of our kids' eyes, please.
You can check out Del Mundo Eye Clinic at 2nd Level, Trinoma Mall, near MRT Entrance. You can also visit their Facebook page for more details.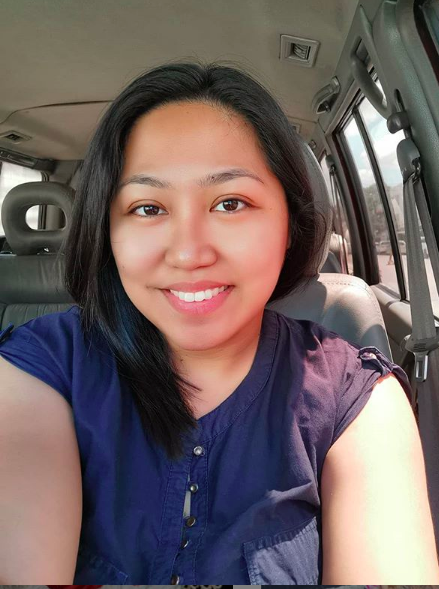 Ayi is a stay-at-home mom of two. When her kids are in their best state, she keeps up with chores, work, and ensuring that her sanity is intact. Join her as she navigates through this rollercoaster ride called motherhood.