We do our best to raise our girls in a positive and loving environment. Still, I would often hear them say, "I'm the hated child" or "Nobody loves me" or "Fine, I'm a bad girl" every time we call their attention for doing something not expected of them. I'm not sure where they got those ideas but I'm certain that I want to do something about it.
So, I decided to have a self-love activity with them.
SELF-LOVE ACTIVITY
The purpose of this activity is simple: I don't want my kids to think less of themselves.
It's normal for kids – and human beings, in general – to make mistakes. It's normal for them to get scolded, especially when they did something not nice. Unlike adults who can easily brush it aside and move on, kids take things differently. For whatever reason, they'll start feeling that they are not loved, which would make them feel bad about themselves.
I always remind the girls that even if mom and dad get mad, it's because of what they did and NOT who they are. Yet again, kids are kids and they won't understand it – for now.
So, I introduced this activity. The worksheet is divided into four parts –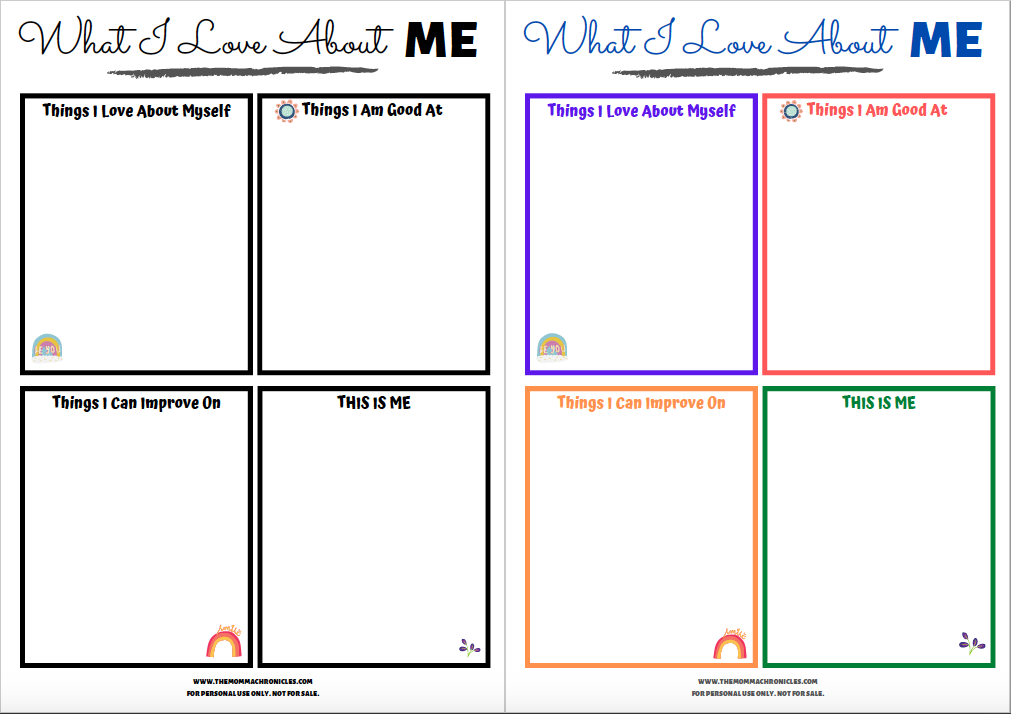 Things I Love About Myself – This indicates the qualities that your child possess like brave, funny, always happy, studious, resilient, responsible, strong-willed, etc. This section is a good way to make your child appreciate him/herself more.
Things I Am Good At – Your child should write here his/her strengths, skills, or talents such as singing, drawing, or dancing in this section. The aim of this section is to make the child realize and appreciate more his/her strengths.
Things I Can Improve On – Kids, despite our praises, need to know that they are not perfect – and it's okay. They need to acknowledge that they have imperfections, too. Knowing and acknowledging those imperfections will make them learn how to accept them. Still, remind them that despite those imperfections, they can do something about it and Mom and Dad will be there to help, support, and cheer for them.
This is ME – Let your kid draw him/herself in this part. Make sure to encourage creativity.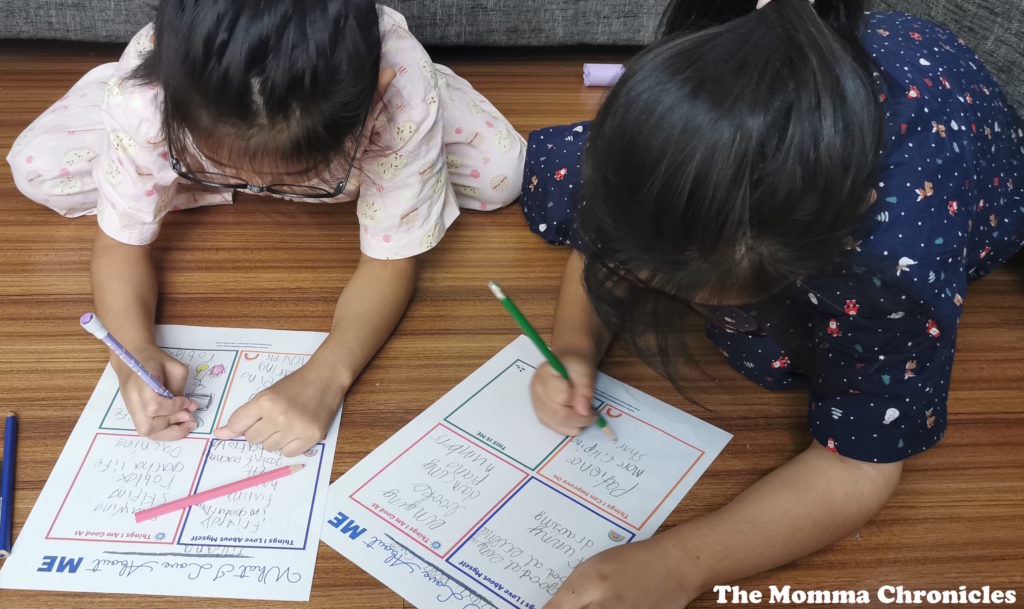 The girls enjoyed doing this activity. It made them realize that despite mom and dad getting mad at them or having difficulties in certain areas, there are still more reasons to appreciate and love themselves more. I just don't want them to feel over-confident, which is why I included the improvement section.
We also ended up laughing when they were filling the "Things to Improve On" section. They immediately know their "areas of improvement" and promised to do something about them through constant practice.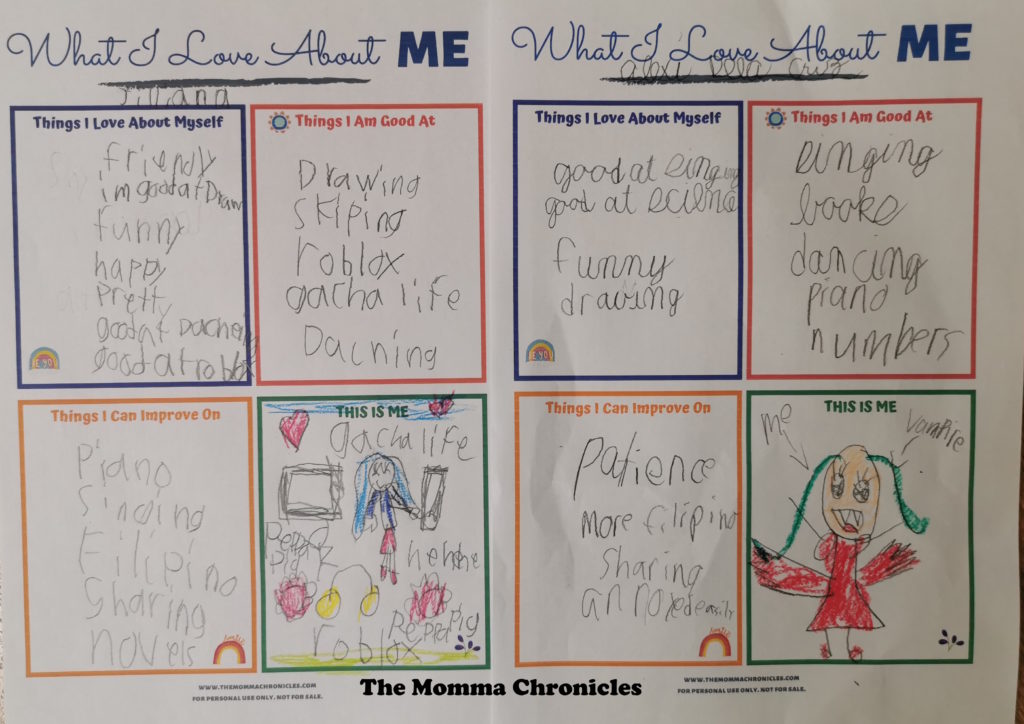 I also included this worksheet in our Covid-19 Time Capsule, which you can also access here. No worries since it's a free printable, too.
SIMPLE WAYS TO MAKE YOUR CHILD FEEL LOVED
Aside from this activity, kids often need assurance and affirmation. Sure, they will learn how to love and accept theirselves, but they also need to feel that they are loved.
My kids will sometimes say, "Mommy doesn't love me" so I always make sure that they don't feel that way. Here are some things I (and all of us) do to make my girls feel that they are loved no matter what:
Always start your child's day with a smile and hug.
Say yes to snuggles, especially at night.
Let your child talk.
Make it a habit to listen.
Spend mindful, uninterrupted, quality time together.
Learn to love what they love.
Reward your child, but make sure you do this only when s/he deserves it.
Say it out loud.
READ: 10 Things We Should Say To Our Kids
FOR THE FREEBIE – You can access the Self-Love Worksheet Printable for free HERE. It has two pages, one in black and one in colored, in A4 setting. Enjoy!
I want to see what your kids wrote. Don't forget to tag me at @themommachronicles on Facebook and Instagram.
DON'T FORGET TO SHARE: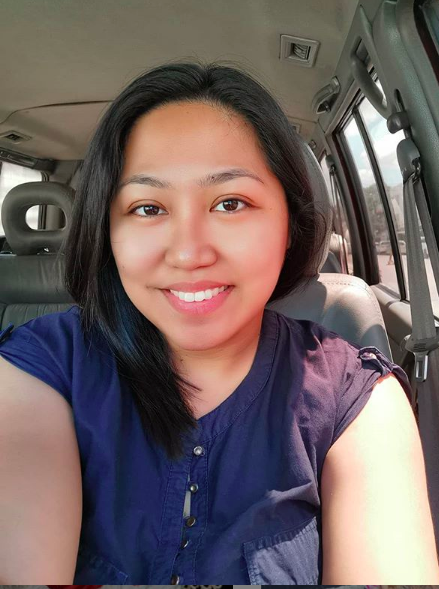 Ayi is a stay-at-home mom of two. When her kids are in their best state, she keeps up with chores, work, and ensuring that her sanity is intact. Join her as she navigates through this rollercoaster ride called motherhood.