Let's face it: there will always be tasks or responsibilities that are more for women than men.
Take the case of household chores. Traditional setting dictates that women are in charge of doing the chores while the husband works. Even if mom works, she still has to tend to some household work as soon as she gets home.
In my case, as a helper-less stay-at-home mom, doing household chores is my forte. Still, there are days when I just want to lie down and watch movies while secretly wishing that the mess in our house will go away. I have to admit that there are times when I wasn't able to clean the floors on a daily basis since, well, I already feel exhausted.
Until we discovered Dyson vacuums.
The husband and I had lunch when we passed by Dyson booth in SM North Edsa. The sales representative, Lowen, was really cheery and got our attention so we could look into their products. "Sale din po pala kami until end of the month," she said.
After giving a demo on how Dyson vacuum cleans the floor and every bit of dust on it, we're sold. We promised to go back the following day – and we did. Since we bought it, the husband willingly obliged and is now in-charged of cleaning the first floor. He does this religiously so yes, I'm happy.
A CLOSER LOOK AT DYSON V8 FLUFFY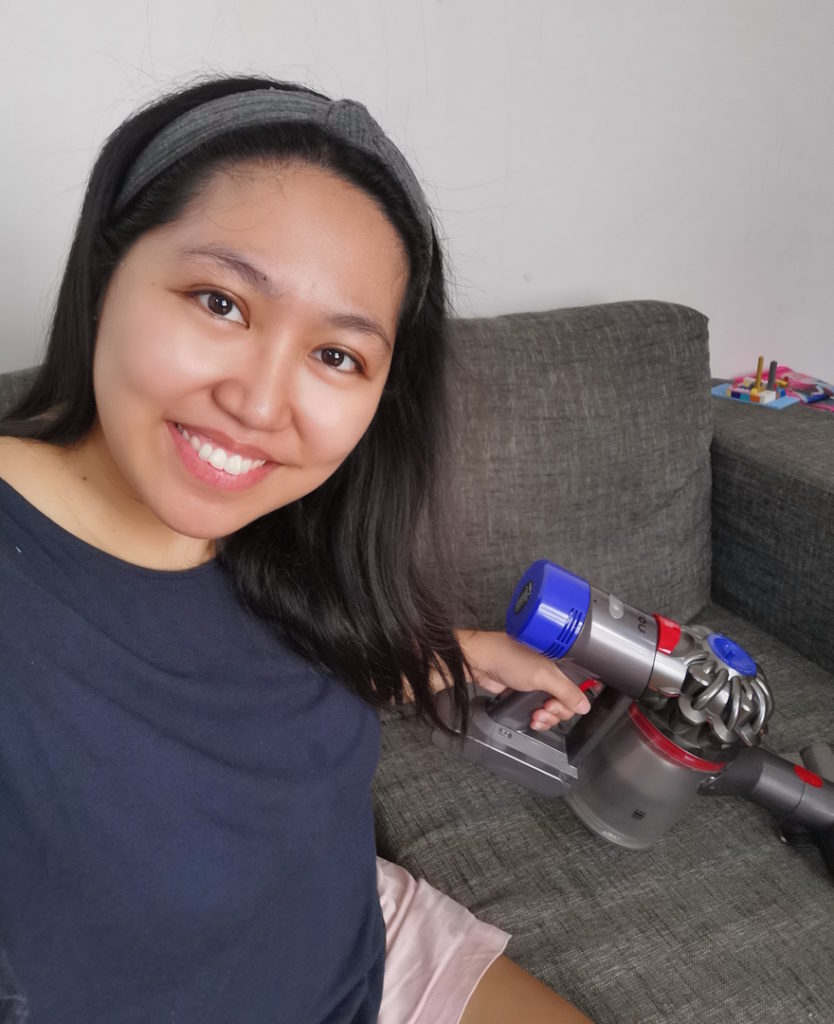 This variant may not be the top tier when it comes to Dyson vacuum but so far, so good for us. Nonetheless, we love how it made cleaning easier and more convenient for us. It could get anything from dust and mites, to hair, to large debris.
Its features include:
2.55 kg weight, which is fairly light
115 AW (air watts) suction power
Max power mode for stronger suction
Full 40-minute runtime when in normal mode
2 tier Radial cyclones, which means there are 15 cyclones arranged in two tiers that work in parallel to boost airflow and get fine dust
Soft roller cleaner head, which is engineered specifically for hard floor cleaning
Whole machine filtration that captures allergens like dust mites and pollen
WHAT'S INCLUDED IN THE BOX:
Soft roller cleaner head
Mini motorized tool
Docking station, which also serves as the charger
6 Additional cleaning tools (other models only come with four)
WHY WE LOVE IT:
It is cord-free. Our issue with ordinary vacuum is that the cord gets in the way every time we clean. Dyson V8 Fluffy allowed us to clean the house without worrying about cords. We can bring it outside and clean the cars as well sans extension cord. This makes cleaning easier and more convenient.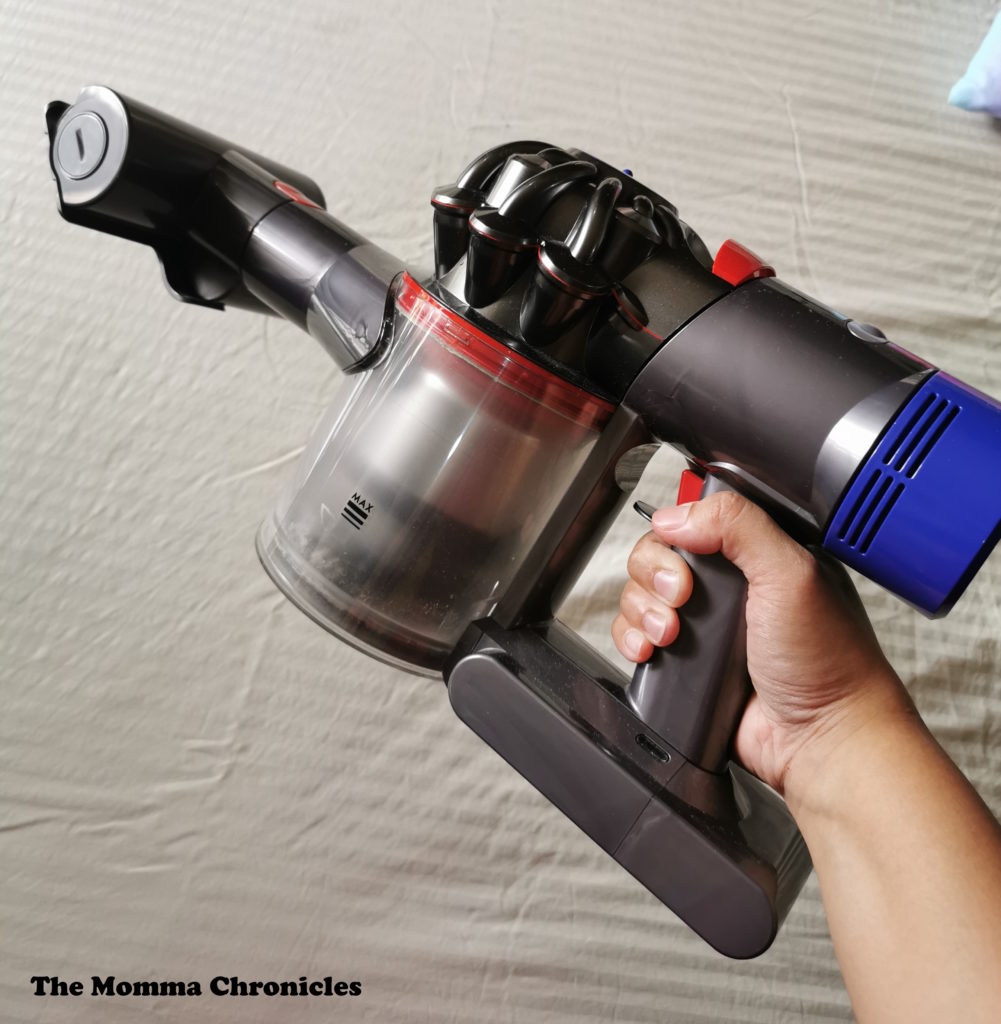 Captures up to the smallest dirt effectively. The trusted walis could get rid of dirt on the floor but I feel like it's not clean enough and there's still left on the floor. With Dyson V8 Fluffy vacuum, our floor and walls are cleaner than ever because of its ability to capture even microscopic dust or dust that we don't normally see. My youngest, for whatever reason, forgets to wear slippers when going down and guess what, her feet is clean.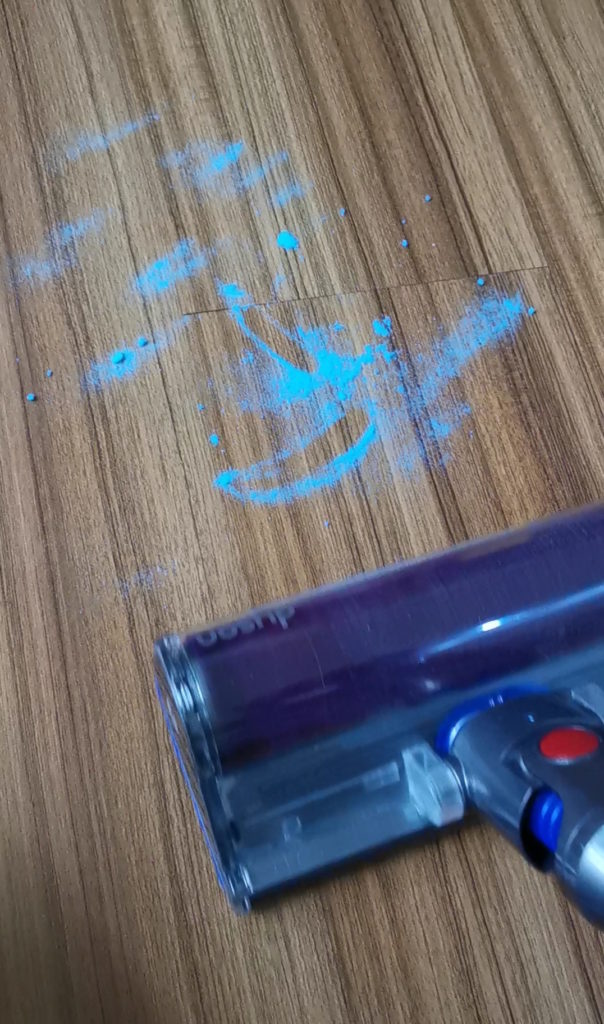 Can be used anywhere. We use the vacuum in cleaning the floors and walls. The attachments that came with it can be used on mattresses, fans, tables, and couch among others. I also use it to clean my laptop's keyboard. There is no limit to what you can clean because it is loaded with cleaning tools.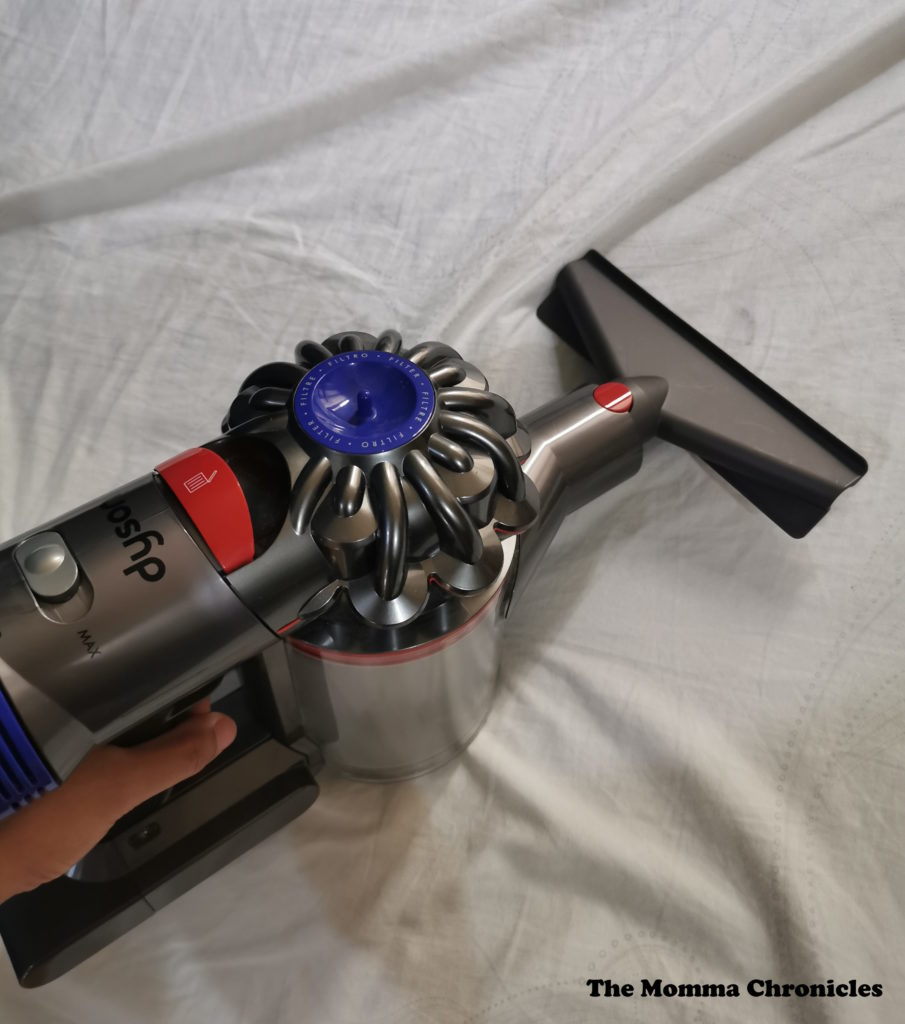 Disposing the dirt is easy and convenient. We simply have to pull the red trigger on top of the machine and voila, no more dirt. This is something we cannot do in ordinary vacuum cleaners.
Flexible. We can clean up high and transform it into a handheld device, depending on what and where we are cleaning. The Up Top Adaptor has been also useful in cleaning hard-to-reach surfaces like top of the refrigerator or cabinets.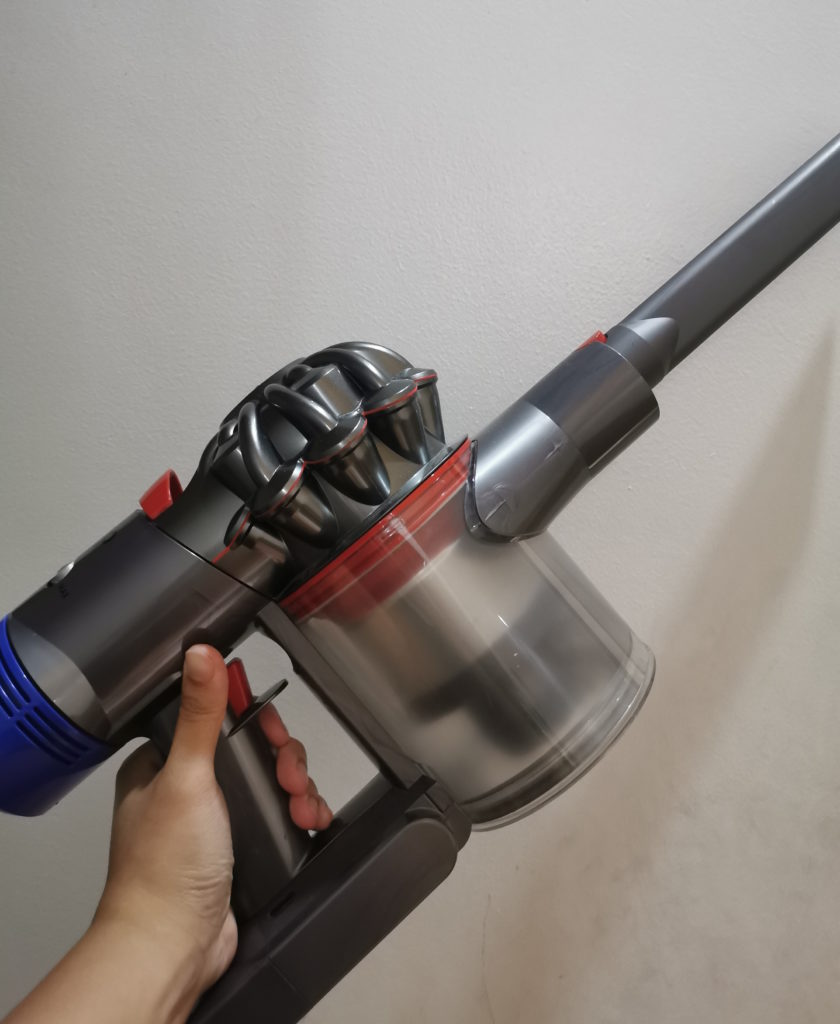 Tools are easy to clean. And they are washable as well.
Space-saver. It's not bulky compared to ordinary vacuum cleaners. This also means it won't take up too much space inside the storage room.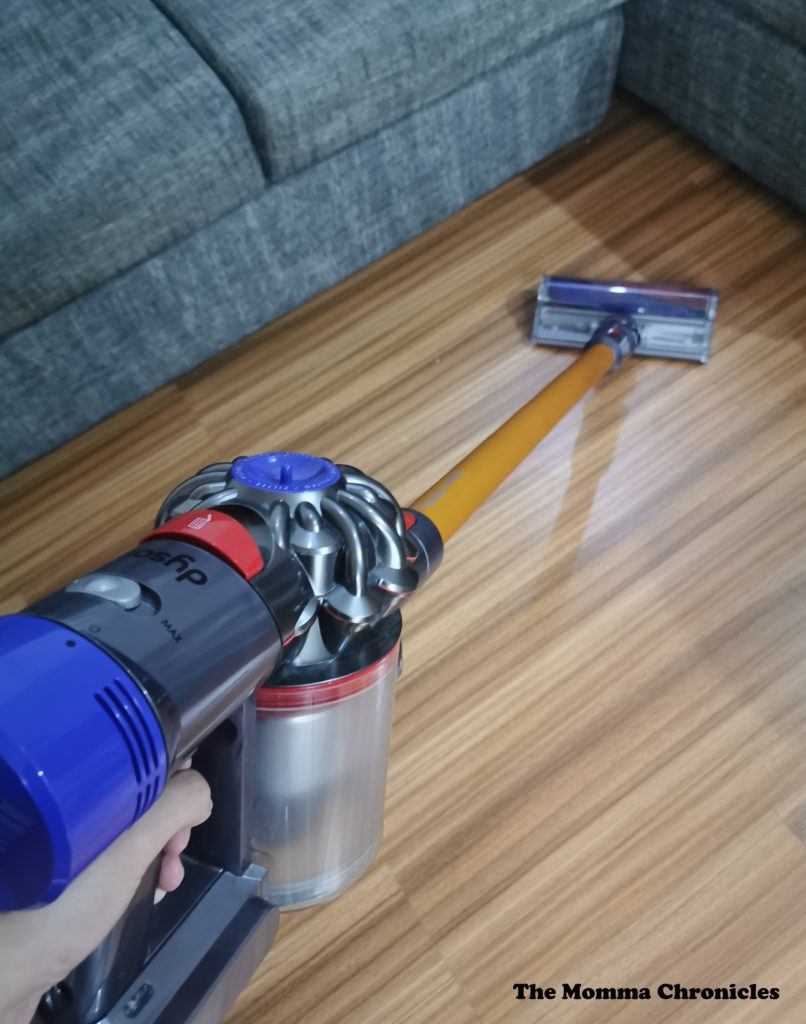 ANY COMPLAINTS?
There's one: it takes time to charge. We have to charge it for three to five hours to get full battery. We use the vacuum most of the time in almost everything. This is why we always make sure that ours has enough battery for uninterrupted cleaning.
Also, the price can be intimidating. This particular model was priced at P35,000 – to think that this is not yet their top-of-the-line vacuum. Luckily, we got this on sale and scored 25 percent discount. Thus, we only paid P26,250.
IS IT A YAY OR NAY?
Its a YAY! Overall, we're happy with our purchase. It's the best P26k we spent when it comes to home appliances and it's worth it. It made cleaning easier, faster, and more convenient. The husband is also allergic to dust and since we bought the vacuum, he rarely sneezes.
I am even happier because finally, the husband helps and is in charged of cleaning and vacuuming the first floor, windows, and fans. Most of the time, he'll clean on his own without being told. Now, I have extra time to watch K-drama. Haha!
We've been doing a lot of cleaning as well since the ECQ and Dyson V8 Fluffy vacuum didn't fail us (we bought the product sometime first week of March). Since then, it has been our cleaning weapon of choice. Highly recommended!
You can check out Dyson Philippines website to know more about what they offer. You can also check out this link to find out where you can buy Dyson products.
DON'T FORGET TO SHARE: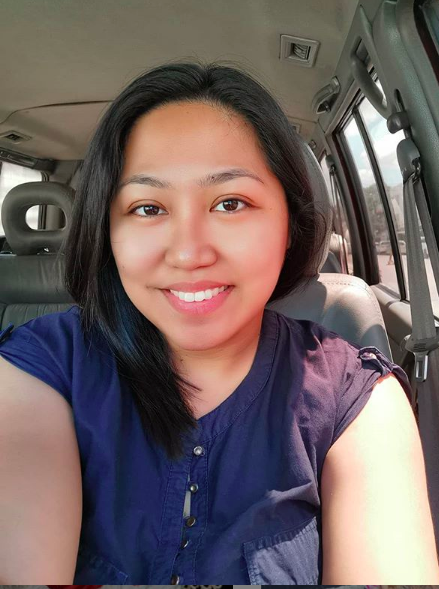 Ayi is a stay-at-home mom of two. When her kids are in their best state, she keeps up with chores, work, and ensuring that her sanity is intact. Join her as she navigates through this rollercoaster ride called motherhood.