My baby A is turning three this December and by next school year, we are planning to enroll her for preschool. I was super excited to go preschool hopping and see how my daughter will fare compared to kids her age. At the same time, I want to see how she interacts with other kids and if she will listen to the teacher or not.
I started our preschool-hopping last February. (Read my review about the Gymboree Preschool here). The truth is at that time, my daughter was agitated and was not paying attention that much to the teacher. She just turned two that time and I told myself, she's not yet ready.
Anyway, I was looking for another preschool when I saw Gingerbread House of Learning along Congressional Avenue in Quezon City. My neighbor's daughter went there and recommended the school because of the facilities and progressive method of teaching. Since my daughter is two years, nine months as of this writing, I thought this can be a good time to try out another school.
Gingerbread Preschool
According to their website, Gingerbread aims to "create learning opportunities and develop exceptional group environment wherein each child can flourish in every aspect of development."
The class starts at 9:00 AM and ends at 11:15 AM. For two hours, the kids will learn new concepts and new words, which are presented in the most appealing manner. Once the class starts, the teacher will pull out one student at a time and teach him / her new skills and review learned concepts such as letters or colors, while the other kids play around. I was so surprised with the kids' willingness to learn, partly because they've been doing this for months already. As soon as the teacher is done with the last student, they will form a circle for some songs and storytelling.
On that day, the kids learned about the concept of parade. The teacher read them a book about it and the things they can find in a parade. A video clip was also shown to the students on how an actual parade looks like. Yes mommies, there is a computer inside the classroom. How cool is that?
After storytelling, they made a drum and stick different shapes into it. A was so happy pasting the shapes on her drum and to my surprise, she even let the teacher helped her, which is a good sign.
After their activities, it's snack time. I had issue on this one because A wanted to play and didn't even bother touching her food while all the kids are busy eating. She was overwhelmed with the new toys, she would rather play than eat the snack I prepared for her. I even shaped the breads into a person and sadly, it's toys over food.
After that, it was time for their Chinese lessons. My daughter wasn't participating on this one, mainly because she didn't understand what the teacher is saying. They were singing songs and telling stories and A was like, "what are you talking about?" At least she was sitting down. Then it was time for goodbye. The teacher did a recap of what they learned that day and of course, sang their goodbye song.
The Plus Factors
The classrooms. The first thing I noticed when I enter the classroom is that it is spacious enough to accommodate 12 kids (although they are only six at that time). There were lots of colors, which can be really appealing to the kids' eyes. At the same time, the classroom was strategically designed to encourage learning. I think the classroom setting was one of the reasons why A was participating and very enthusiastic, even if I left the room.
Children's waiting area. I wasn't able to take a picture of the entire waiting area but it has books and toys which kids will absolutely love. Outside, there were even Little Tykes slides where kids are busy playing. And if you think your child is left unsupervised, then worry no more. There are two (or more) to look after the kids and make sure everyone is focused on the toys alone, sans the fighting.
Disciplined kids. I was surprised to see how disciplined the students are, even the young kids who just turned two. The kids are taught to wash their hands before every meal, brush their teeth after eating, the manner of sitting, etc. In other words, they were able to teach a new habit without forcing the kid too much to do this or do that. And I think that's what A needs because she doesn't listen to me.
The Not-So-Good Factors
Tuition fee. I don't know if it's the trend for preschools these days but P90,000 tuition fee can be too much for me. Of course, that includes everything the child needs, but still, it's P90K. They accept a monthly-basis payment of P20,000 in case you feel your child is not ready for a whole school year.
Chinese lessons. Based on the curriculum and where most students and teachers are Chinese, it is safe to say that Gingerbread is a Chinese school. They even have Chinese time incorporated in the daily schedule where they read stories in Chinese and teach kids some Chinese words. Since we're not Chinese, I think this won't be useful for my kid.
Parking. It was a good thing my husband was there to drop us in Gingerbread. There are not much parking spaces, which can spell problem for me since I'm not comfortable leaving my car anywhere.
I don't know if I will enroll A here next year since I'm still looking for other preschools but I'm seriously considering Gingerbread. A obviously loved it there and she was listening and giddy – in a good way – the entire time. Overall, Gingerbread House of Learning is a preschool I would recommend. It gives you a real school setting, which I think is a good training ground to prepare kids as they transition to bigger schools. So if you are in the QC – Congressional area, check out Gingerbread. They offer one-day preview classes for free 🙂
To know more about Gingerbread, please click on the link to check out their
website
.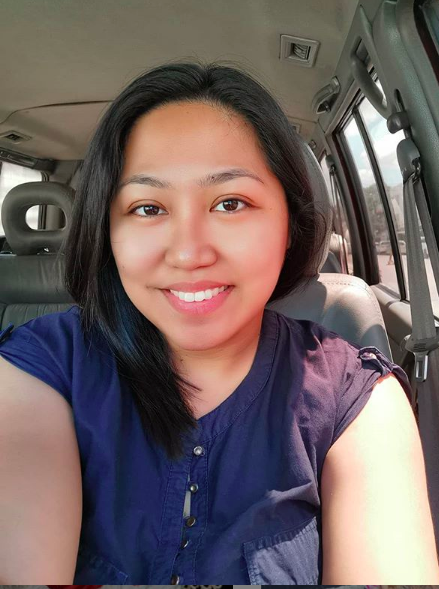 Ayi is a stay-at-home mom of two. When her kids are in their best state, she keeps up with chores, work, and ensuring that her sanity is intact. Join her as she navigates through this rollercoaster ride called motherhood.