One of our goals this summer of 2020 is to improve my girls' Filipino. It's not their first language and they could express themselves better when they speak in English. I have to admit that it was partly my fault, too, since I talk to them in English.
I never really understood the gravity until they went to big school. Filipino is among the subjects and although they don't fail, the girls are really having a hard time. We're changing that now by talking to them in Filipino more and by making a constant effort in teaching them the language.
One of the tools I use in teaching my kids Filipino is Reading Rods.
WHAT IS READING RODS?
Reading Rods is a tool that helps kids in developing and enhancing word building skills, phonics, and spelling patterns. The rods are color-coded, which will make it easier for kids to identify which among the rods are vowels, consonants, blends, digraphs, nouns, verbs, and adjectives.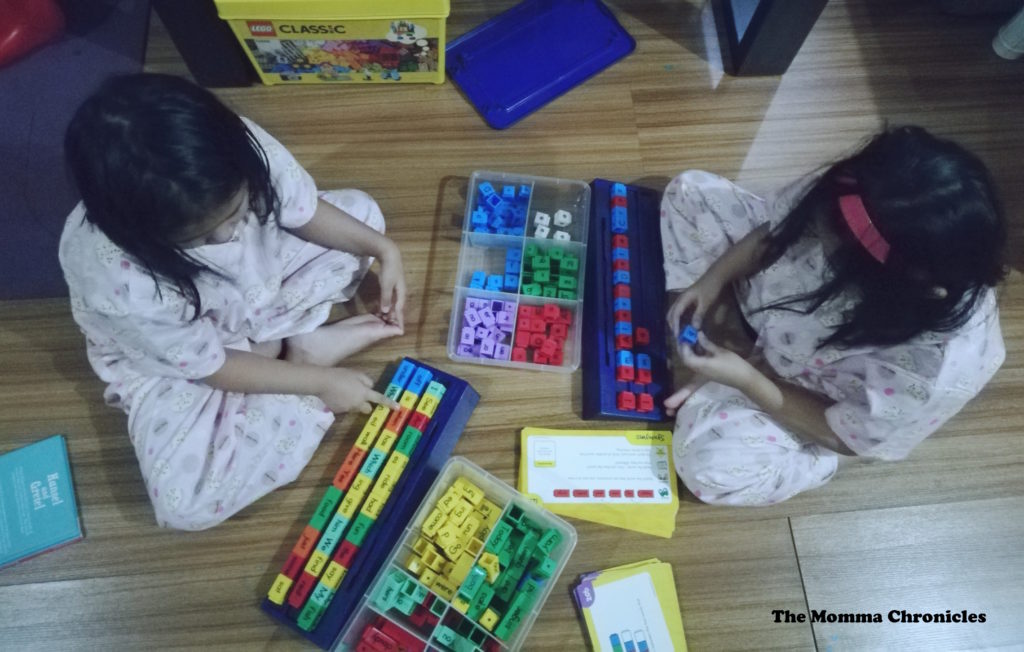 I bought the World Building and Simple Sentence Classroom Kits three years ago to help my daughters with spelling, grammar, and how to construct sentences, which were really helpful back then. They enjoyed making stories out of it by connecting the rods. Since English is not an issue, I decided to use Reading Rods for our Filipino lessons.
HERE'S HOW WE USED IT:
All About Pronouns
This is among our first Filipino lessons and the easiest ones to teach since we use it everyday. Because of repetition, they can easily remember it.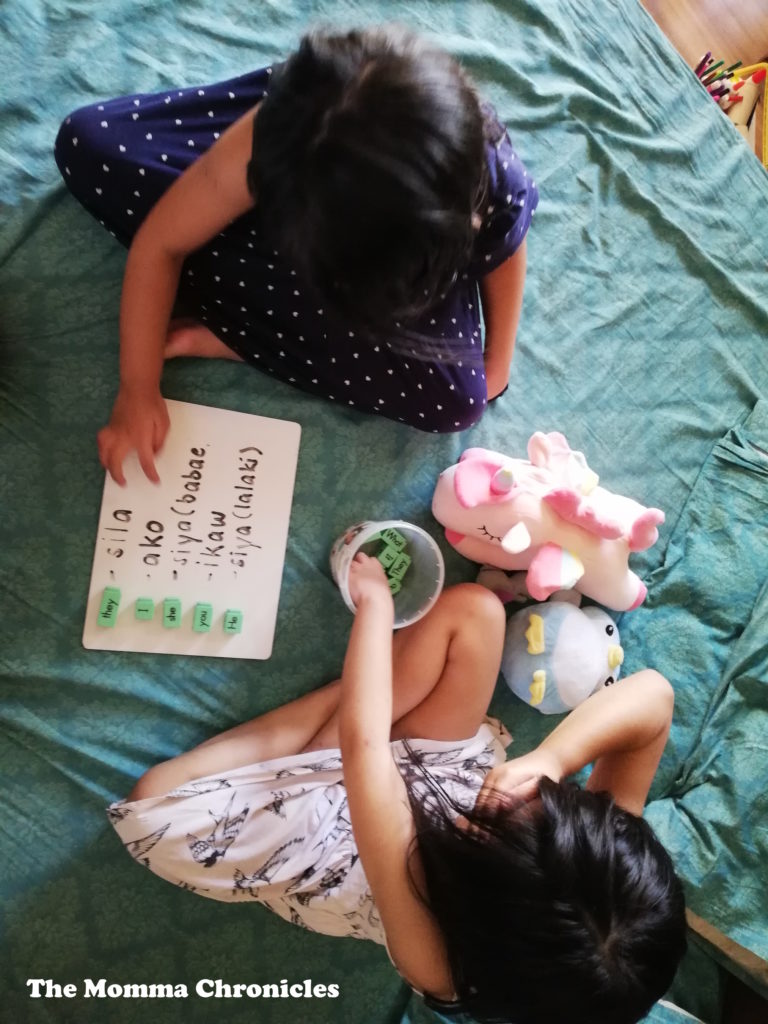 I simply gathered the green-colored rods and asked the kids to translate each pronoun into Filipino. I also asked them to make a sentence using the pronouns so they have a better idea on how to use the words properly.
Teaching Verbs (Pandiwa)
Using the Simple Sentence Classroom Kit, I got all the verb rods and placed it inside the bag. The girls must get one, translate it in Filipino, and give me the corresponding tenses or aspekto ng pandiwa. My youngest had a bit of a struggle here but she was able to get the pattern where nag + root word usually connoted past tense and mag + root word is often used for future tense.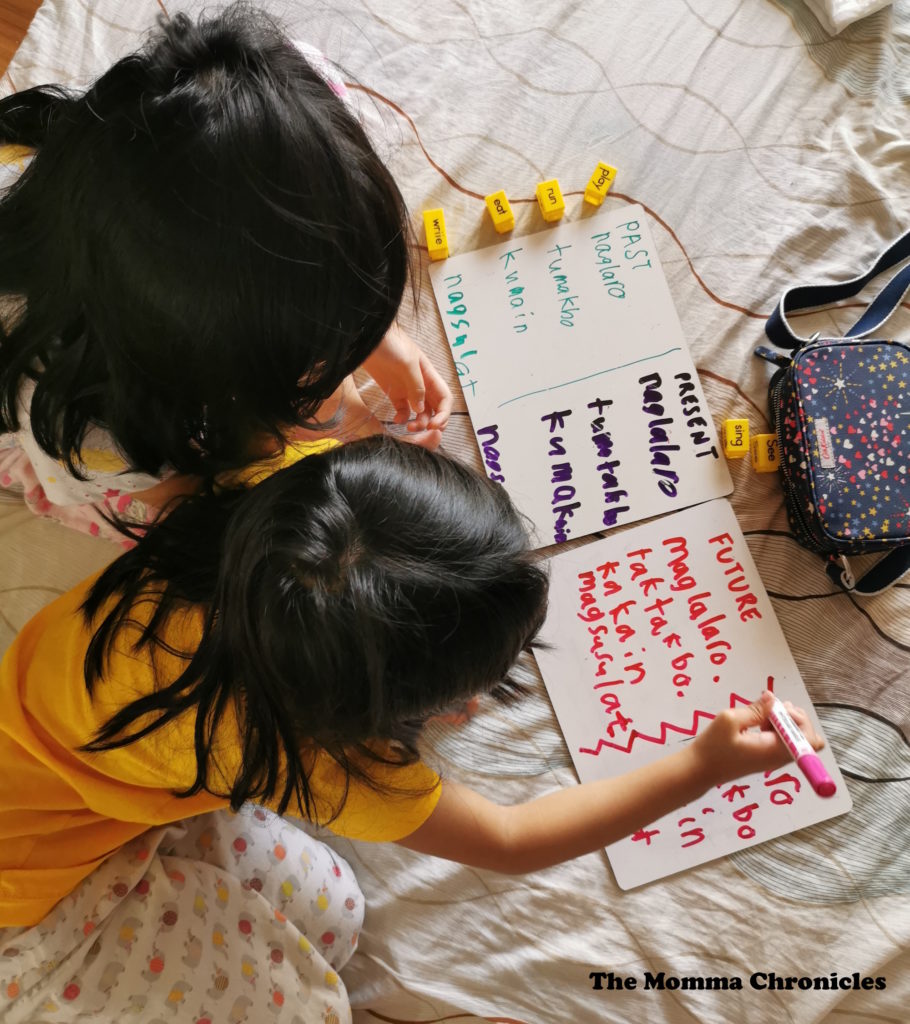 I also asked them to write sentences using the rods that they got. This is a good practice for them to improve not just their spelling and sentence-writing skills in Filipino but also for their penmanship skills.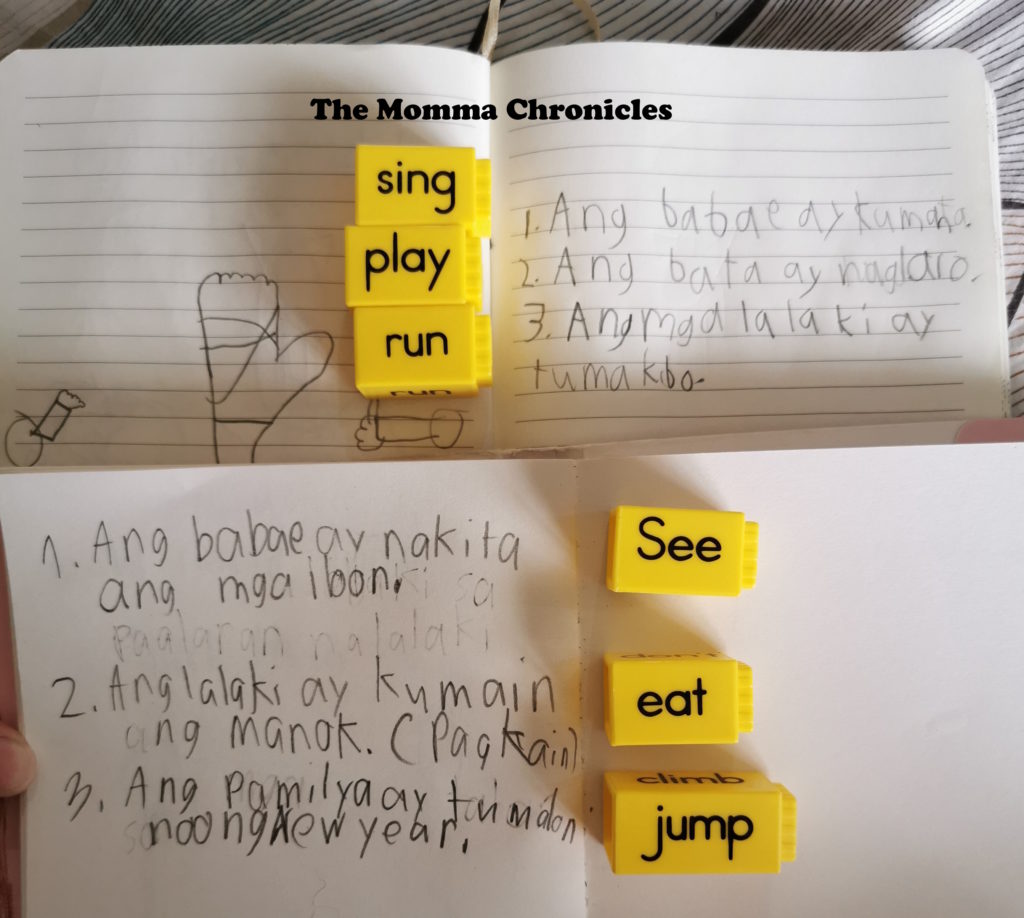 Learning Adjectives
Aside from the rods, the kit comes with an Activity Book and demonstration cards. Each card has a corresponding rod with the similar color. For adjectives, it was red.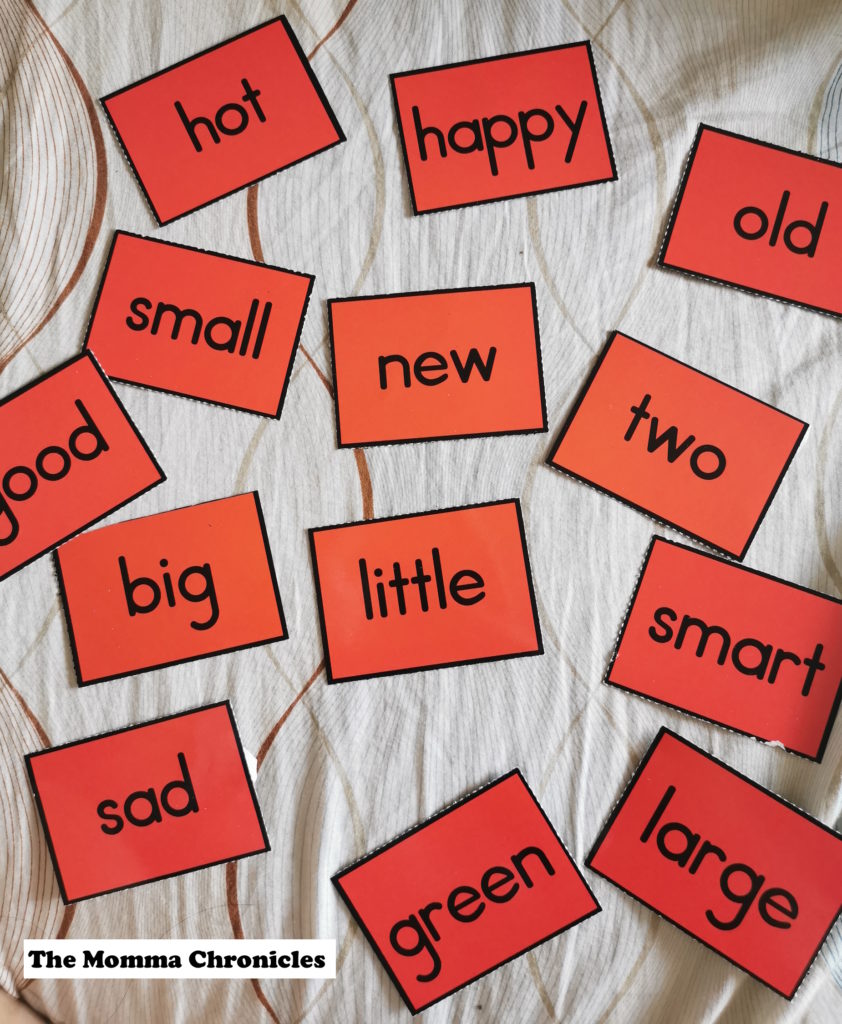 What we did was I asked the girls to pick a card. Then, they need to translate the card they got in Filipino.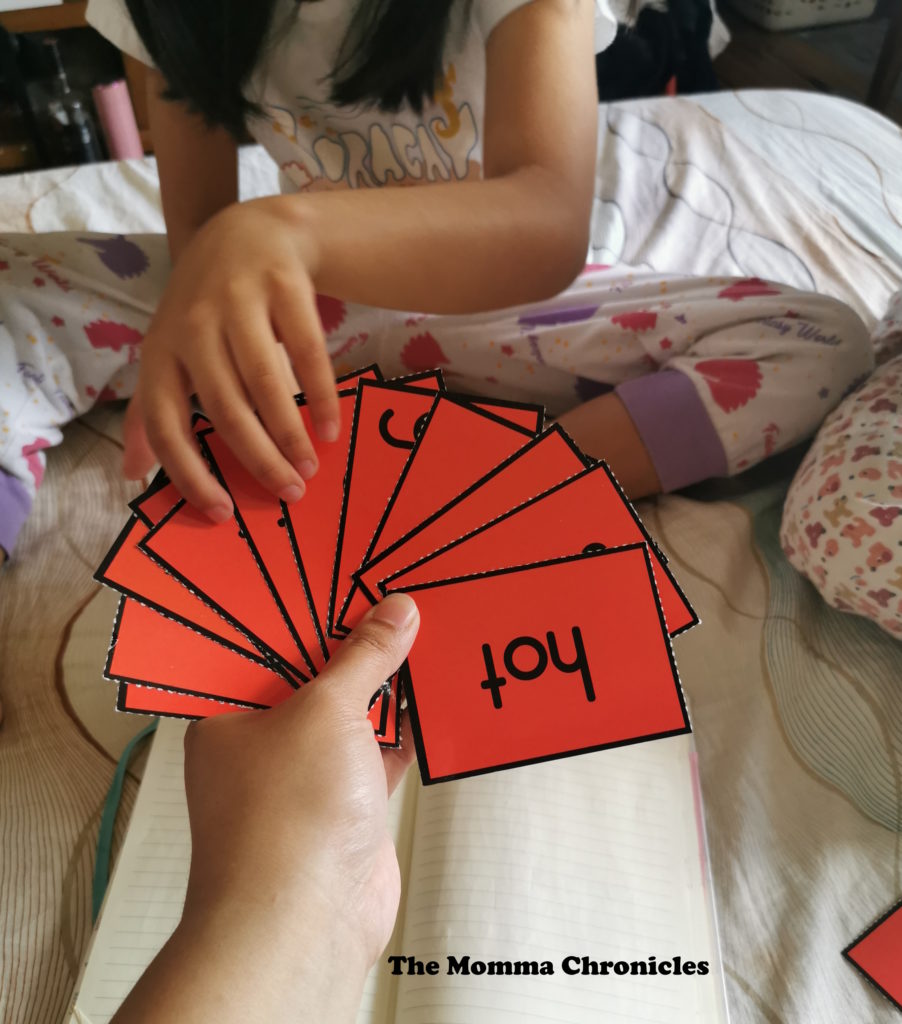 I also instructed them to write a Filipino sentence using the card they got. I want them to be more comfortable writing in Filipino, which is why I always include this task in our Filipino lessons.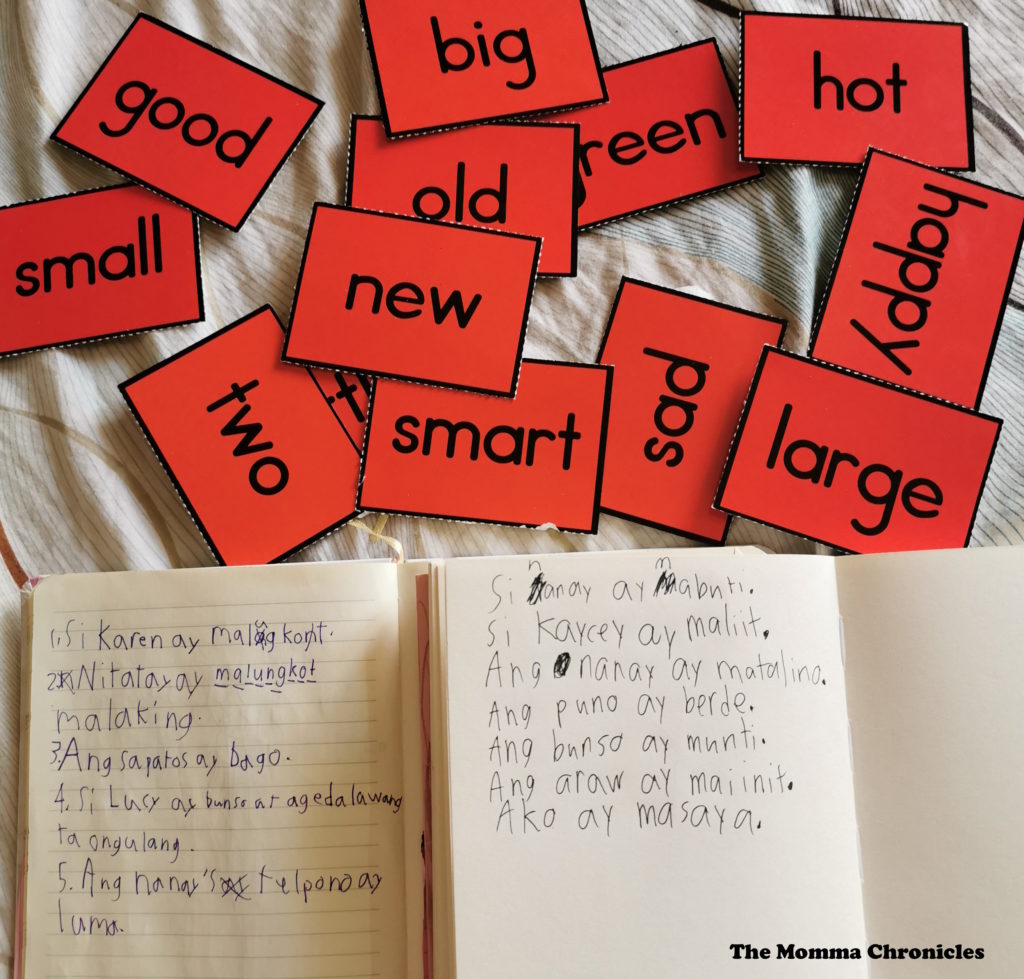 Pagpapantig (Syllabication)
In Filipino, pantig ay tunog o titik na binubuo ng patinig, katinig, or kombinasyon nito. In other words, syllabication.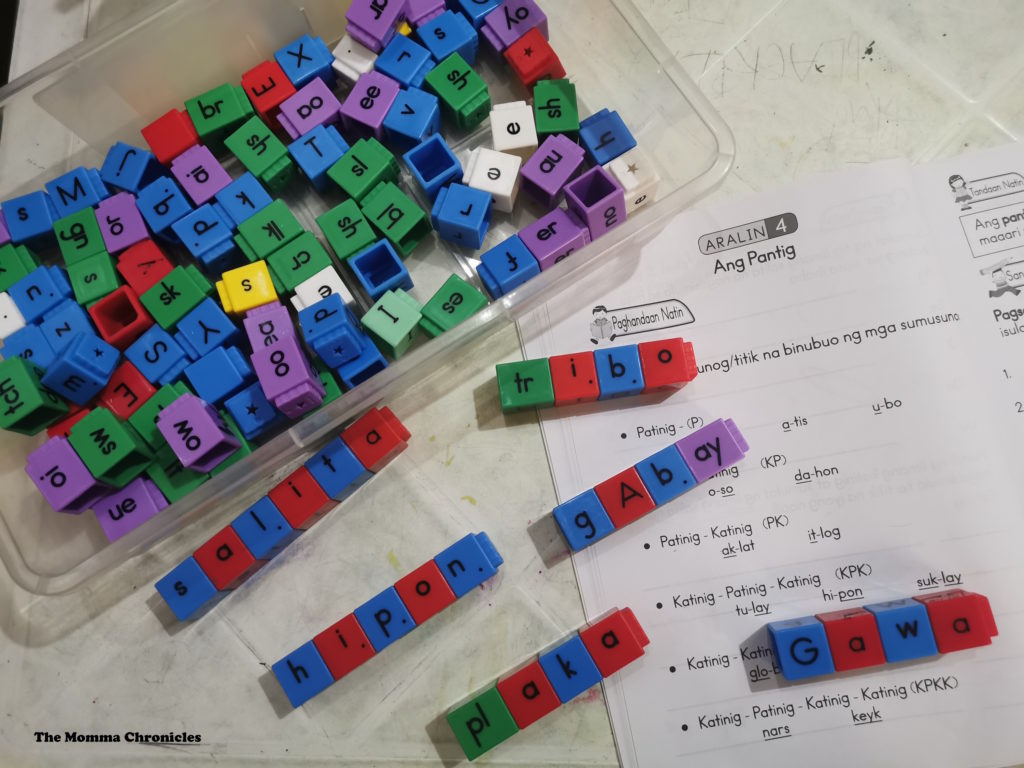 For this particular exercise, we used the Word Building Classroom Kit since it contains vowels, consonants, and blends. My daughter had to syllabicate the given words and then identify whether each letter is patinig (vowel) or katinig (consonant).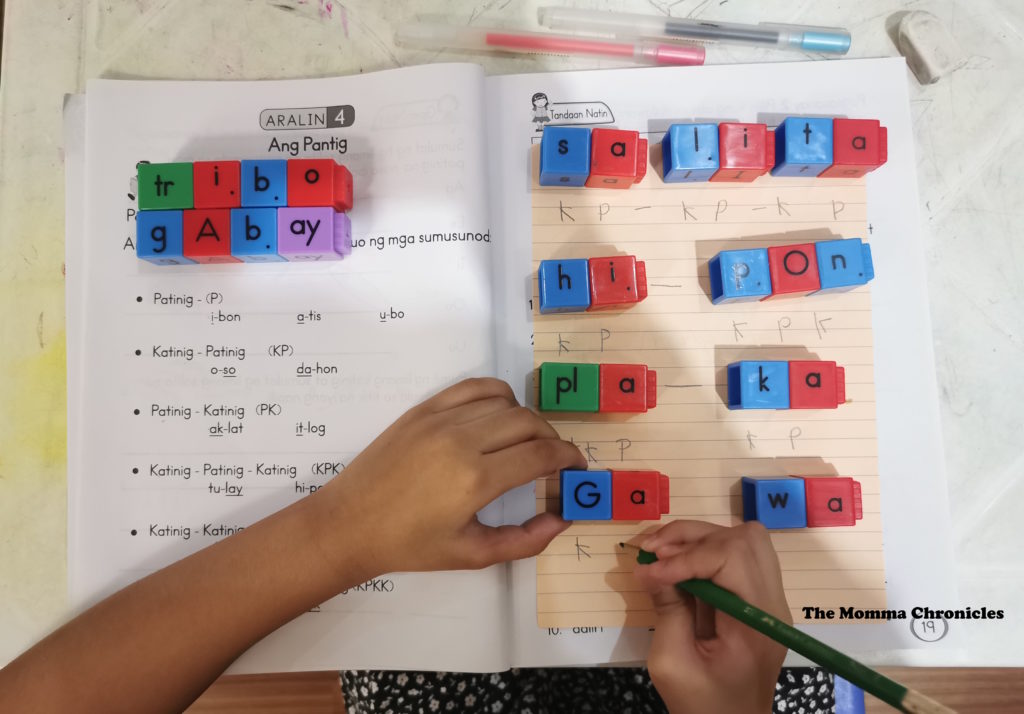 This was a fairly easy task for her and she did it in a breeze.
Unfortunately, we don't have a product that is similar to Reading Rods in Filipino so we make use of what we have. So far, so good and the kids are cooperating. I always make a constant effort to include some sort of play in our lessons to keep the girls engaged. They could easily recall the words we studied because of the colors.
Hopefully, they'll get better in Filipino in no time.
You can buy Reading Rods through Learning Resources website or Amazon. If you live in the Philippines, Fatty Brain Toys sell this as well.
DON'T FORGET TO SHARE: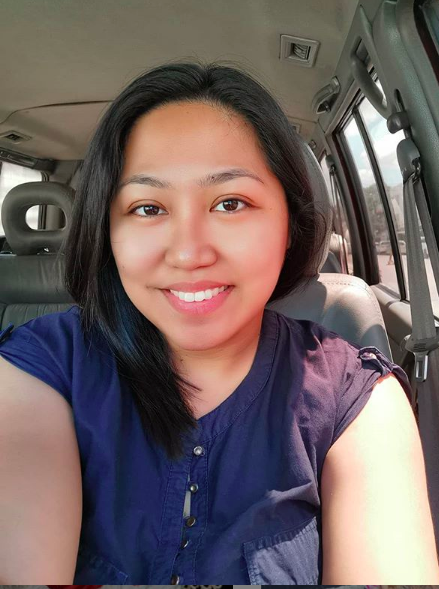 Ayi is a stay-at-home mom of two. When her kids are in their best state, she keeps up with chores, work, and ensuring that her sanity is intact. Join her as she navigates through this rollercoaster ride called motherhood.