June marks the start of another school year. Because of Covid-19, classes were not only moved in August but also shifted from face-to-face learning to distance learning.
READ: Homeschooling vs. Online Distance Learning vs. Blended Learning
Because of this, most households are adjusting to the #newnormal when it comes to our kids' education. One of the adjustments we made is setting a classroom at home.
We have an extra room for storage but I got lazy sorting things out and moving things in different rooms. Instead, we just converted our family area into the kids' home classroom because:
Well-lit area
Spacious enough for them to move freely, especially during PE class
No toys, which means less distraction
Books and supplies are already in the the family area; hence everything is within reach
I just had to organize some things and got rid of many, but here's how it looks so far plus tips to remember in setting up home classroom:
TIP NO. 1: FIND A SPACE.
Home classroom doesn't have to be fancy. If you're lucky to have a spare room that you can designate as a classroom, then go ahead and maximize it. Otherwise, any space will do as long your child will have his/her own area for studying.
In our case, the family area will become the kids' classroom because of the reasons mentioned above.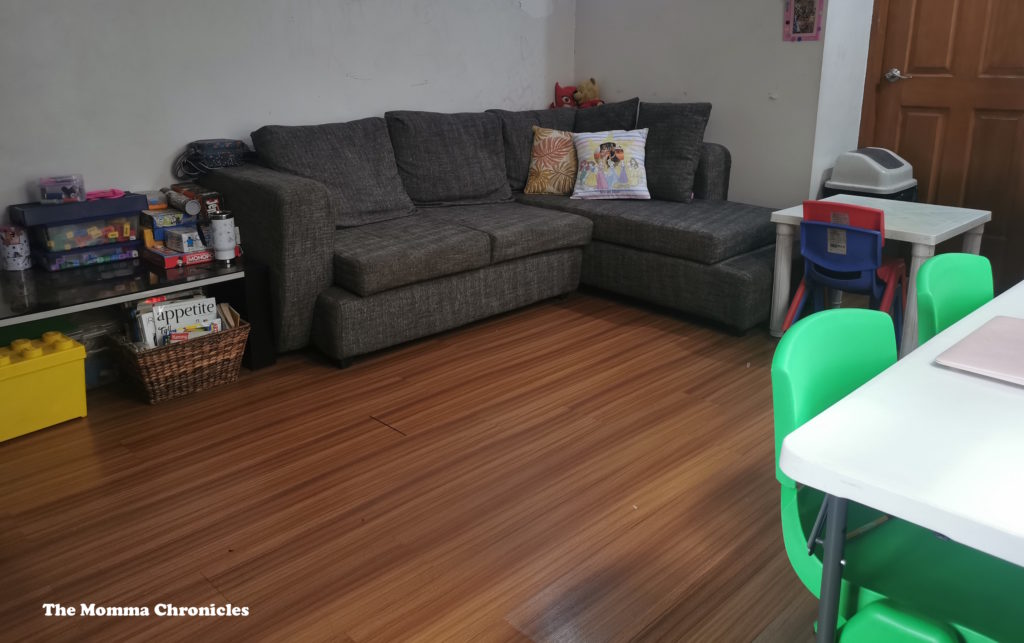 TIP NO. 2: LIGHT AND AIR VENTILATION ARE CRUCIAL.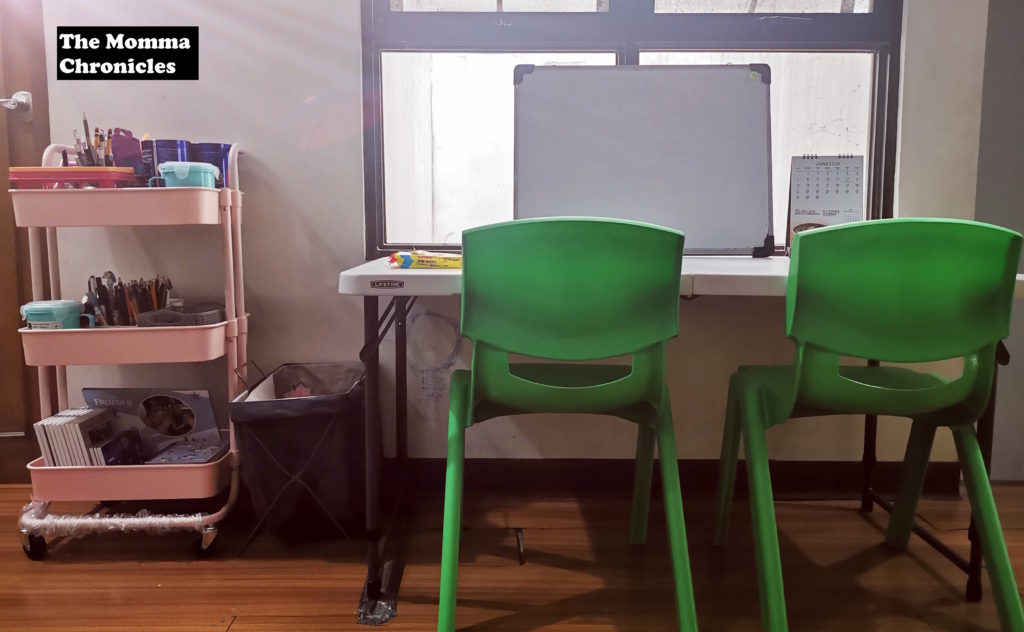 Lighting is important. A well-lit room improves the kids' concentration, which could eventually lead to better performance and productivity. We also used daylight light bulbs since the yellow ones can make them feel drowsy.
Apart from light, ventilation is equally important. The kids need to be comfortable while they attend classes; hence aircon and fans are a must.
TIP NO. 3: REMOVE TOYS AND OTHER DISTRACTIONS.
Apart from Lego and boardgames, which were quietly tucked in the corner, all of the girls' toys were sent back to their room. We also kept their slide since, well, they're big already.
Our rule is no toys in the home classroom. We won't be using most of them anyway, except for certain lessons, so it's better for them to be in the kids' room. This minimizes distraction and at the same time, they can focus during classes.
TIP NO. 4: RECYCLE WHAT YOU CAN.
You don't need to buy if there are items you can repurpose or reuse. For the kids' table, we decided to use the Lifetime table we got last year. This was our bazaar table and since we won't be joining bazaars anytime soon, we just used it instead of buying them a study table. Oh, and it's proven sturdy.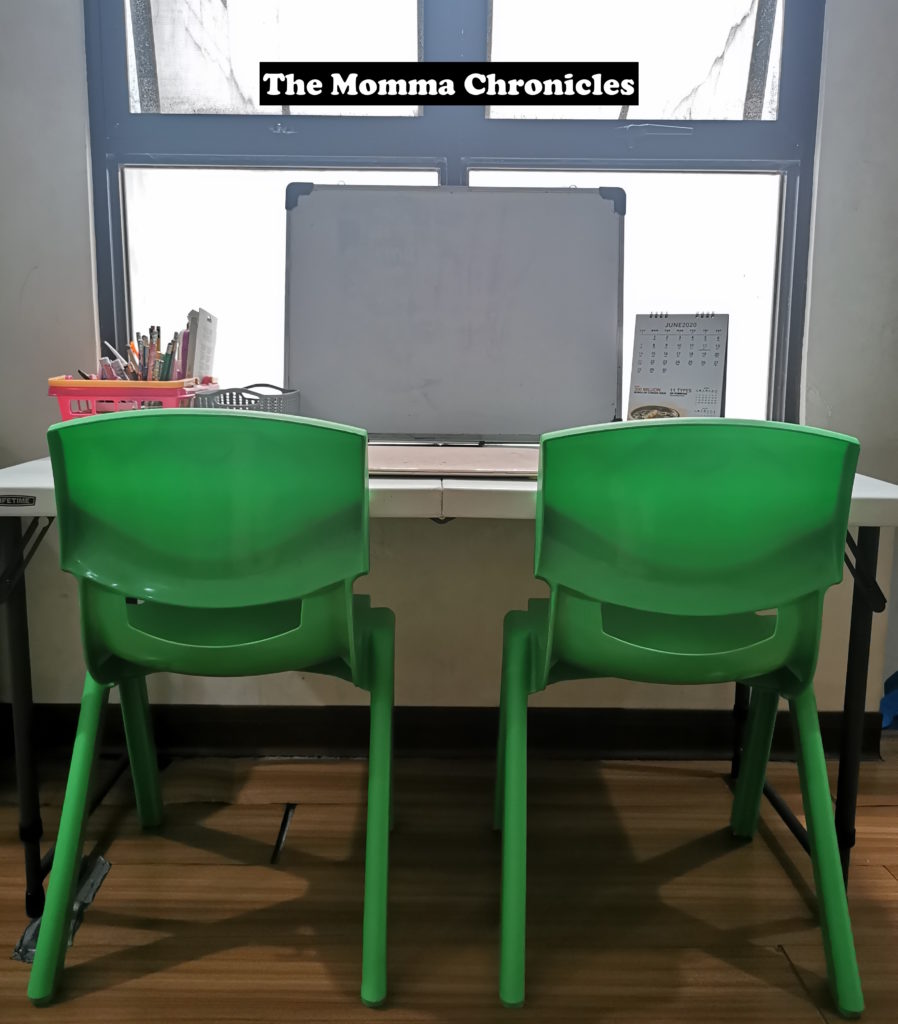 Good thing we bought a whiteboard years ago. We've been using this a lot lately as we prepare for the incoming school year.
We still have the kids' old table from Uratex, which I got five years ago. There are lots of stains though but to be fair, it still serves its purpose. Kids need to be in a separate table while they attend classes to prevent distraction, so we decided to retain it.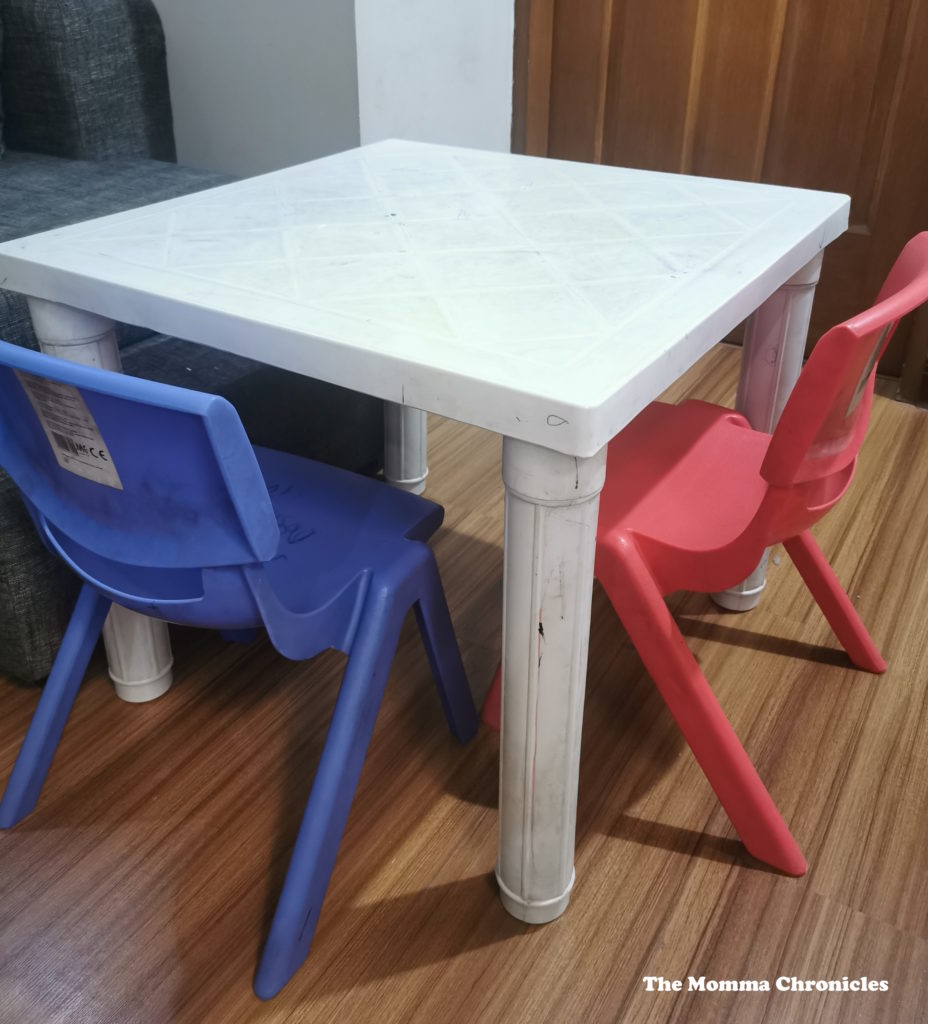 I also re-used the kids' toy baskets and tin cans from Royal Dansk to categorize supplies. We want to minimize spending as much as we can.
TIP NO. 5: THERE'S A PLACE FOR EVERYTHING.
A home classroom must be organized. This way, it will be easier for kids to find where the scissors, glue, pencils, eraser, sharpener, crayons, paint, and whatever they need are.
I separated the supplies according to their needs. The immediate ones, as I call it, like pencil, eraser, colored pencils, sharpener, and papers are within their reach and placed in the multi-purpose utility cart beside their tables. Bond papers are also placed near the bookshelf just in case.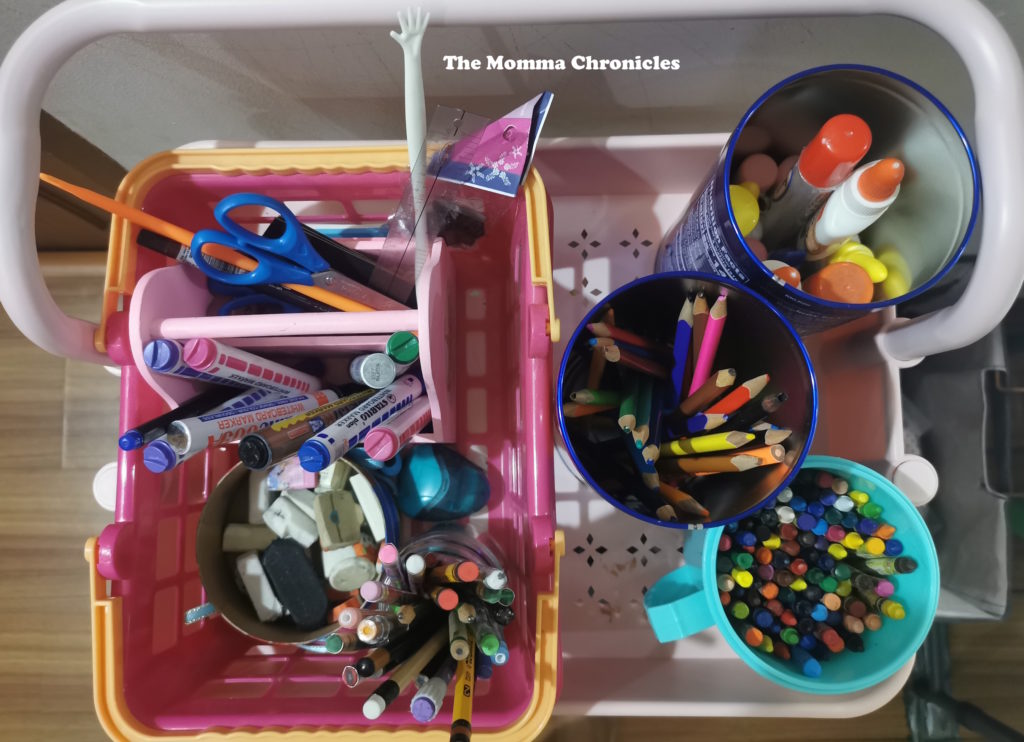 Those that they don't necessarily need, which means it's mom's job to fix it, such as folder, envelope, stapler, masking tape, and the like are in a separate bin.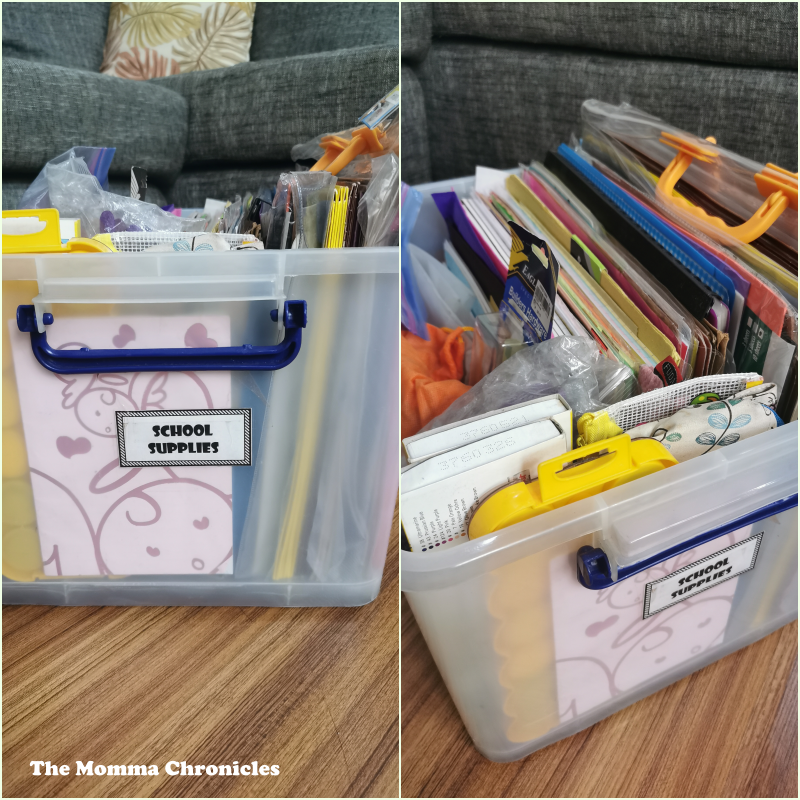 Books are on the shelf, with each layer dedicated for a specific purpose – story books, workbooks, and reference books. I also transferred some of the kids' books like Dork Diary and Wimpy Kid in their room.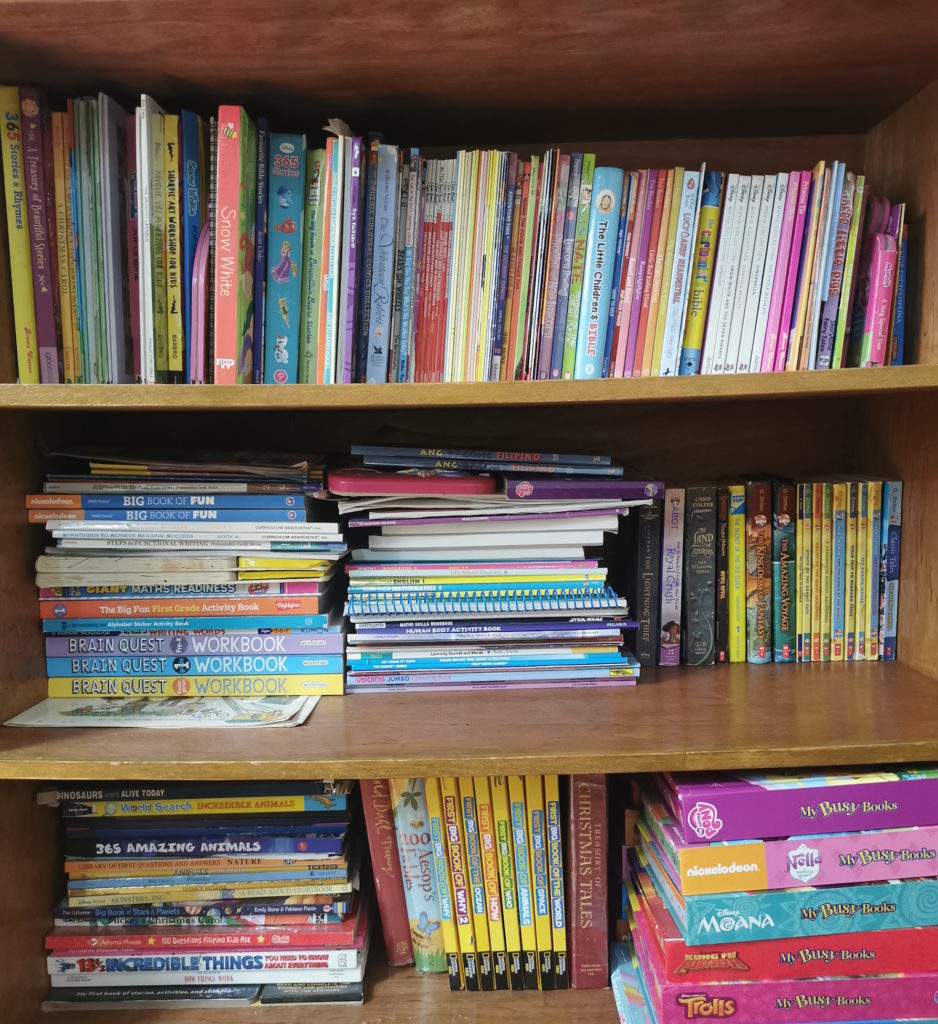 For better organization, I decided to buy a multi-purpose utility cart from a co-momma, TinxieThings. I had no plans of buying anything but because I wanted to clear the kids' study table, I decided to get one. Other than that, everything was re-purposed.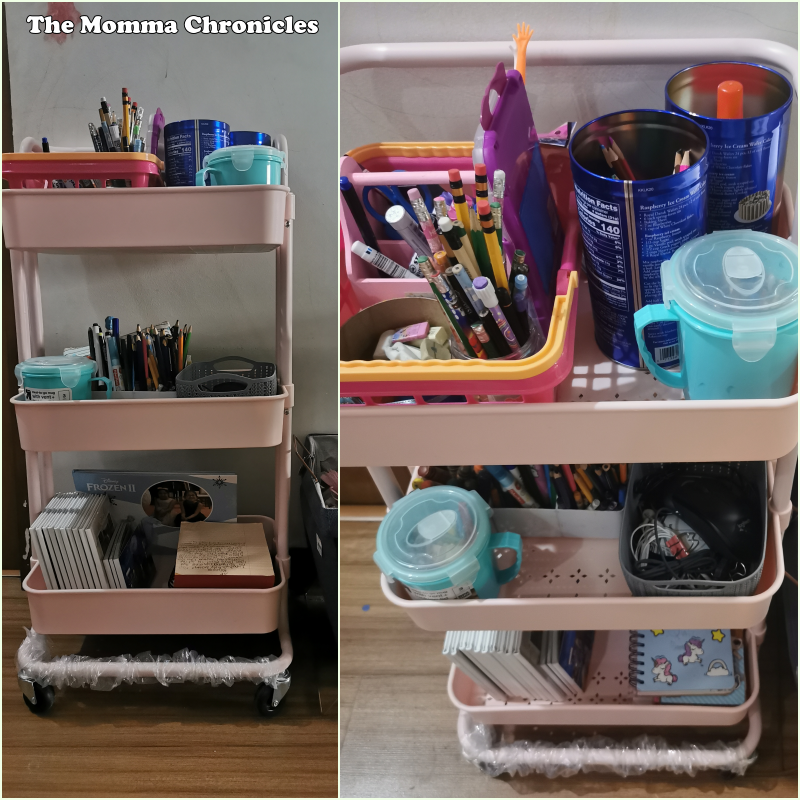 TIP NO. 6: DURABILITY IS KEY.
Still, don't compromise quality just to save. We decided not to buy a study table because Lifetime table's durability is proven. We've been using that table for bazaars and Sunday markets, and it served us well.
Chairs are important, too. The chairs in the smaller table have been with us for five years and it's still good. We also used that during bazaars. Haha! We just bought bigger chairs to accommodate my growing kids.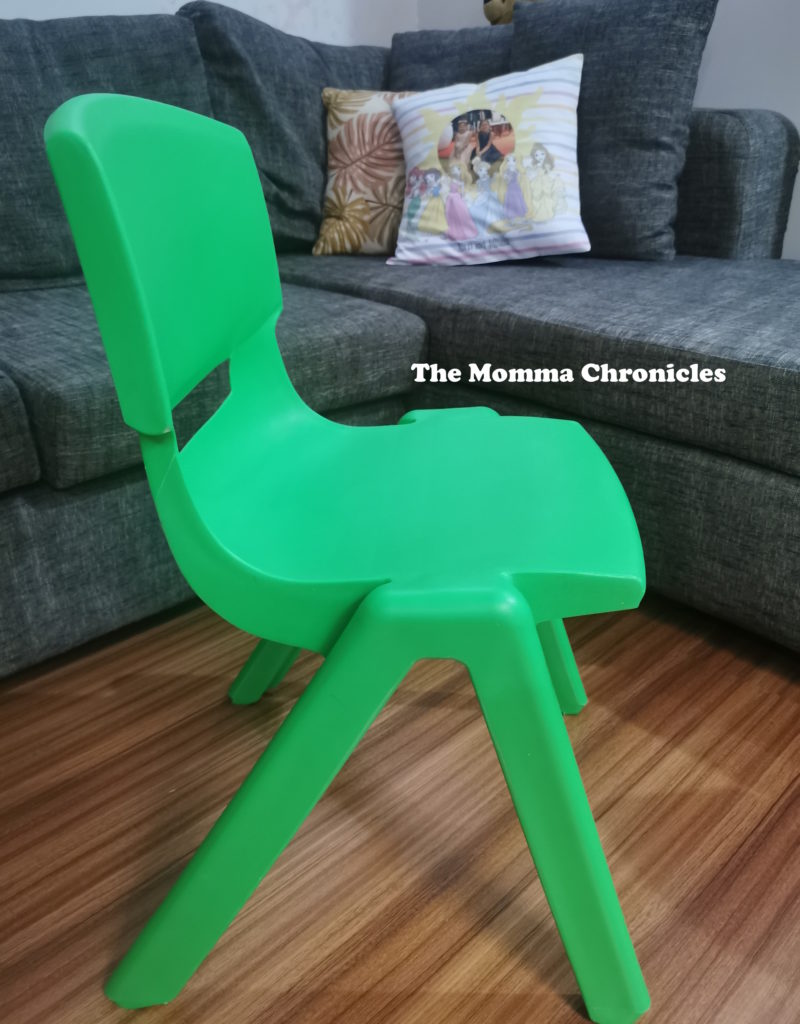 The point is invest in quality furniture. We've had ours for years and never failed us. Plus, they are easy to clean so I don't have to worry about the mess and stains.
LAST TIP:
Don't aim for Pinterest-worthy home classroom. I know, it's tempting and we can't help but feel jealous. Still, we all have our limitations, whether in budget or space, and it's fine. The important thing is to provide a conducive study area for our kids without compromising our wallet.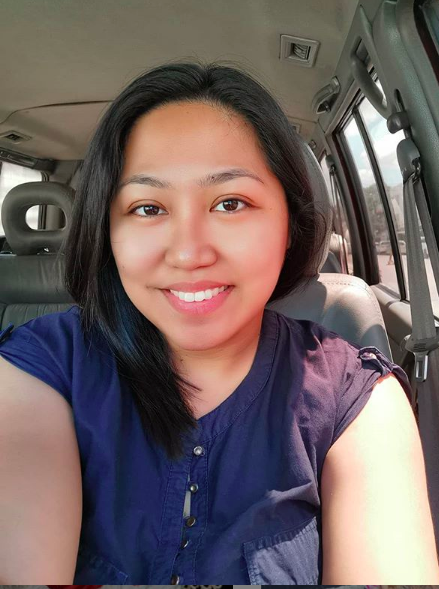 Ayi is a stay-at-home mom of two. When her kids are in their best state, she keeps up with chores, work, and ensuring that her sanity is intact. Join her as she navigates through this rollercoaster ride called motherhood.