We always go on a family trip few days after Christmas. It's the perfect time to celebrate our eldest's birthday as well so we always take this opportunity to go somewhere. Hotels are our favorite but this time, we decided to go to the beach. Plus, it's been years since the we all set foot on the beach so for a change (and to give us a breather, too), beach it is.
Initially, we were planning to go down south. May Skyway naman so travel time will be cut short, but the last trip to Nasugbu was quite challenging for the husband. The resort I was eyeing for is quite a hassle (they require clearance from the municipal office among many other requirements) and the backup resort I have in mind has not-so-good reviews particularly with food, so we decided to just stick to the North.
Subic became our top choice because we're familiar with the place and it's a two-hour drive from our house. My Google searches led me to Acea Subic Beach Resort so I hit the reserve button right away.
BUT, IS IT WORTH IT? Keep reading this Acea Subic review.
Let me start with the entrance.
Acea welcomes all guests with a disinfection area plus temperature check before going inside the lobby. Everyone MUST go through this, including children.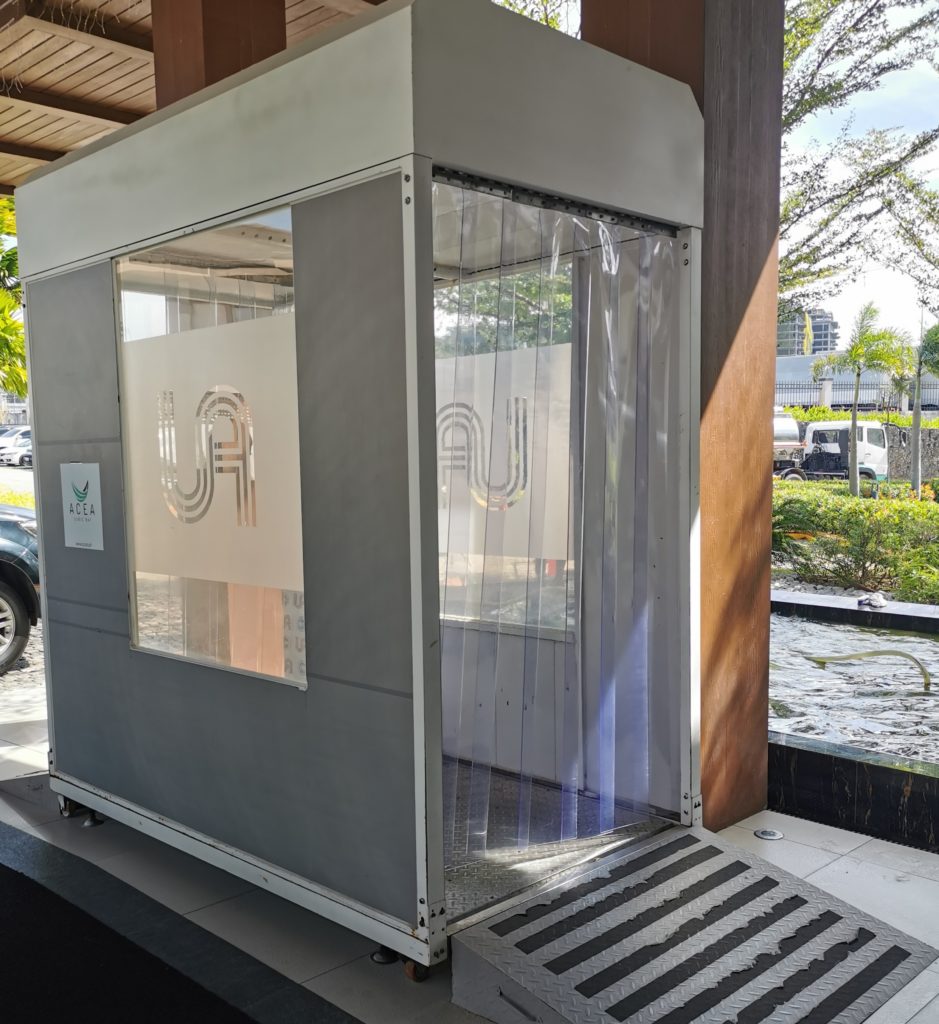 Then, there's the lobby. Of course, they decorated it with Christmas decors since it's December and it's the most wonderful time of the year.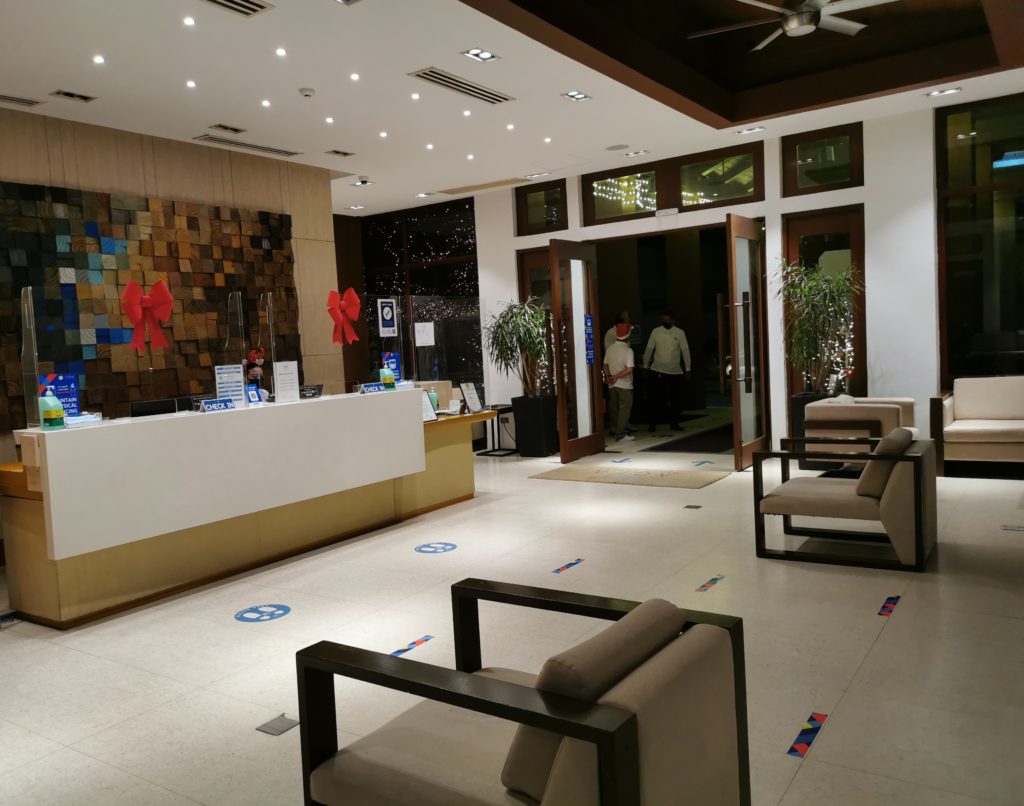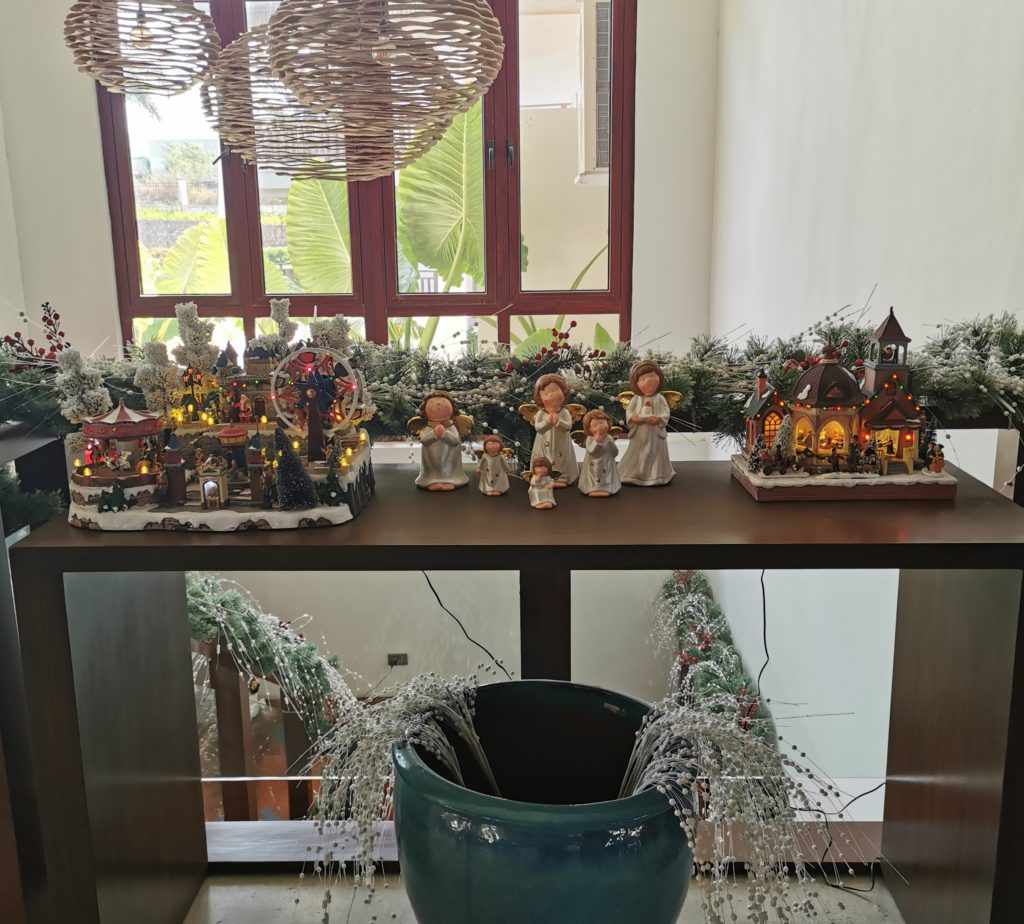 Check-in was a breeze because a day before our arrival, Acea sent us a Google form where we have to upload our IDs and vaccination cards to speed up the process. It was quick because as soon as I presented the printed copy of our reservation form, the front desk was able to process the incidental deposit and provided us with a room key within five minutes.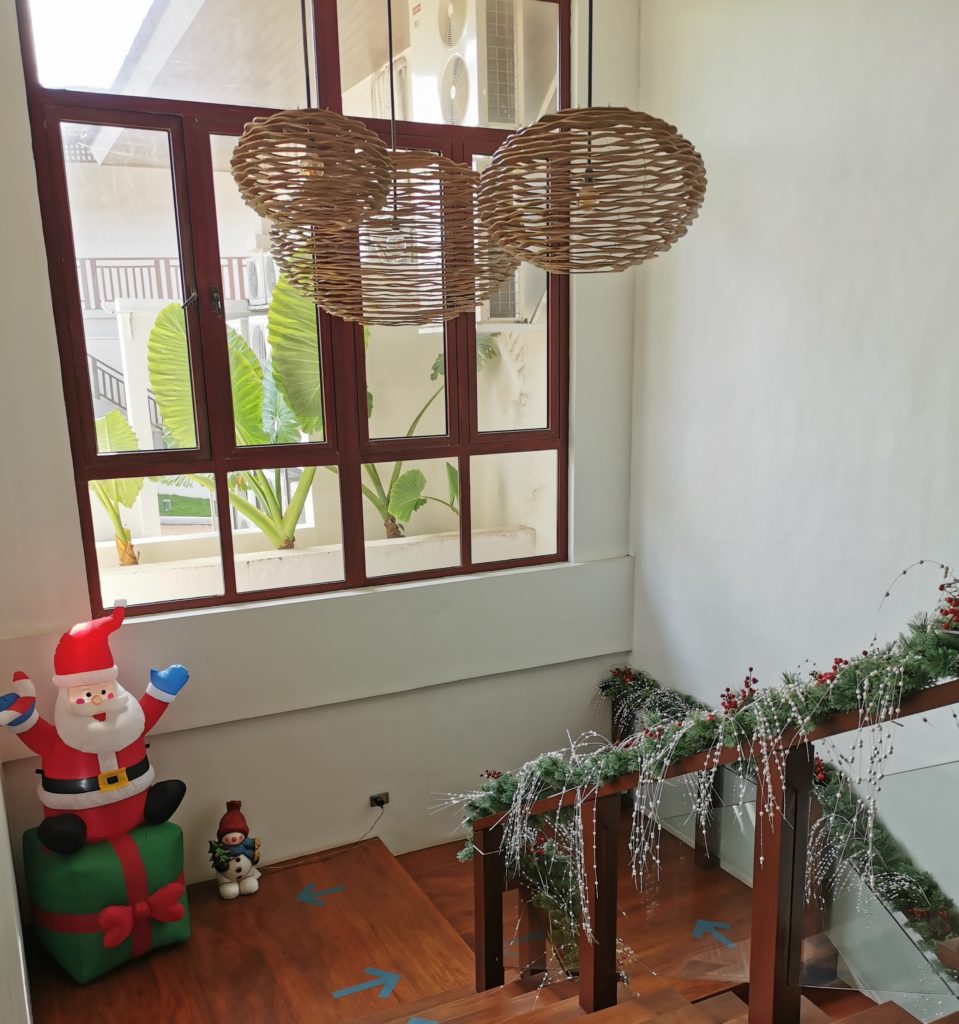 So, we're on our way to our room. We booked the Deluxe Sea View room, which is their biggest room offering at 34 sqm. The room is pretty much basic and everything you expect from resorts. It has two comfortable double beds, which could fit us,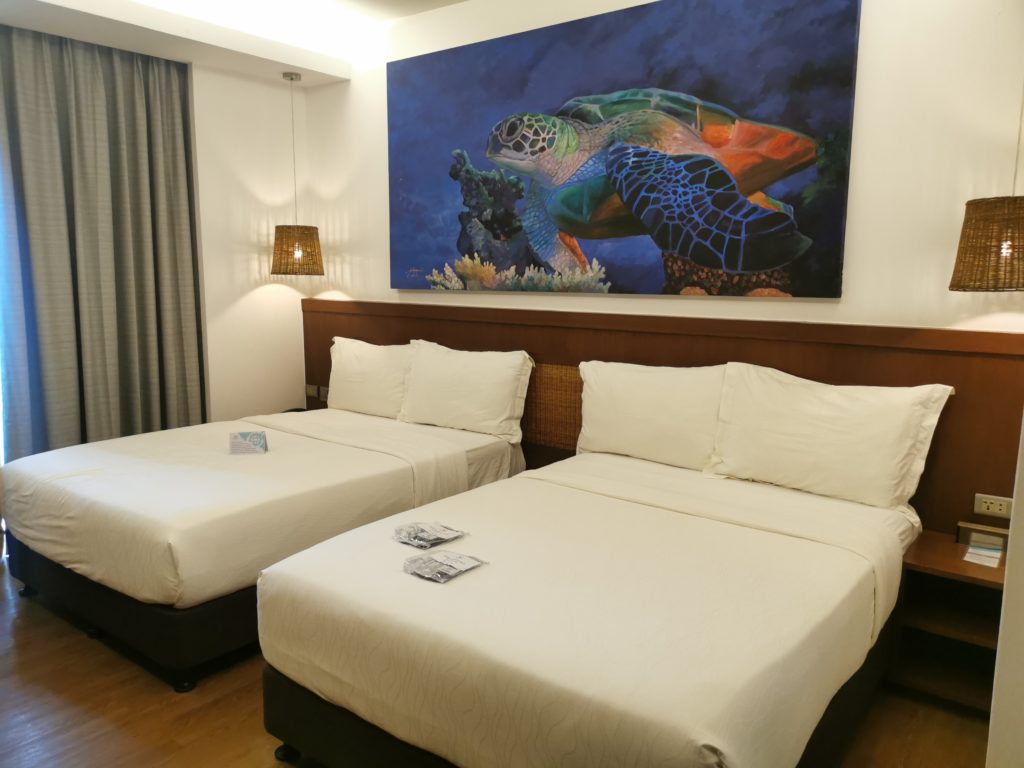 a spacious bathroom (although my kids wished for a bathtub haha!),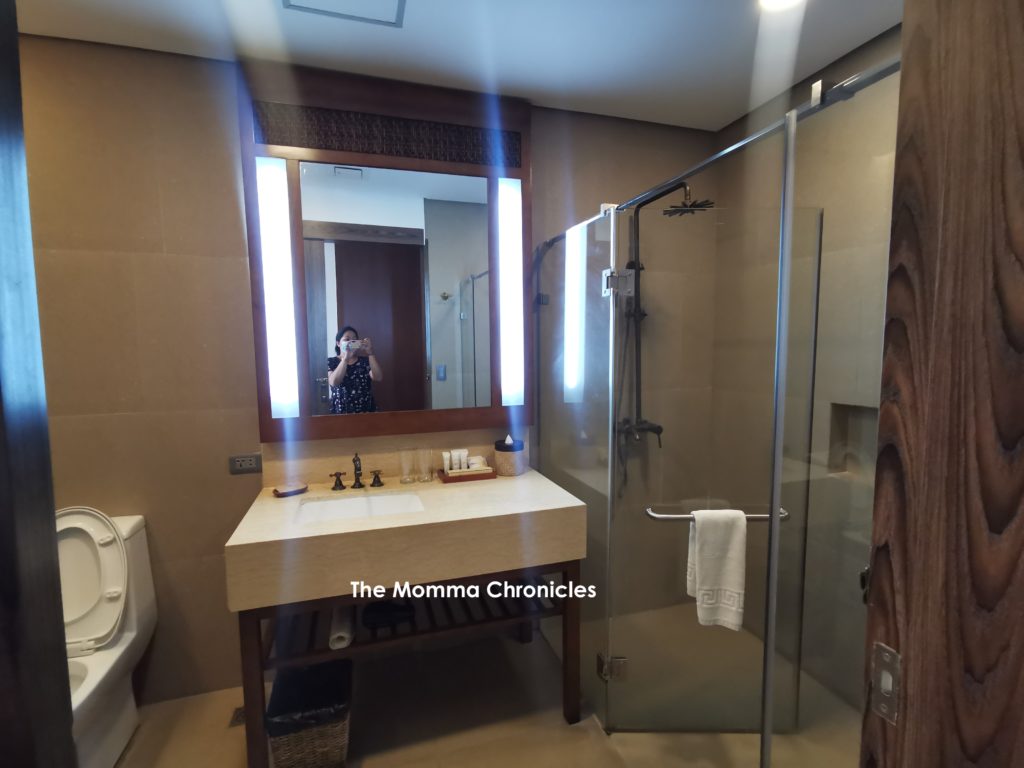 complimentary toiletries,
complimentary Sanitation Kit, which has a face mask, alcohol, and wipes among others,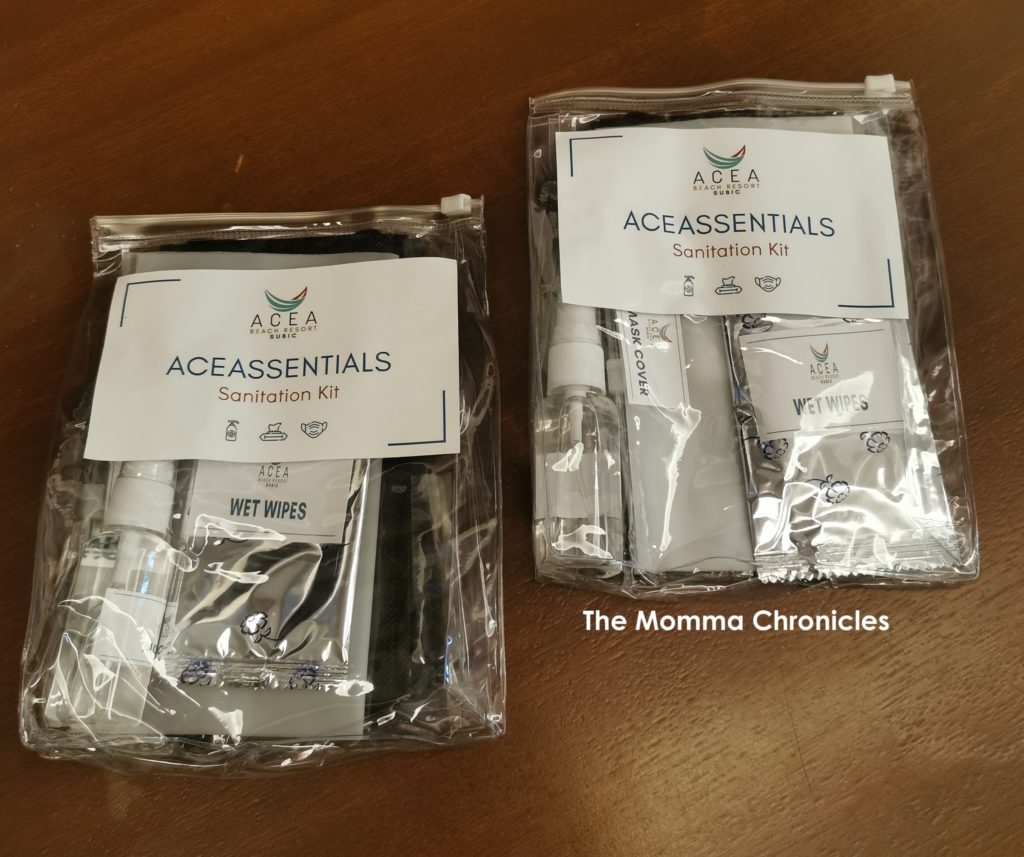 desk, mini bar, and tea and coffee maker,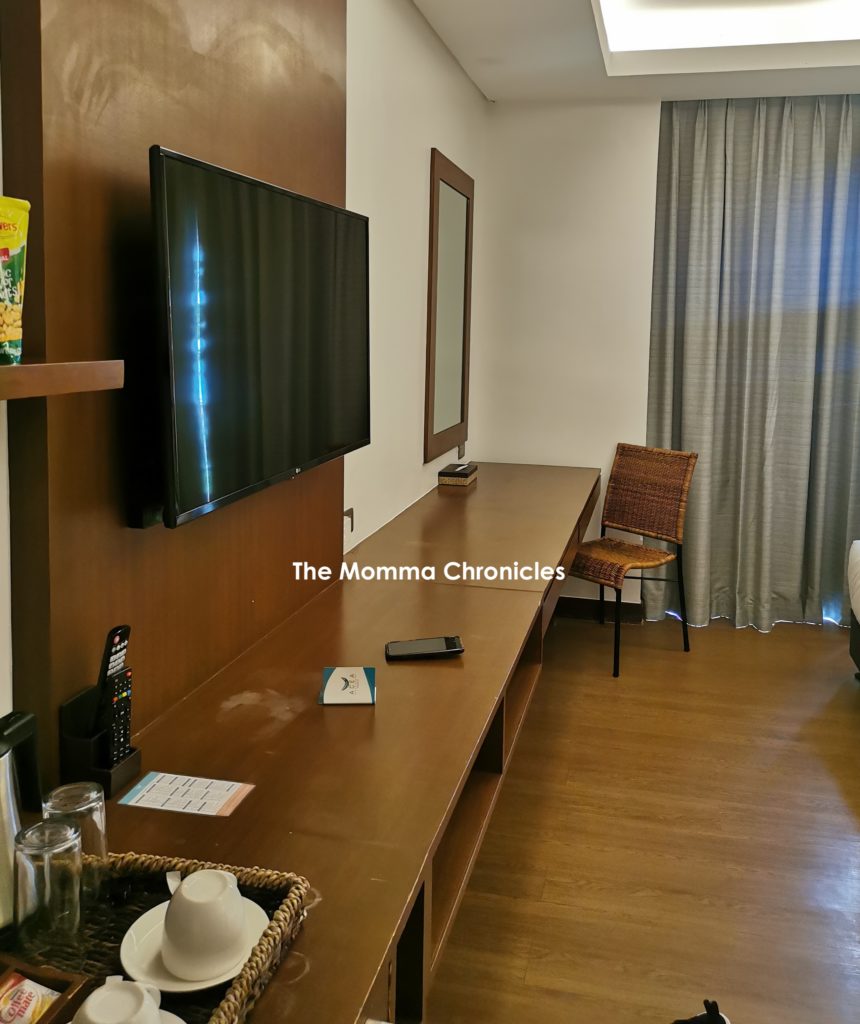 and a balcony, where we can even hang our wet swimsuit. The balcony has been our fave spot because the kids and I enjoyed drinking coffee and hot chocolate while chilling outside. Still, take note that the standard room doesn't have one.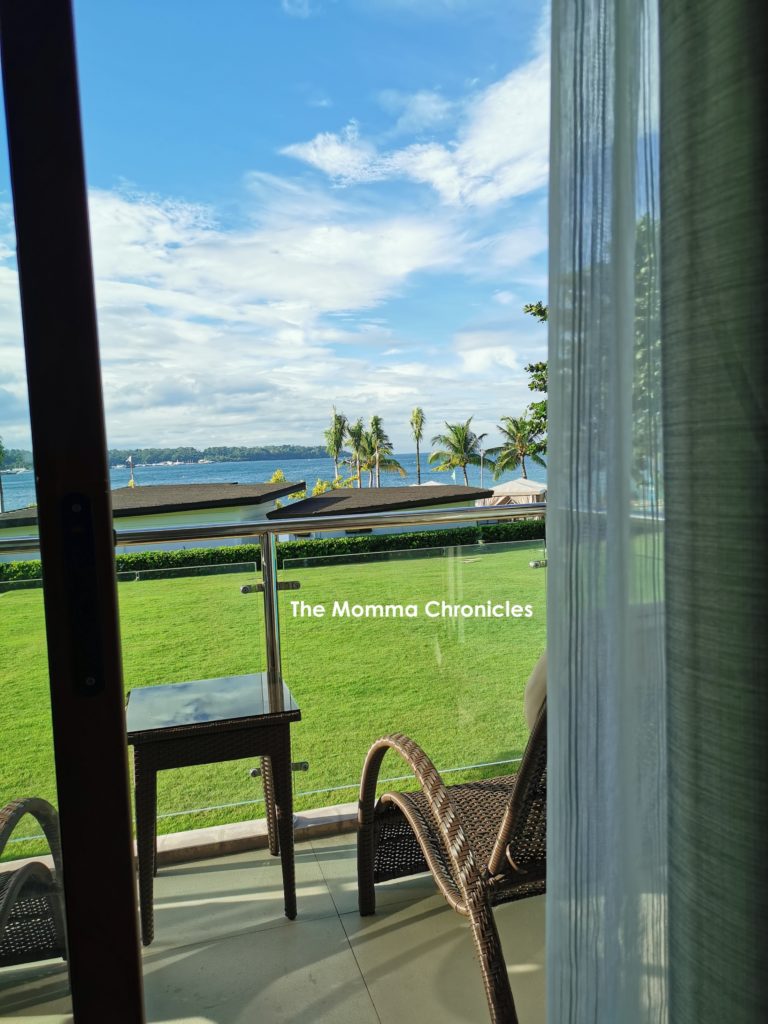 Here's how Acea Subic Beach Resort looks like at night.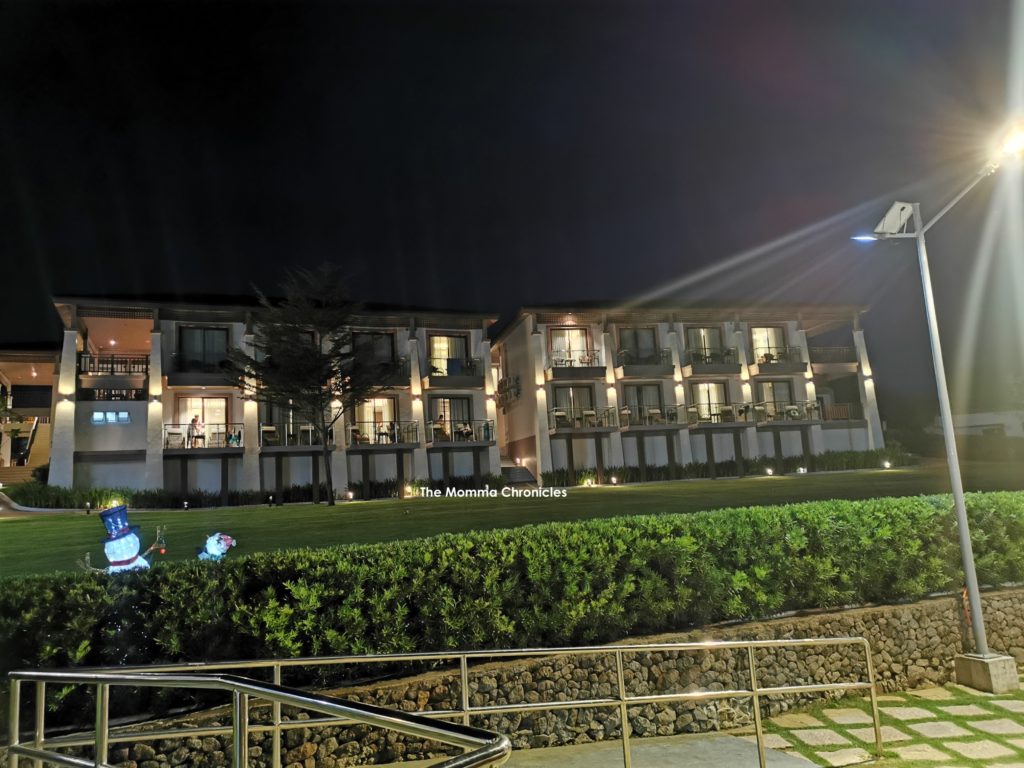 OTHER RESORT FACILITIES
To be fair, I really love how the resort looks. There's a home-y vibe, as if I'm stepping out my veranda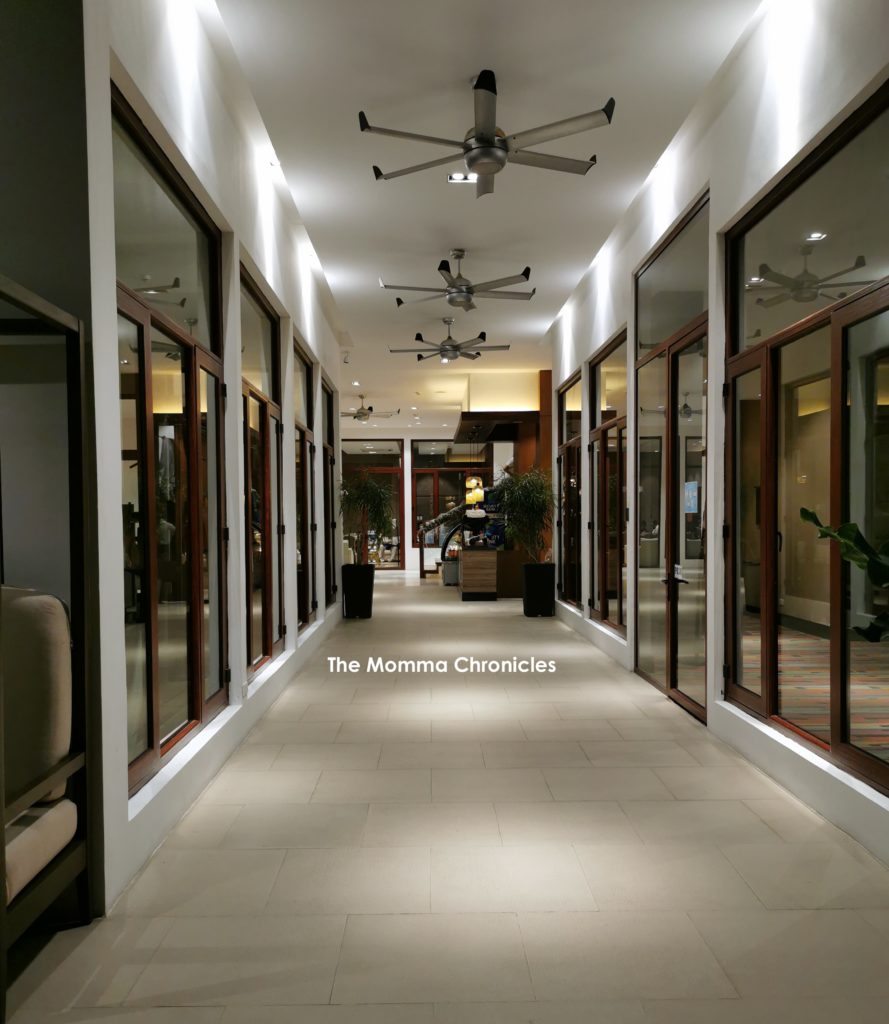 and on my way to the pool area.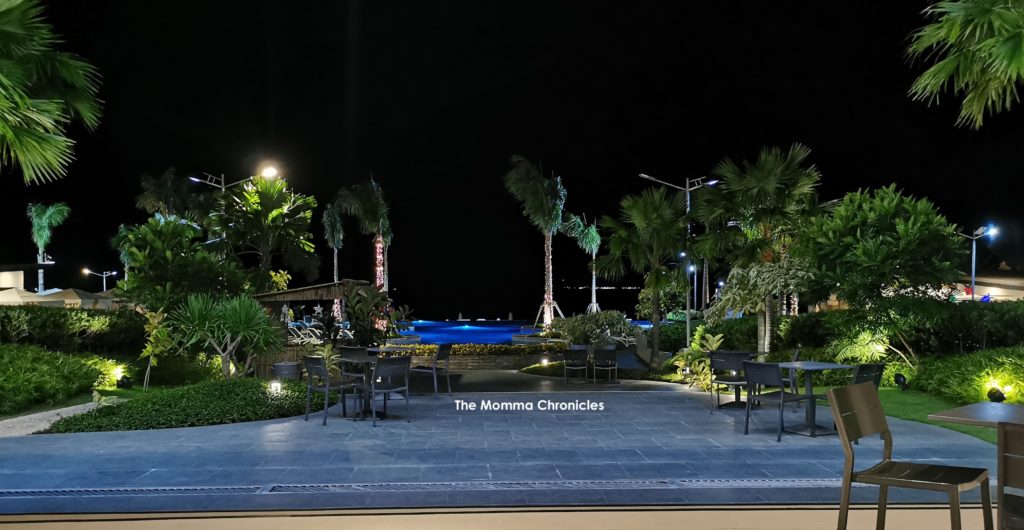 Speaking of pool area, the resort has an Infinity Pool, which the kids enjoyed. There was enough space for them to swim around and they even got a portion all to themselves.
Since we are in a new normal, you need to register for your preferred schedule if you want to use the pool. Guests can use the pool area for a maximum of two hours and the number of people is limited to 35.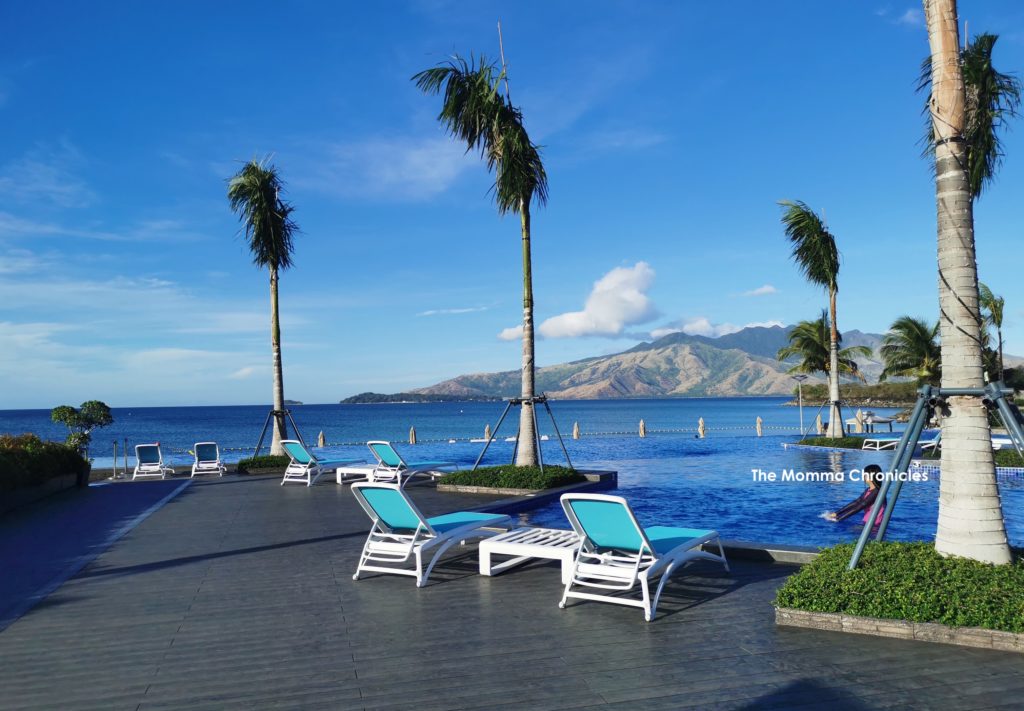 The beach is something we're also looking forward to. Acea Subic cordoned an area specifically for swimming only since there are portions used for water activities like jet ski and kayaking, which is a plus. The sand wasn't that rocky, too, so the kids were able to run and swim around without getting hurt. They enjoyed finding shells, tried building sandcastle, and had fun playing around until the sun sets.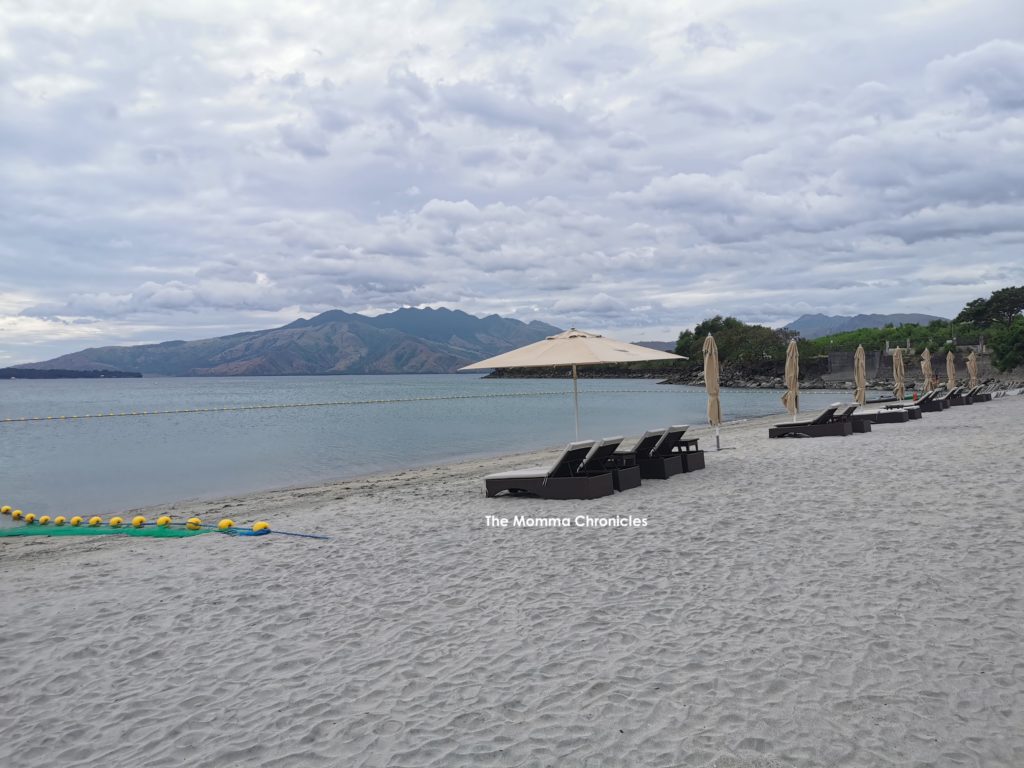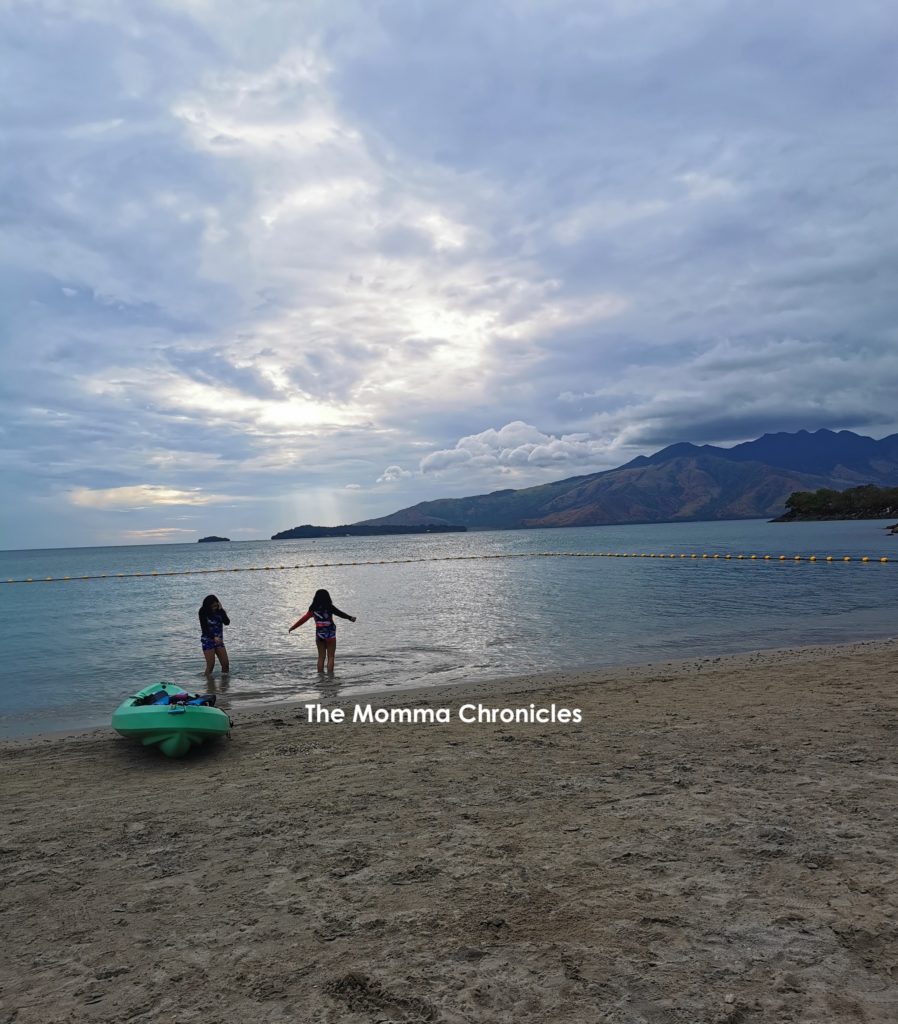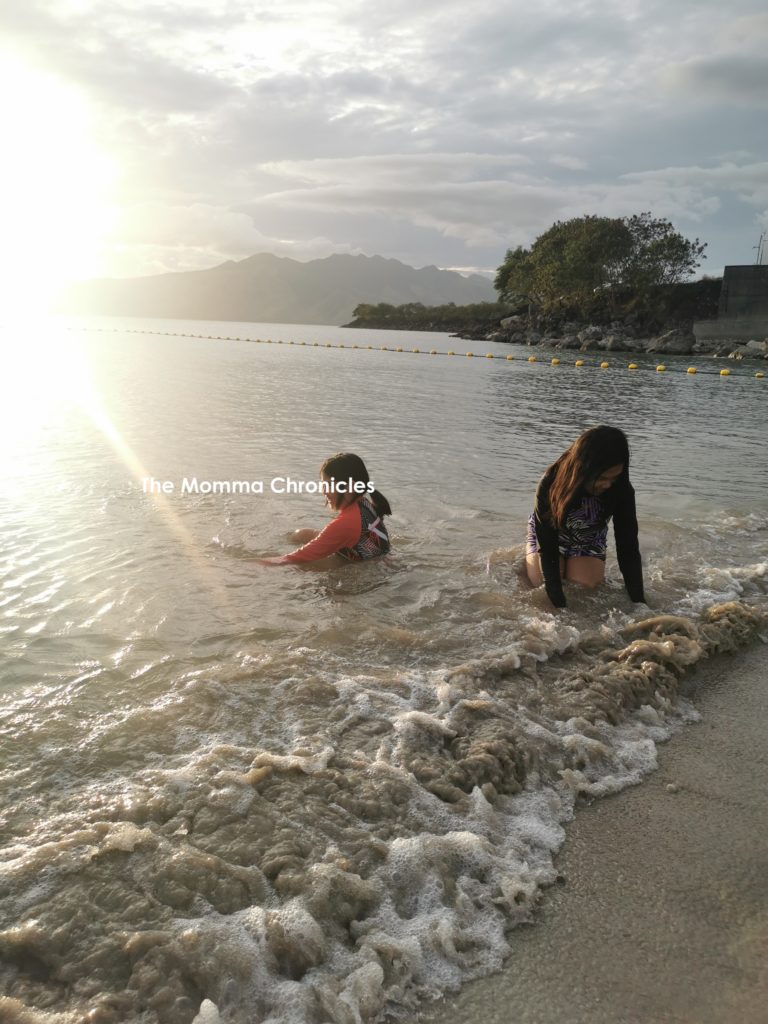 Oh, and there are lifeguards for both the beach and pool area, which is another plus for us.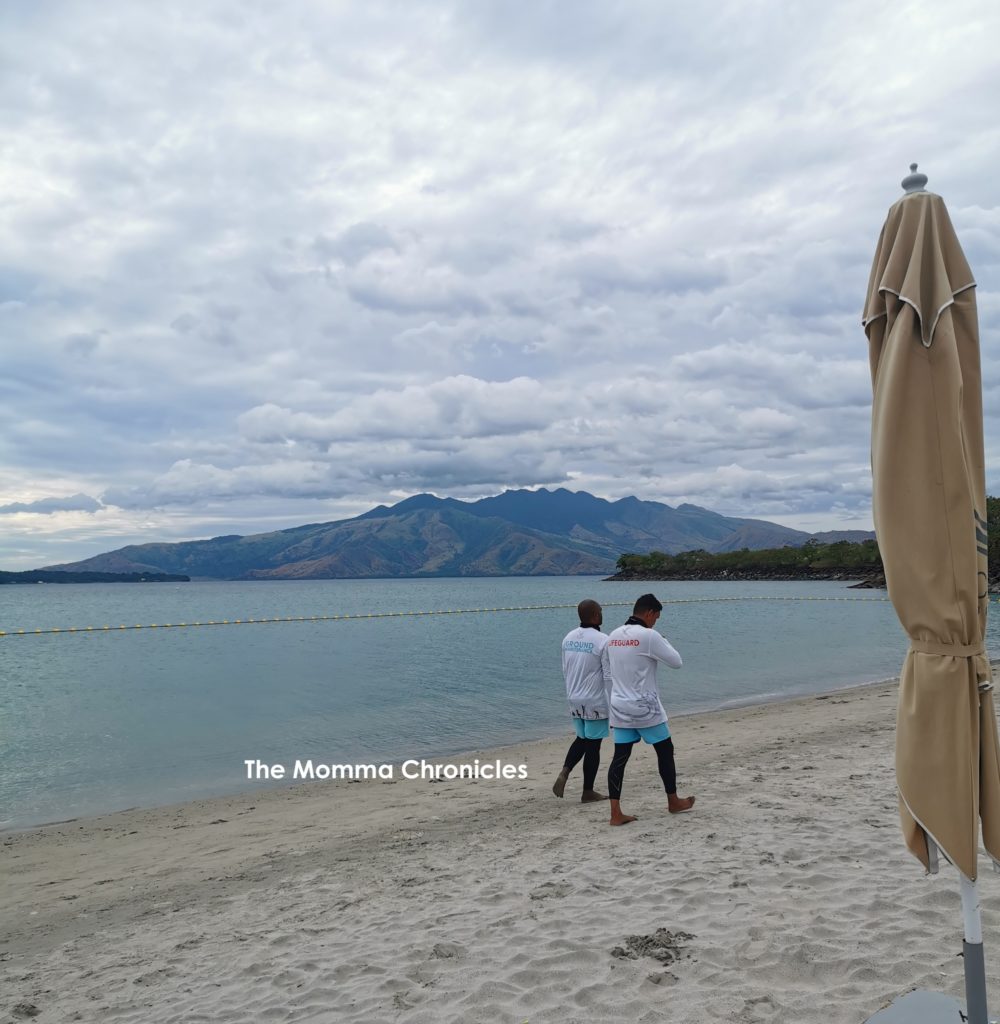 We also enjoyed the coffee shop. Their Mocha Latte and Caramel Macchiato are worth trying.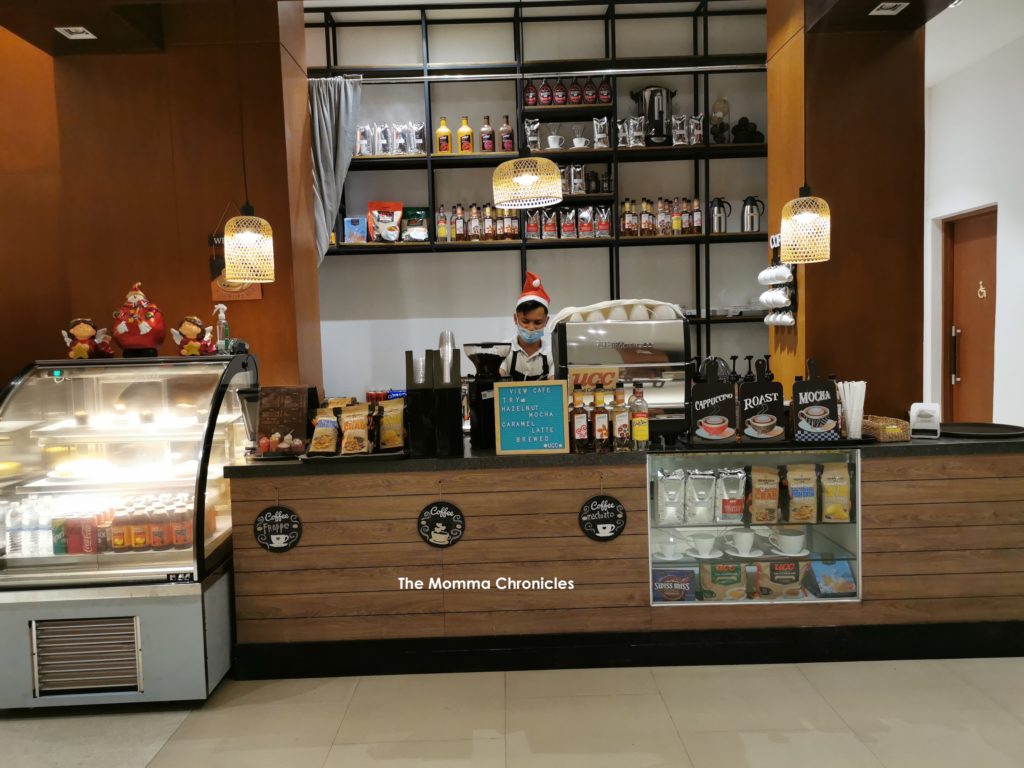 Acea Subic also has two restaurants, Salt Bar + Restaurant, which is their main restaurant and where breakfast buffet is served, and The Sunset Bar, which is located in the pool area. I wasn't able to take a photo of the main restaurant, but it is spacious to accommodate all guests and it is well ventilated.
There was a bit of an issue regarding food. The resort must've been overwhelmed and there are a lot of out of stock food items in the menu during our first day. As per kitchen staff, they were still waiting for their delivery. Come second day, the replenishment of food at the breakfast buffet took a while. Thankfully, things got so much better after that.
Here's what The Sunset Bar looks like. There are comfy seats outside, too, where we can enjoy food and cocktails.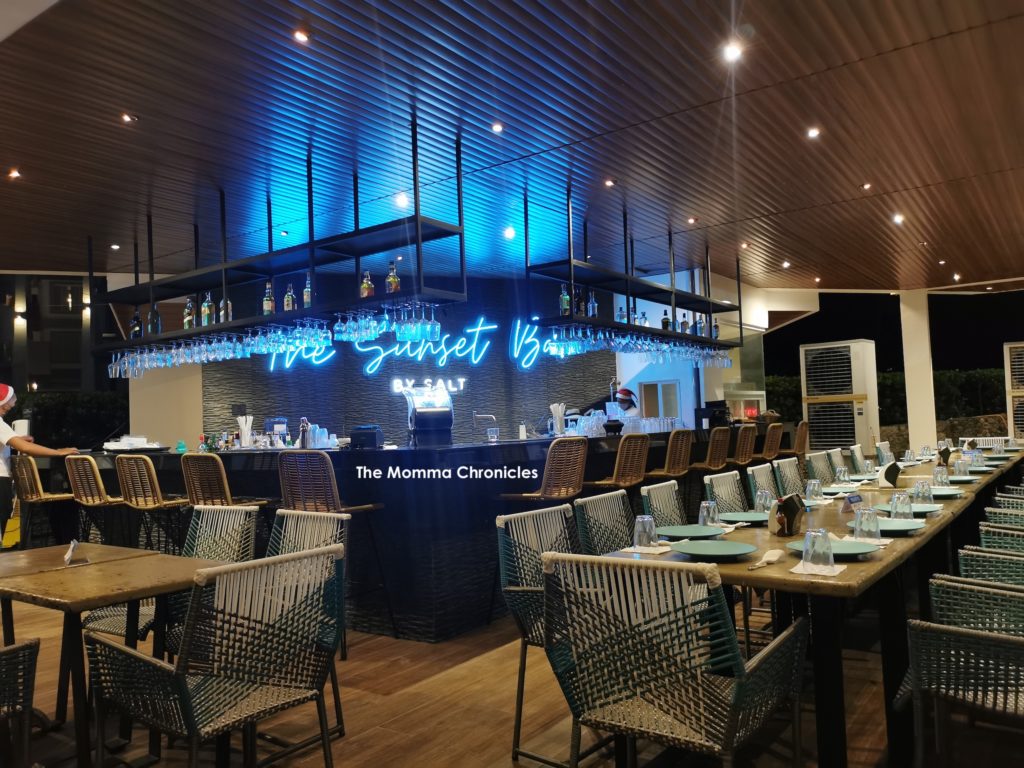 All of the staff are also cheerful and respectful, too. They never failed to greet us and are always ready to help in case we need something, which is another plus for me. But, they are strict when it comes to wearing face masks. You can't roam around the area without face masks on because they'll call your attention.
Internet connection won't be an issue, too. Upon check-in, we were given access codes to Wi-Fi so we have connection even in the beach area. It was fast, too. Yay!
I'm sure you're asking about the FEES.
Our room costs P13,500 per night. On top of that, we have to pay an incidental deposit of P2,000 per night, so a total of P4,000 during our stay. My issue here, though, is that room must be secured through credit card. I really prefer paying for the room upfront or upon checkout since I don't really like using my credit card and I always reserve it fore emergency purposes.
Breakfast is free for two adults and we have to pay P330++ (I forgot the exact amount) or 50 percent of the adult fee for the kids since they don't serve ala carte for breakfast.
In terms of food, I must say that prices are reasonable. Our typical meal (we're a family of four) inside the hotel costs us less than P2,000, which includes one meal for each of us plus appetizer. Yep, the food taste good, too. There are a lot of restaurants in Subic but we don't mind dining it at the resort.
REQUIREMENTS IN THE NEW NORMAL
Subic welcomes visitors as long as adults are FULLY VACCINATED. Upon check-in, the hotel will require presentation of vaccination card.
As for kids, there's no need to present negative antigen or RT-PCR test as long as they are accompanied by fully vaccinated adults.
Masks must be worn at all times and in case you forgot one, the hotel offers free mask to all guests. Temperature check, especially before going inside the resort and in the restaurant are also implemented.
SO IS ACEA SUBIC BEACH RESORT A GETAWAY WE DESERVE?
I must say YES. Despite the food issue we experienced during our first day, overall, our stay was pleasant, fun, and definitely memorable. It was exactly what we needed after being locked up at home for two years. We needed this trip to relax, unwind, and take our minds off the situation we're all in.
More importantly, this trip became part of our kids' core memories and seeing their smiles made us happy as parents. And oh, those tight hugs and countless I love you's were definitely priceless.
Are we coming back? Definitely. We can't wait.
Acea Subic Beach Resort is located at San Bernardino Road, Subic Bay Freeport Zone. Follow them on their social media pages or visit their website.
DON'T FORGET TO SHARE: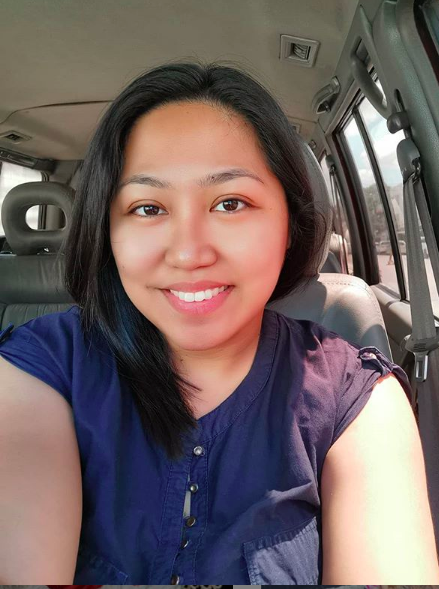 Ayi is a stay-at-home mom of two. When her kids are in their best state, she keeps up with chores, work, and ensuring that her sanity is intact. Join her as she navigates through this rollercoaster ride called motherhood.