One of my mom's helpers has been with her for more than five years already. She was 17 years old at that time and knows nothing in the kitchen. She can't even cook scrambled egg. With enough patience, she turned into one of the best cooks my mom ever had. One of the favorite dishes she likes to cook is Garlic Rosemary Chicken. 
Since it is love month and I was looking for a simple recipe to cook for our V-Day Dinner, I decided to make one too.
I don't have the guts to use one whole chicken – yet. I was scared I might not be able to cook it well until the inside. So I just used chicken breast and cut it into thin strips to make sure it gets cooked. Plus, it minimizes baking time too.
After cutting the chicken breast into thin strips, I seasoned it with salt, pepper, (lots of) rosemary and dried thyme. I don't have time to look for fresh ones in Centris since I wasn't able to wake up early so I settled for the McCormick ones. Anyway, it still turned out well.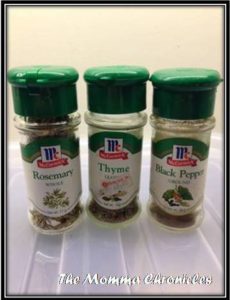 After seasoning, place it in a baking dish or pan. I just used the cookie pan since it is bigger. Drizzle it with olive oil and add garlic on top. Don't forget to arrange veggies on the sides too.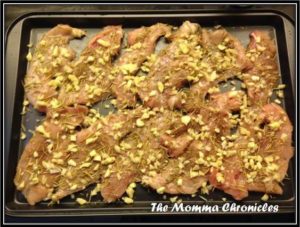 I really love how this recipe turned out. And yes, my kitchen smelled really good, I can't wait to munch on it. I was glad that my husband appreciated it and liked his dinner. 
However, there are still areas I need to improve on. I got a bit excited with rosemary that I may have sprinkled a lot. My advice: take it easy when seasoning your chicken.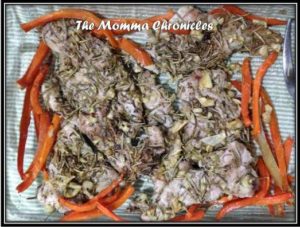 So, here you go. Sharing with you our yaya's recipe of Garlic Rosemary Chicken, with my own twist, of course.
GARLIC ROSEMARY CHICKEN RECIPE
Ingredients:
Chicken thigh or breast fillet, half or one kilo depending on the number of people to eat
Clove of garlic, minced
Rosemary, fresh ones are recommended but the store-bought ones will do
Thyme
Salt and pepper for seasoning
Preferred choice of veggies for side dish
How to Cook:
Cut the chicken into thin strips. This will make it easier to cook.
Season with salt and pepper.
Place the chicken in a baking pan. Drizzle with olive oil.
Sprinkle with garlic, rosemary, and thyme. Spread evenly.
Add veggies on the side. You may also cook the veggies separately.
Bake for 30 minutes or until chicken is brown and tender.
Enjoy!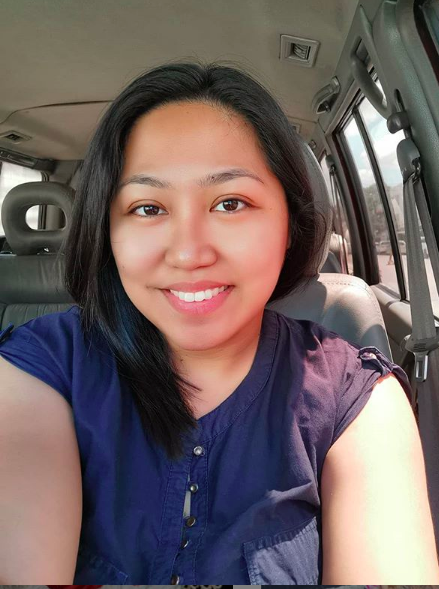 Ayi is a stay-at-home mom of two. When her kids are in their best state, she keeps up with chores, work, and ensuring that her sanity is intact. Join her as she navigates through this rollercoaster ride called motherhood.