The first time I saw Breakfast and Pies was when I was on my way to Camp Karingal because of a vehicular mishap (read all about it here). Since then, I've always wanted to give this resto a try. I read a lot about this too and the place called "Maginhawa" so I asked my sisters if we can go on a food trip.
… and yes, we did.
Because of good reviews and good food, we decided to try Breakfast and Pies. Here's my experience.
The Food
I love it. The food seem so ordinary and they even used the basic ingredients you can find in your own homes but they were able to put a twist to it. I ordered caramelized spam and I liked how it was combined with pesto and kimchi. Yes, it sounds weird but it really tasted good. I suggest you mix everything first so the flavor is evenly distributed.
My sister ordered even a weirder dish: Chicken and Waffles. Since when can you combine chicken, waffles, fruits and jam, right? But yes, it did look good and my daughter was having fun eating the chicken. And it tastes good too, according to my sister.
The rest of the food we ordered are typical breakfast dishes – pancakes and waffles. I like the waffles since it is so thick. Parang hindi tinipid. And my daughter loved it too.
For dessert, I ordered Smores Pie. Though seriously, I want to order all the pies they have because it simply looks divine and so yummy. My mom ordered Creme Brulee pie and it really tasted good. Too bad, I wasn't able to take a picture of it.
Aside from their usual dishes, Breakfast and Pies have a range of breads and pastries too, which includes sticky buns, Nutella ensaymadas, red velvet brownies, chocolate brownies, cheese rolls, pan de coco, and the like. I wasn't able to buy bread because my eldest was restless already and she wants to go home.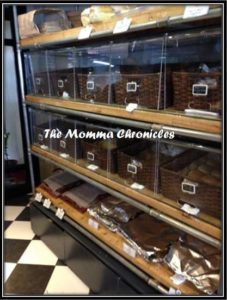 The Ambiance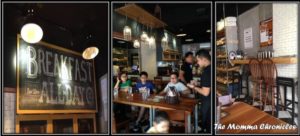 I love the ambiance. I like the home-y feel, as if I am eating breakfast at the comfort of my home. However, it wasn't that spacious so it's a bit hard to move around especially when there are kids. But I'm particularly drawn to the lights. I like the D-I-Y vibe of it and something you can do at home too.
The Price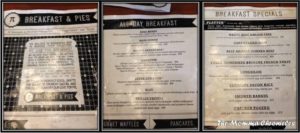 For me, the prices of food are reasonable. Pancakes and waffles are in the P140 – P160 price range while the meals are in P200 – P300. Pies are from P85 to less than P200, which is not bad too since the pies, well at least the two flavors I've tasted, are really yummy.
Overall, reasonable price for me and within budget. We paid only P1,300 for everything we ate, which is not bad, don't you think?
The Not-so-good Side
Two things: service and space.
The restaurant was a bit small and cramped for me, considering its popularity among North people. We were the only customers at that time, probably because we went there at three in the afternoon so we don't have to battle for space. I just can't imagine how the place looks like on peak hours.
Oh, and the service. Good food and reasonable price are not enough to get me to eat again in a certain restaurant. They should have fast service too. No doubt, the waiters are really nice and very respectful but it took 20-30 minutes before the food was served. My sister ordered for the Chicken and Waffles and she was able to get hers after all of us finished our food. I think it's because they share a kitchen with Pino (they are under the same management), I'm not sure. I just hope they'll improve on it.
The Verdict
Breakfast and Pies is a great place to get your food fix. The food is great, the prices are reasonable and I definitely love the ambiance. I just hope they'll do something with the waiting time before the food is served. Overall, Breakfast and Pies is a place I would love to go back to.
If you're in Maginhawa area, do visit Breakfast and Pies. They are located at 39 Malingap St. Teachers Village, Quezon City and open from 7:00am to 10:00pm.
—————————–
Note: This is not a sponsored post.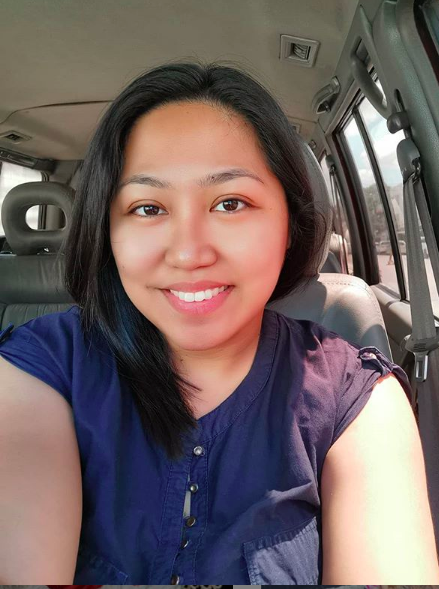 Ayi is a stay-at-home mom of two. When her kids are in their best state, she keeps up with chores, work, and ensuring that her sanity is intact. Join her as she navigates through this rollercoaster ride called motherhood.