Shopping for my girls has always been my guilty pleasure. Whether it is shoes, clothes or toys, I enjoy buying for them and convince myself that they need it anyway. However, I am always extra careful with my purchases especially when it comes to toys. I want to make sure that their toys are educational, encourages development and stimulates their mind.
Thankfully, I came across Moderne Lifestyle.
I only found out about this online shop on Instagram by chance. I was following this brand and she posted about Moderne Lifestyle. It was pretty new at that time (with less than 50 followers) and upon browsing through its products, I immediately Viber-ed them. I was always on the lookout for educational toys that you can't find in the Philippines and this store has that.
Brief background on Moderne Lifestyle
This online store started when the shop owners were shopping for gifts for their nieces and nephews. They got frustrated since only few products were geared towards developmental learning. Because of this "scarcity," they decided to look for products that are both fun and educational for kids, hence the birth of Moderne Lifestyle. They are the ones who personally handpick toys, books and other products that are fun, educational and something that will help kids develop skills later on in life.
Review of the Products
I was only able to buy products sometime November last year and bought their bestselling Stacking and Nesting Blocks and My ABC Kit. My kids, especially my eldest is into anything stacking and "building something out of nothing" so I figured the stacking blocks would be perfect.
Each side of the block teaches the kids about letters, numbers, colors, shapes and baby animals. It is a classic developmental toy that teaches kids about different concepts. My daughters are having fun identifying each side and I heard my almost two-year old counting, using her own words and language, of course. Lol! She also loves stacking the blocks and immediately re-arrange it if she notices that the blocks are not in their correct order.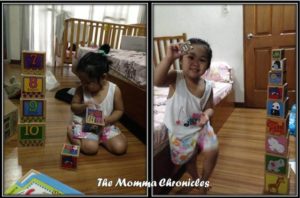 More importantly, the stacking and nesting blocks are made of Earth-friendly, recycled materials. Isn't that what we need these days?
I am really happy with the My ABC Kit. My eldest will start going to school this incoming school year so I want her to be prepared when the time comes. She already knows the alphabet and can identify the letters. I'm teaching her to read and spell simple, three or four-letter words (oops, pressure), which makes this purchase very timely.
The kit comes with bright colored alphabet magnets (both uppercase and lowercase letters), puzzles, matching games and dry-erase pen and magnetic board, all housed in a wooden box which my kids can bring anywhere.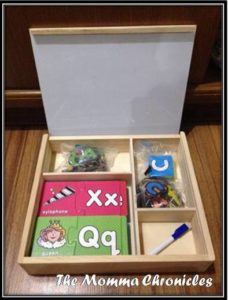 It also won the 2014 Parent' Choice "Recommended" Award from the Parents Choice Foundation and now I know why.
Aside from teaching kids about the alphabet, my daughters (at least my eldest) learn how to spell simple words and even her own name. For my youngest, she enjoys putting the magnetic letters on the board and make sounds according to the letter she is holding.
It comes with alphabet puzzles. Each letter corresponds to a picture that starts with that letter. I let my kids identify not just the letter but let them look for its matching word.
The dry-erase feature. My kids love writing and drawing. When they are not in the mood to learn about letters, they just doodle on the board, which encourages their imagination and creativity.
We get to play games. Guess the letter is so yesterday and the ABC Kit allows us to explore different possibilities and techniques to teach my kids about words and alphabet. The kit also comes with a manual for parents to give us ideas and activities for learning.
That's not all. As a treat, The Momma Chronicles and Moderne Lifestyle are giving away 1 Book Tower – Little Learning Book and 2 Board Books to TWO lucky readers (one winner for each prize). Here's a preview of the prizes.
Book Tower – Little Learning Book
Totable towers contains ten chunky, stack-able books with simple text and endearing illustrations. Parents can read the books with their child. The child can build with them like blocks and then slip them back jnto the tote-along tower for on-the-go fun and learning.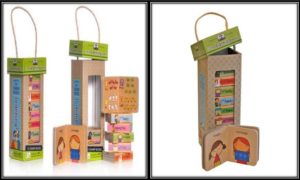 Board Book – In the Garden
Each hardcover book's simple, nonfiction content inspires children to love and respect the natural world, and the parent spread at the back of each book shows how easy it is to practice (and teach!) Earth-friendly habits right at home. Children will learn about the healthy foods they can grow right at home and how eating them helps them grow, too.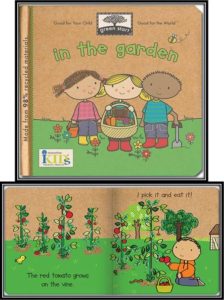 Now I'm Growing – I am a new Big Sister
Share this sweet story with any new big sisters to help them understand how they can be a part of the new baby's life, how important they are to you, and how wonderful being a big sibling really can be.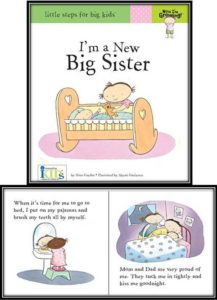 All you have to do are –
Giveaway is open to Philippine residents only. What are you waiting for? Giveaway ends on April 10, 2015. Good luck mommas!
Check out Moderne Lifestyle on Facebook for more info about their products.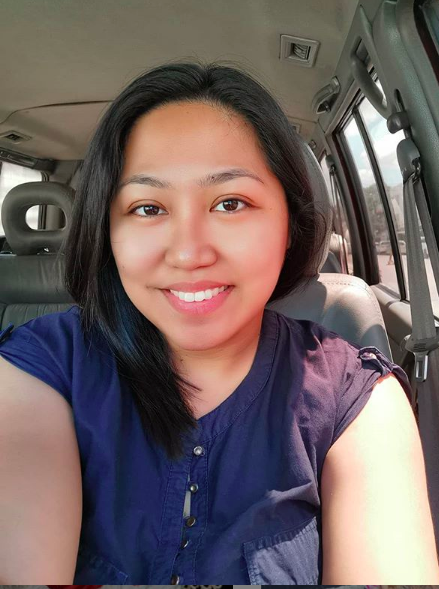 Ayi is a stay-at-home mom of two. When her kids are in their best state, she keeps up with chores, work, and ensuring that her sanity is intact. Join her as she navigates through this rollercoaster ride called motherhood.