August is known as the Buwan ng Wika in the Philippines. At this time of the year, we all pay tribute and importance to the Filipino language, remember and play Filipino games, and conduct activities to better understand the Filipino culture. This is also a good opportunity for the kids to learn more about the country.
In my daughter's preschool, I am glad to find out that they have a lineup of activities that will teach the kids more about Philippines. It was a month-long celebration of learning traditional songs such as Bahay Kubo, counting in Filipino, teaching and singing the National Anthem, teaching simple Filipino words, familiarizing the kids about Luzon, Visayas, and Mindanao, and a culminating activity on the last Friday of the month.
Luzon, Visayas at Mindanao: Isang Bansa, Isang Wika
The event started with a parade around the Kid Zone. The Nursery 1, Nursery 2, and Pre-K students were all dressed in their traditional costumes while waving the Philippine flag, which the students made by themselves.
After the parade, the teachers and kids prepared a special dance number while dancing to the song, "Piliin Mo Ang Pilipinas," sung by Angeline Quinto. It was a proud mommy moment because my daughter danced all throughout. She used to be shy and clingy when there are strangers around, but this time, she was cooperative and dancing with the music.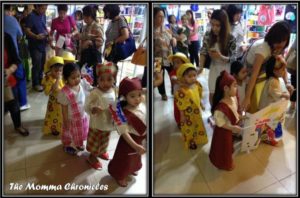 After the dance, the kids took turns playing different traditional Filipino games such as luksong lubid, luksong sako and pukpok palayok. I can tell how happy my preschooler was since it was her first time to try those games. She was a bit competitive too, especially during the palayok game because she want to get those candies.
After playing games, the students went inside the classrooms for more activities. They decorated their own abanikos using paint and made a popular Filipino dessert, crema de fruta with the help of crushed broas, cream, and fruits.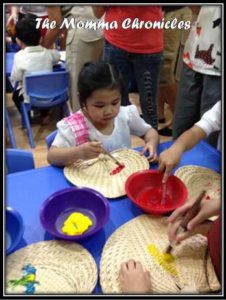 The activity ended with a simple salu-salo wherein we all contributed Filipino food and native delicacies such as biko, suman, chicken inasal, palabok, barbecue, and piaya among many others. Taho and dirty ice cream carts were also inside the school premises for everybody's enjoyment.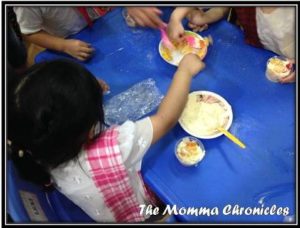 The Importance of Celebrating Buwan ng Wika
I have to admit, Filipino is not my first language. I started to learn Filipino when I was six years old and had a hard time adjusting back then. My kids first language is English and now, I am teaching them simple Filipino words and start talking to them in Filipino. I want them to be well-versed in both languages (unlike me!) when they grow up. I saw how attentive my daughter was when they are having lectures about the Philippines and was listening all throughout. I particularly like the traditional games because let's face it, most kids these days are glued to tablets and rarely go out to play in the streets.
Aside from being mandatory in accordance to PD 1041, Buwan ng Wika is a good opportunity for students to get know more about the Philippines. It teaches them not just about the three major islands in the country but also to dig dipper into the Filipino culture. At this stage, it gives them a glimpse of what the Philippines can offer and allow them to "experience" the native practices and traditions.
Growing up, most parents I know teach their kids about the basics – alphabet, counting, color, shapes. Rarely do they teach about the Filipino culture and just leave it up to the schools. Yes, I'm guilty of this too. But of course, let's not wait for Buwan ng Wika and leave it up to our child's school for them to learn more about Philippines. Learning should always start at home.
I can't wait for next year. It's my Little J's turn.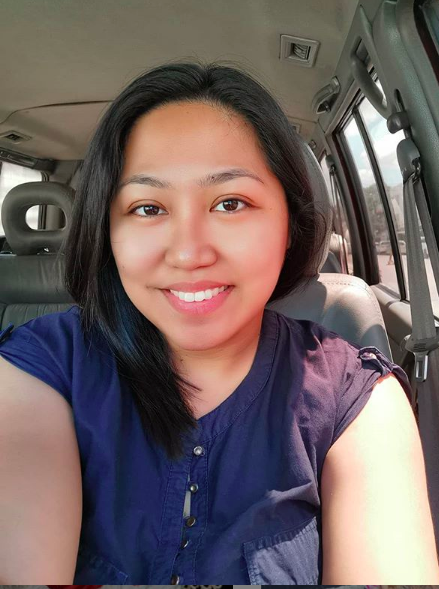 Ayi is a stay-at-home mom of two. When her kids are in their best state, she keeps up with chores, work, and ensuring that her sanity is intact. Join her as she navigates through this rollercoaster ride called motherhood.