One of the ways to keep me sane is to meet up with friends. It doesn't happen very often because of busy schedules, but we do our best to find time. It helps me refresh, get away from home even for a few hours, and think about other things aside from kids.
Last weekend, I met up with my law school blockmates slash kumares for brunch. We decided to go to Morato area since it's near me, plus I don't have any excuse not to go. We wanted to try Mrs Graham's but we were a bit early (they open at 11am) so I parked the car there (since parking is an issue) and just walked to Papa John's.
The marsies and I ordered the usuals – pizza, pasta, and potato wedges since A brought my eldest with me. The kwentuhan was what stood out. It was a combination of catching up, gossips, and everything in between, which I really missed.
Then we went back to Mrs. Graham's for our macaron / dessert fix. The first thing I noticed was it was such a cute place. There were white bench-looking tables and chairs and macaron designs all over the place.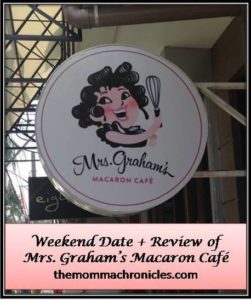 This display (pictured below) will also welcome you, full of mouth-watering macarons and cakes that puts you on the spot as you answer a difficult question – what to order?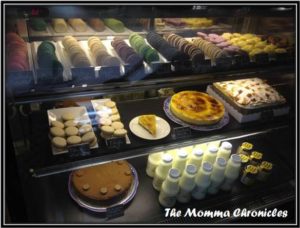 I also love the setup – the old, recycled fans turned into macarons,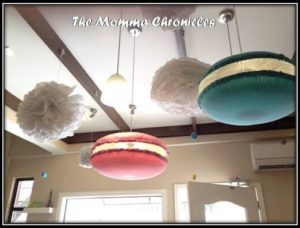 the menu on scribbles,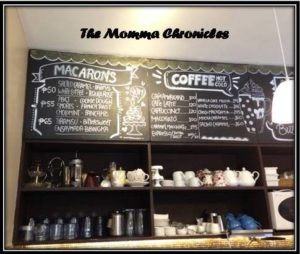 the little area full of board games to keep us busy,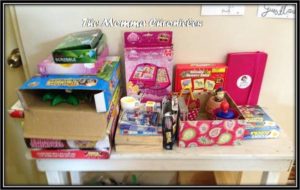 the stairs,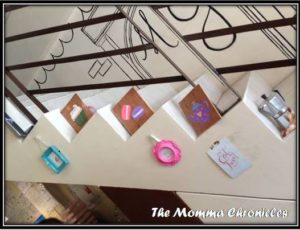 and that little area reserved for craft and art lovers.
The Macaron Experience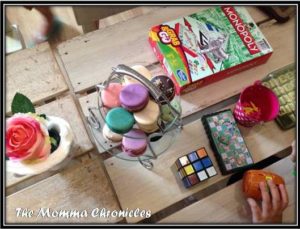 We ordered the Macaron Tower since we can't decide what flavor to get. It contains 16 different flavors of macarons, which costs around P900++. My friend also ordered Butterbeer, which is surprisingly good, not too sweet, and hindi nakakaumay. As much as we want to savor each macaron and proceed with more storytelling, we can't help but get one after another because it's so good and reasonably-priced.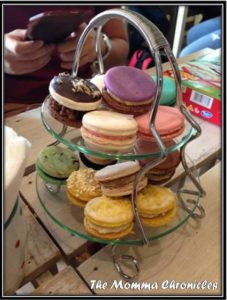 I particularly like the Mint Chocolate (because I love anything mint!), Tequila Rose, Cookie Dough, and Bittersweet. I tried my best to resist the urge but ended up taking out a box of macarons and cookie shots for the husband. I have yet to try their cakes, which means I need to go back soon.
What I Like about Mrs. Graham's
The ambiance. It is a perfect place to get your dessert fix while sharing a good laugh with friends or special someone. Yes, it is Instagram-worth too!
The board games. It made my daughter pre-occupied. I appreciate how they include it in their macaron shop since it encourages more time for bonding.
The macarons. That recently-opened macaron shop costs P150.00 per macaron, and it's expensive! I like Mrs. Graham's macarons because of the texture, taste, and more importantly, reasonably priced. Depending on the flavor, each piece costs P50, P55, and P65. There are many choices too.
Uh-oh
Limited parking space. I've been eyeing this macaron shop since last year but never got the chance to try because of the limited parking space. If you're lucky, you can get a parking spot. The good thing is Mrs. Graham's is in Sct. Rallos (along Papa John's) and if you're within the area, you can leave the car and walk your way to this cutesy macaron shop.
Cramped space. I wasn't able to check the second floor but the ground floor is a bit cramped. I can imagine how hard it is to move around when there are tons of people.
No "macarons package." I don't mind being charged for P900+ for 16 macarons. However, I hope that they'll have a "package" for their macaron tower so they won't charged me on per-macaron price. A box of seven will also cost depending on what macaron you will get.
Overall, I enjoyed my stay and dessert experience in Mrs. Graham's. Although I'm not a big fan of macarons, I am willing to pay this cafe a visit for some sweet dessert fix. Definitely, a highly recommended dessert place!
Mrs. Graham's Macaron Cafe is located at 51 Scout Rallos, Quezon City, along Papa John's and near the F7 Building. They are open from 11:00am to 11:00pm.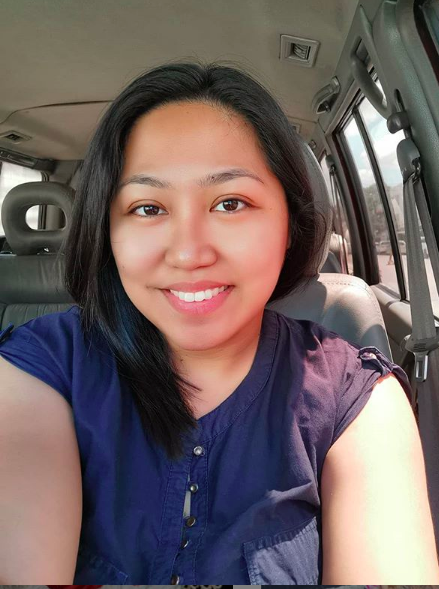 Ayi is a stay-at-home mom of two. When her kids are in their best state, she keeps up with chores, work, and ensuring that her sanity is intact. Join her as she navigates through this rollercoaster ride called motherhood.