I had a vision of a perfect mom. She is a mom who keeps the house clean and clutter-free with toys neatly organized in color-coded boxes, serves yummy and nutritious food to her family while the kids eat everything that is placed on their plates, trains her kids to keep them behaved, teaches her kids well so they'll be the smartest one in class, puts her kids to bed early, and still have time for herself. She is calm, composed, and happy. Of course, there is NO SUCH THING AS A PERFECT MOM.
Once I open my eyes, I am welcomed with the most unimaginable things and have to deal with them – every single day. To be honest, every little thing drove me crazy, starting with the toy not placed in its proper basket. When I became yaya-less, I felt like I lost my sanity because I had a hard time dealing with chores, kids, extra-curricular activities, work, and yes, that time with the husband.
Eventually, I learned. It took me a few years, but I learned that there are some things we, moms, should stop stressing about such as:
1. Mess (lots of them).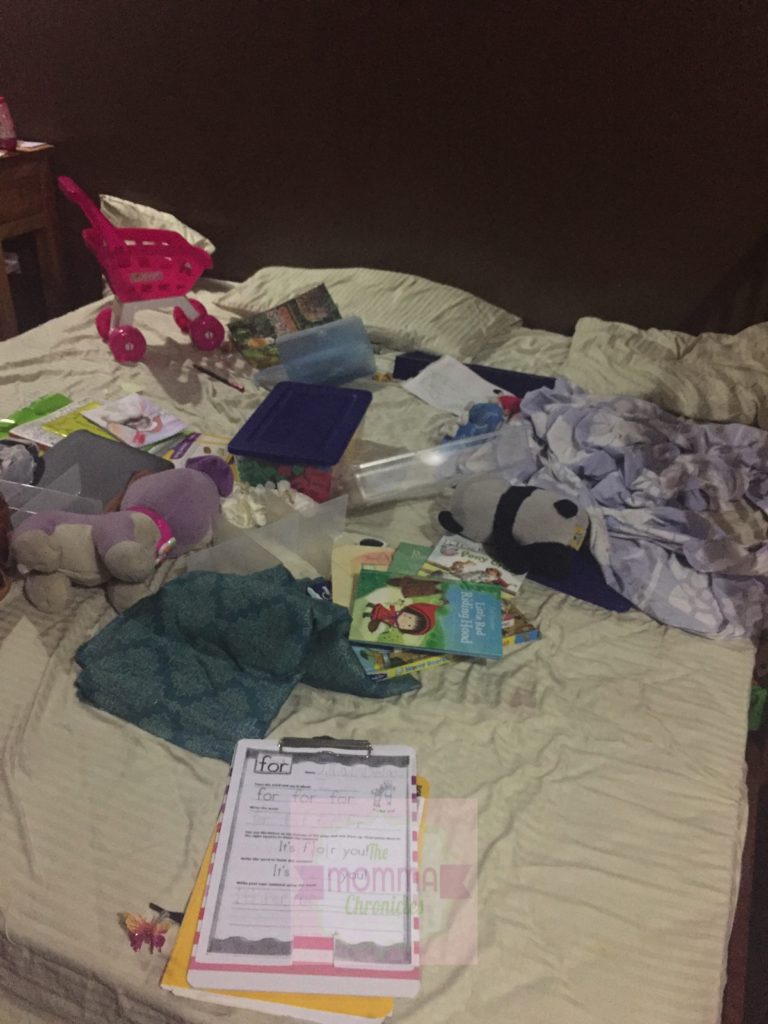 I'm not exaggerating when I say this: my house is a mess. Bigtime. Toys are everywhere. Kids change clothes often and leave their dirty clothes on the floor, and there are piles of dishes and laundry waiting to be attended. Our house looks like an aftermath of a typhoon. For a neat freak like me, I eventually learned to embrace the mess and stopped stressing about it.
The thing is I don't go to bed without cleaning up. I ask my kids to help me put their toys back in their respective boxes, fix their bed, sweep the floor, and do the dishes. Once they're sleeping soundly at night, that's the time when mess and I will face each other. It's okay moms. Mess won't kill. You'll learn to embrace it and accept that it will always be part of your daily life.
2. Those writings on the walls.
We don't need wallpaper or whatever design at home. Our walls are filled with doodles and drawings in different colors courtesy of my kids. I used to scrub every single drawing I could see, but then I grew tired. My kids will still draw on the walls no matter how many times I gave them paper, so I just let them be. I could re-paint it once they get bigger.
3. Kids getting hurt.
I have to be honest: I don't like to baby my kids, except when they were younger and very dependent. Now that they're a bit bigger and showing a lot of signs of independence, I prefer them getting back up on their own instead of rushing to them as fast as I could every time they fall or trip. They'll have plenty of trips and falls in their lives and I might not be able to catch them or help them get up in some instances.
I'm not saying we should let our kids hurt because there are cases when medical assistance is necessary. For simple trips or wounds, let the kids experience it. Trust me, they'll be more careful and cautious the next time.
4. Not participating in activities we enrolled them.
When my eldest was 1.6 years old, I enrolled her in Music class, but she ended up not liking it. When my youngest was 2, I enrolled her in Art class and didn't like it too. I was frustrated because I already paid for the classes, but thankfully, Gymboree was kind enough to allow me to switch classes and place my kids in Play class instead. Now that my kids are bit older, I let them decide what classes they want to take.
That's the thing moms. We mean well for our kids, but there will always be cases when they won't appreciate it and that's okay. Don't force them since they'll end up hating that activity even more, which they could bring with them as they get older.
5. Birthday parties that are not Pinterest or Instagram-worthy.
I get pressured every time I see my friends throwing an extravagant party for their kids. We can do that too, but we chose (okay, more like the husband) the simpler way of celebrating our kids' birthdays. We may not have the grandest party but as my kids get older, I realized that birthdays are more of a celebration of their milestones and another year added to them. So stop stressing about birthdays that won't get more than a hundred likes in Instagram. What matters most is the experience imparted, right?
6. A child that is not part of the Outstanding Student list.
I grew up being an average student. My parents never pressured me to be on the top of the class all the time although we were given rewards every time we are part of the Outstanding Students' list. I intend to do the same on my kids. I understand that every child is different from the others, so I always tell my kids that there will be people who are smarter and that's okay. Nonetheless, I encourage them to study and stick to a study schedule, but that's it. I would rather recognize their efforts than the grades in their report card.
READ: Putting Academic Pressure on Kids
7. Wearing generic or not-so-expensive clothes.
One of my biggest mistakes as a new mom is buying not just tons but branded clothes for my kids, especially my eldest. Most of the clothes were worn once while others were unworn. Good thing my second child was a girl, so the clothes were passed on and used. One time, I was fixing my kids' cabinets when I noticed how many clothes were worn only once and they can't wear them again because they already outgrew the clothes. I learned my lesson and started to focus more on the quality and material of the clothes and shoes instead of focusing on the brand. What's the point of wearing expensive clothes when I can't even get my kids pose for OOTD?
People won't notice "who" our kids are wearing. They're cute enough, so let's focus on that.
8. Lack of "fun-filled activities" in and out of the home.
You know those moms who got it all figured out and came up with TONS of activities for her kids to enjoy? I tried to be that kind of mom and FAILED. I wanted my kids to experience a makeshift volcano erupting, and make our own slime and whatever activities we can find on Pinterest. Then I realized, what's the point? So what if we don't turn the playroom into an ice cream store? I incorporated several school-related activities on my kids' routine using the simplest materials and let them play as much as they can.
READ: #CraftingWithTMC Activities
9. Picky eater kid.
My kids are picky eaters and I don't know why. I made sure there's variety in the menu and introduced veggies as soon as they were allowed to eat solids. As they grow up, their love for breaded fish and chicken grew while veggies are slowly drifting away. Because I want them to eat, I always put my battle gear on during mealtimes because it will always be an endless chasing just to get them eat at least one spoonful of rice and non-breaded ulam. Until one day, my eldest decided it's time to try other foods since she's a big girl already. We started with grilled chicken and eventually became more willing to try other foods like pork steak.
The point is the picky eating stage is a phase in a child's life. They will come by. In the meantime, make sure you give them milk to provide nutrients inside their body.
10. Not being the best mom in the world.
Remember that ideal mom? Well, I am light years different from her and that's what stressed me most. I always felt that I could've done more for the kids and felt bad for not trying a little bit harder. I felt guilty for not feeding my kids organic veggies or breastfeeding them until they're two. I felt like I'm the worst mom because my kids weren't potty-trained early or because they're not behaved when I asked them to – with just a singly look. But if I went on like this, I will never stop being too hard on myself, which is not good. I fail to look at the good things that happened through the day and take for granted the little things like an unexpected hug from my kids or those contagious laughs.
To all the moms out there, we are all doing a great job. We deserve that pat on the back and a crown on our head. There's no right or wrong or a rulebook that tells us this and that. It's never easy being a mother. It may be the hardest job in the world, but it is definitely rewarding. Have fun. Relax. Focus on the good things. Breathe. Our kids need a sane mom who appreciates and makes them feel loved.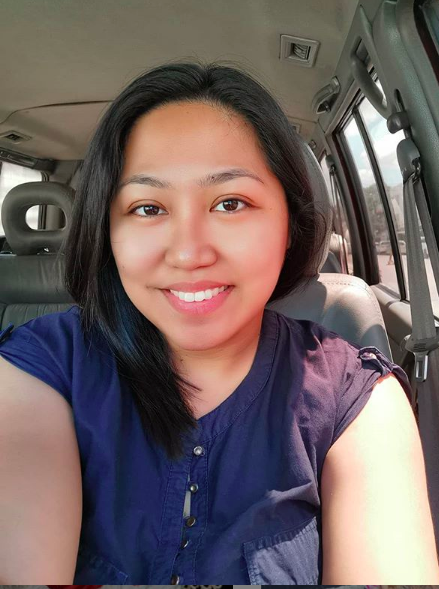 Ayi is a stay-at-home mom of two. When her kids are in their best state, she keeps up with chores, work, and ensuring that her sanity is intact. Join her as she navigates through this rollercoaster ride called motherhood.